Student Hired by Supermassive Games
10 June 2019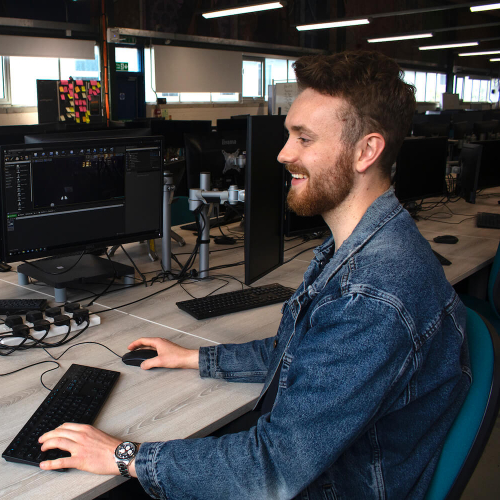 Landing a role at a leading games company is an accomplishment regardless of where you are in your career, but having it lined up for when you finish university is even more special.

Tom King, a first-class 2019 graduate from BA(Hons) Games Development, is looking forward to starting work at Supermassive Games, where he'll begin his career as a Junior Games Designer.

Founded in 2008, Supermassive Games is a BAFTA-winning, independent games developer with a reputation for innovation in both storytelling and VR. The company has released several successful titles but are best known for the critically acclaimed PS4 hit, 'Until Dawn'.
When asked how it felt to win the role, Tom told us: "It felt incredible! It's amazing to be offered any role in the industry, but to be offered a position with such a talented studio a day after handing in our final project couldn't really be any better."

Tom credits Falmouth for his success: "Without the course I would never have had the same opportunities and knowledge I do now. The fact that the Games Academy is set up to push you into real life working practices from Day One already gives you an advantage when looking to get into the industry. It offers more than just practical skills but also the social skills of handling team dynamics and working with other disciplines and personalities."

Each year, representatives from several leading games companies are invited to view the students' games and run internship competitions. This is how Supermassive found Tom.
Steve Goss from Supermassive runs an annual competition for third year teams, providing a trophy for the team with the best game. Winners also receive a small monetary prize and often graduates from winning student teams are hired or given internships by the company.
"Opportunities such as the Show and Tell day, where every team across the three years can present their work to studio veterans, like Steve Goss and Rex Crowle [from Media Molecule], just goes to show the level of quality achieved within the studio. The fact our team won the Supermassive Award this year has played an enormous role in me landing this position."

Tom was part of Chatterbox Interactive, the team that won the Supermassive prize for their winning game 'Freak Real Estate', an innovative new take on the haunted house story, where players act as the house and try to scare visitors as much as possible.

Tom told us that his favourite thing about the course has been "the professionalism".

"Throughout all three years," he explained, "the expectation that you're not students but game developers is something you can't find anywhere else. It forces you to learn quickly and leads to an extremely high quality of work being output by everyone. The studio space and resources on offer are top notch. No other university even came close. I honestly believe that without the set up I would not have been able to grow in the same way."

Tom hopes that his work at Supermassive will include the next instalment of its new Dark Pictures Anthology, a series of intense, standalone horror games, however he did also say that he would be "excited to work on whatever is thrown at me!"
You might also like