Global Jam at the Games Academy
13 February 2020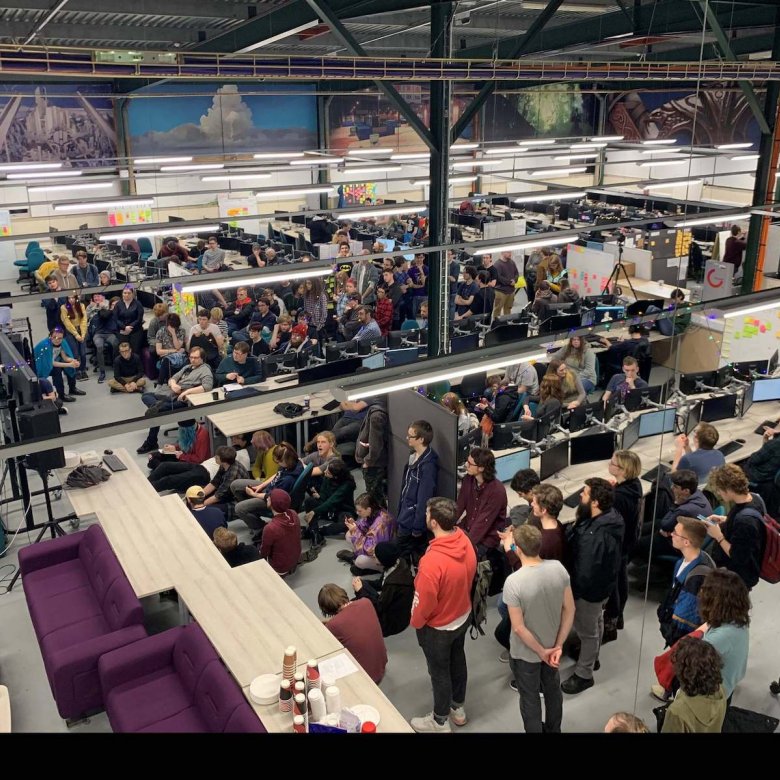 Games Jam 2020
Students, staff and other 'jammers' took part in the Global Game Jam® 2020 recently. The jam was hosted by our Games Academy for the fifth year running. Over 140 jammers got together and created 35 games in just a few days.
The theme for the games is kept secret until the event starts on the Friday evening. This year the theme was 'repair'. Jammers then collaborated on the full process of game creation; exploring new technology and tools, trying new roles in development and honing their skills in designing, developing, creating, testing and making a new game – all in 48 hours.
Brian McDonald, Course Leader, said: "We have hosted the Global Game Jam in Cornwall since the inception of our Games Programmes five years ago. I have been involved in the Global Game Jam for 11 years, as Game Jammer, Site Organiser, Regional Organiser for UK & Ireland and at a Global level as a member of the Organising Committee. Jammers get the chance to push their creativity by making games in very little time, without knowing the theme beforehand and by working with new people."
Student Jacob Gibbins said of his first live game jam, having only taken part in online jams before: "As a first year student of Game Development, the game jam was an incredibly useful experience for improving my skills, not only that, it was really fun! Working with a variety of people with different skills and levels of experience allowed me to learn a lot about making games. The atmosphere at the Games Academy was really motivating, the energy of some teams rubbed off on to others as people checked out what others were creating in the academy.
"The strict time limit showcased what I was able to achieve in a short time with the right mindset, and was a confidence booster for my skills as a game developer. Me and my team had a blast brainstorming ideas and then scrambling to implement them, I'm proud of the work we did, and have learnt so much from the event in my field of design, and even more for other game development disciplines, like art and programming. The event was fantastically run by the Games Academy staff. Hopefully even more people can participate next year. I can't recommend the experience enough!"
Another jammer at the event, Harry Good shared his experience: "I'm familiar with the GGJ from my time at Abertay university up in Dundee, Scotland but now being back in Cornwall as a graduate, Falmouth was the best place to participate. I always love doing game jams, especially global, as it gives me the opportunity as a game designer/developer to apply my generalist skill set in many different roles and learn more about each of them in the process.
"There's always a feeling of grandeur to global because it's "the big one" each year. But in reality, it always serves as a reminder about how much of a small world the industry still is despite all the money and notoriety it gets these days. With this years' jam in mind, it really goes to show how diverse and unique the talent is just within Falmouth, considering how different each individual site participating across the world can be.
"I always implore other game developers, no matter what role you suit or if you're pre or post graduates to participate in your local jams. They're always so much fun, there're always so many new and cool people to meet during them to connect with and they always give the rawest experience of game development anyone could ever get. If you're a student at Falmouth or a graduate/developer local enough to the games academy, be sure to keep an eye out for any new events hosted there, as it's a great destination for games as a whole and the work put in by Brian and the other staff members during the event was phenomenal to say the least."
The Global Game Jam is an annual event that takes place in hundreds of locations around the world, bringing together thousands of people who are all involved in creating new games. In 2019 over 9000 games were created in the one weekend.