Fine Art BA(Hons)
Fine Art at Falmouth has pioneered a culture of creative thinking and innovation for more than 100 years, challenging students to develop an art practice that engages with the most pressing and emergent debates of our time.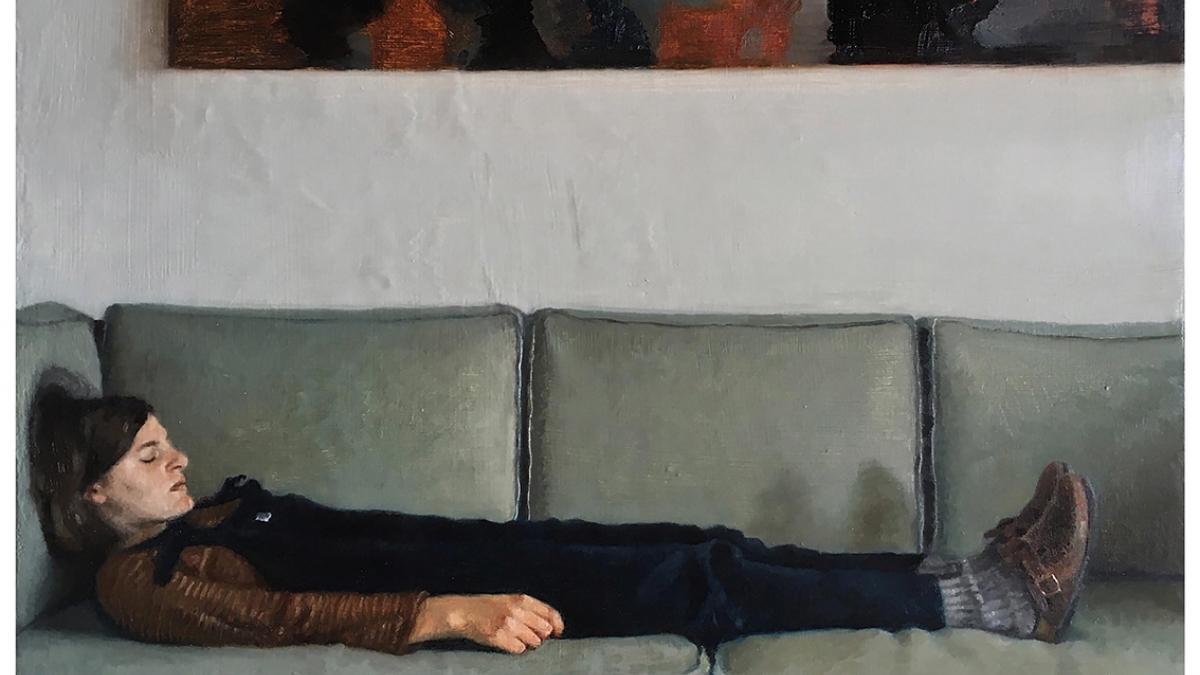 Key details
| | |
| --- | --- |
| Location | Falmouth Campus |
| Course Duration | 3 years |
| Attendance | Full-time |
| UCAS code | W100 |
| Contact | 01326 254350 |
Introduction
Taught by a dedicated team of artists, you'll expand your understanding of contemporary art and explore the full spectrum of practice, from painting, drawing, sculpture, textiles, casting and printmaking, right though to new media, performance and 3D printing.
You will:
Work in a Fine Art studio space from day one.

Collaborate with industry partners like Newlyn Art Gallery and the Tate St Ives.

Evolve your practice through opportunities such as field recordings, voice laboratories, self-publishing projects, specialist workshops, guest lectures and performances.

Access excellent studios, as well as 3D printmaking and time-based media workshops.

Have the opportunity to study abroad and to exhibit your work in major cities around the world.
Covid-19 update
In response to the Covid-19 pandemic, we have reviewed and made changes to our courses to provide flexible, blended delivery that offers high-quality digital engagement and access to face-to-face teaching in our facilities. You can see how your course may be adjusted by viewing the changes for the current academic year by visiting our welcome letters & latest course updates pages
Course details
What you'll learn
Focusing on studio practice, you'll learn through a mix of visual arts and critical studies. We'll focus on disciplines like drawing, painting, printmaking, performance, installation, 3D, video, digital and lens-based work, as well as any media appropriate to your studies. You'll also analyse visual arts through written work and reflective practice assignments.
In the first year of your Fine Art degree, we'll introduce you to the creative process and help you generate ideas. You'll then develop specialist interests and better understand the relationships between sources, ways of making and visual ideas. Critical studies modules introduce key skills, contexts and debates, helping you understand contemporary artworks. You'll also see how writing can help you analyse artwork and reflect on your own practice.
Modules
Studio Practice 1: Strategies for Practice
In this module, you'll develop your individual art practice. This is encouraged through experimentation, invention, research and constructive discussion. A wide range of learning environments will include group critiques, workshops, seminars and tutorial sessions that comprise group and individual learning. Skills workshops and projects support the development of an independent, self‐motivated studio practice and the integration of practice and theory.
Critical Studies and Reflective Practice 1: Introduction: The Contexts of Contemporary Art
As well as learning key study skills, you'll be introduced to contexts, debates and questions that are vital to the understanding and analysis of contemporary artworks.
We'll think about the challenges presented to Modernist practices through a series of survey lectures, covering the period 1970 to 1990. Through assignment work, we'll explore modes of writing appropriate to the accurate description and reading of artworks as well as the articulation of self-reflection.
Studio Practice 2: Initiating Practice
This module is focused on practice-led learning, which evolves within a variety of learning environments, group critiques, tutorial sessions, and evaluation sessions. As in most other Fine Art degree modules, this is mostly delivered through self-directed study.
Depending on the nature of your work, independent study time may be supported in varying degrees by technical staff in the 3D workshops, printmaking workshop or audio visual/digital suites.
Critical Studies and Reflective Practice 2: A New Millennium
You'll continue thinking about the contexts, debates and questions that are vital to the understanding and analysis of contemporary artworks, through a series of survey lectures covering the period from 1990 to the present. Additionally, assignment work will explore writing and research methods appropriate to the critical study of contemporary art contexts as the articulation of self-reflection.
As you take more responsibility for your learning and focus on professional practice, you'll examine modern processes and materials, and learn how to present your work. You'll prepare a topic for your final-year dissertation based on a programme of research methods, and get the chance to experience an international study exchange.
Modules
Studio Practice 3: Thematic Developments
Progressing from Art Practice 2, this module is focused on practice-led learning with the added development of individual themes. You'll identify specific themes relevant to your practice and begin to understand how your work fits into the wider context of contemporary art. We'll ask you to question where artists generate their ideas from, and how a wide range of subjects can manifest into artworks. By the end of the module, you should have completed a series of finished works relevant to your individual themes and art practice. Working in small tutor groups and through guided independent study, you will be supported in evaluating your existing work and planning a working strategy for further development.
Critical Studies and Reflective Practice 3: The Mediascape of Contemporary Art
This module looks at the histories that have given rise to specific works and at the ideas informing those works, asking how practitioners orientate themselves on the constantly shifting grounds of contemporary art.
Studio Practice 4: Development and Presentation
You'll build on the achievements of your past work in relation to the development of your art practice. Towards the end of the module, you'll prepare your work for presentation and produce a supporting written artist statement. This will enable you to focus and refine your work and gain an understanding of the conditions and issues relating to showing your work in a professional context.
Critical Studies and Reflective Practice 4: Research Methods
This module focuses on writing and research methods, extending discussion on ways of using visual, historical, theoretical and other forms of reference material. It builds on work begun in Semester 1, encouraging continued thought about art practice and the ideas that inform contemporary art. It provides support for the framing of a research topic and extended personal study towards research portfolio and research proposal assignments.
By planning and organising your approach to teaching and learning, you'll select, document and present your own work for evaluation and final assessment. You'll also undertake a dissertation reflecting your research areas and studio practice.
Modules
Studio Practice 5: Development Towards Completion
Progressing from Art Practice 4, this module fully consolidates practice-led learning and is increasingly focused on your individual work. Delivery evolves through group critiques, tutorial sessions that encompass group and individual learning, and sessions that are dedicated to the evaluation of your work.
Critical Studies and Reflective Practice 5: Dissertation
During the first study block of your final year, you'll be asked to complete a dissertation. This is a piece of individual research, resulting in a written study of between 5,000 and 6,000 words.
Studio Practice 6: Completion
This module completes the course journey, culminating in an end-of-module degree show.
The modules above are those being studied by our students, or proposed new ones. Programme structures and modules can change as part of our curriculum enhancement and review processes. If a certain module is important to you, please discuss it with the Course Leader.
From module information to course aims and assessment criteria, discover the full course details
We are making changes to our curriculum framework for courses starting in 2022. Modest amendments to our course module structure will provide you with new opportunities to collaborate and co-create with students from across disciplines during your studies.
This course page will be updated when these changes have been finalised and applicants will be notified.
How you'll learn
This degree is constructed around the studio. You'll learn through individual tutorials, group discussions, critiques and technical workshops, while leading your own efforts in exhibitions and presentations.
Beginning with introductory studio-based exercises and media workshops, you'll take more and more responsibility for self-directed study as you learn and present work in public exhibitions.
How you'll spend your time
Year

Timetabled

teaching and

learning

activity

Guided

independent

study

1

16%

84%

2

10%

90%

3

8%

92%
How you'll be assessed
| Year | Written exams | Practical exams | Coursework |
| --- | --- | --- | --- |
| 1 | 0% | 0% | 100% |
| 2 | 0% | 0% | 100% |
| 3 | 0% | 0% | 100% |
 The above percentages relate to 2019/2020 data. 
Assessment methods
Practice-based modules will be assessed on the presentation of visual work, including preparatory work.
Critical studies modules will be assessed on written assignments.
In the final year you'll be assessed on your dissertation and your studio-based module - culminating in an exhibition of your final-year work.
Staff
All staff are practising artists, performers and writers. Our visiting professors have included Cornelia Parker and Simon Fujiwara, and our speakers have included Alex Katz, Marvin Gaye Chetwynd, and Richard Wentworth.
Some members of staff only teach on specific modules, and your course might not feature every member shown here.
Facilities
Studio space.
Dedicated workshops for 3D and bronze casting foundry, printmaking, paint preparation, laser cutting and rapid prototyping.
Digital imaging facilities.
Video and photography facilities.
Performance and sound facilities.
140,000 books, 17,000 DVD/video titles and over 400 journal titles.
Radio archives, slides, pictures, maps and archive collections.
How to apply
Apply via UCAS
Ready to join us? If you're applying through UCAS Apply and Track, you'll need to reference the university and course codes below. 
University code: F33
Course code: W100
Applying as an international student?
International students can apply for a course through UCAS, via an agent or directly with the university. For more information about how to apply as an international student, visit our International applications page.

 
We consider all applications on their own individual merit and potential. We invite all applicants to an interview day or audition to give them the opportunity to demonstrate this along with what inspires and motivates them in their field. Applicants will also be able to show their portfolio or give a performance depending on the course. We welcome applications from all subject backgrounds, whether you've specialised in STEM, the arts or humanities.
As a guide our typical offer at undergraduate level is 104 – 120 UCAS Tariff points, primarily from Level 3 qualifications such as but not limited to A-levels, a BTEC Extended Diploma or a Foundation Diploma.
For applicants whose first language is English we require you to have or be working towards GCSE English Language Grade 4 (C), or equivalent.
If English is not your first language you will need to meet the same standard, which is equivalent to the IELTS Academic 6.0 overall score, with at least 5.5 in Reading, Writing, Speaking and Listening. We accept a range of in country equivalencies and approved tests.
If you need a student visa to study in the UK, you'll need to take a recognised language test that is approved and vouched for by the University. You can read our English Language Requirements for more information.
UK/EU applications: 29 January 2021 (for equal consideration)
Late applications will be considered if there are places available.
International fee payers can apply throughout the year. But we recommend applying as early as possible, to make time for visa and travel arrangements.
What we're looking for
We want someone who:
Has the confidence and curiosity to identify source material for development.
Can develop visual ideas through drawing and engagement with materials, working methods and skills.
Shows enthusiasm, commitment and an open approach to fine art practice.
Knows about contemporary fine art.
Demonstrates written and visual research of artists' work.
Fees, costs & funding
Tuition fees
£9,250 per year - full-time UK/EU
£16,000 per year - full-time international
£9,250 per year - full-time UK
£16,950 - full-time EU
£16,950 - full-time international
Tuition fees are set annually and are subject to review each year. The University may therefore raise tuition fees in the second or subsequent years of a course, in line with inflation and/or the maximum permitted by law or Government policy. Students will be notified of any changes as soon as possible.
Typical course costs
£380-£480 - Recurring annual costs
£100-£400 - One off costs for the course duration (compulsory trips, final portfolios or shows, etc)
£800 - Optional study visits and placements for the course duration
If you need to bring equipment or materials with you, these will be outlined in your Welcome Letter.
The figures above don't include accommodation and living costs
Funding
For information about funding available, please visit our undergraduate funding page
Ask a student
What better way to find out about studying at Falmouth University than by asking our current students or staff?  
From course details, our facilities and the local area to the social scene and settling in, our students and staff are ready and available to answer any questions you might have. Simply set up your account, send them a question and they'll get back to you.
Virtual Open Days & online events
See how we turn real industry experience into real careers.
Experience Falmouth