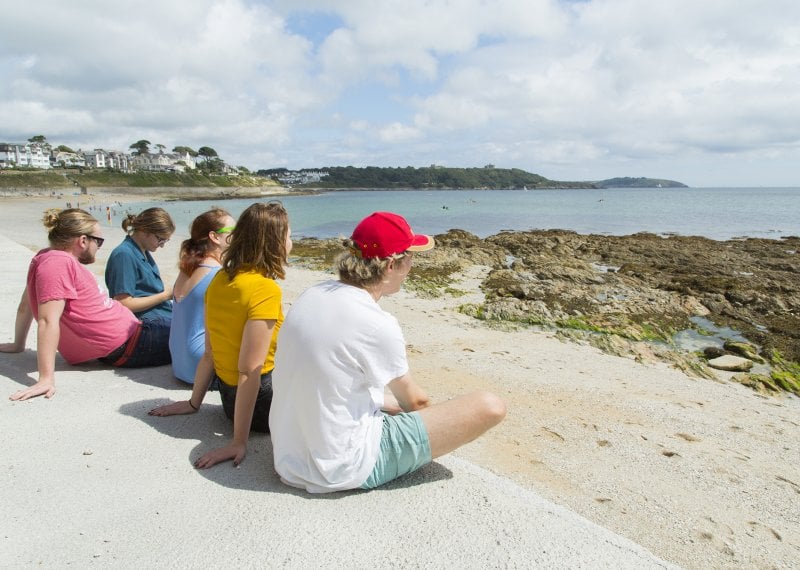 Leaving university and entering the real world of industry can be both exciting and daunting. That's why we continue to support our graduates in the next phase of their lives and careers.
The information contained here will give you practical tips and useful advice on making the transition to life after university. You'll find career and postgraduate study support alongside 'need to know' information designed to make leaving university as seamless as possible.
Your studies and wider experience have already equipped you with the skills and knowledge you need to forge your way in the creative industries. And, when your self-assurance wavers, Falmouth will always be here for you. Support from our employability team is available to graduates for life. Our alumni network is also a lifeline for those looking for a new community of creatives after graduation.
Top tips for all graduates:
Make the most of university facilities and Cornwall before you leave
Keep in touch with tutors and coursemates and work on your social media profile
Take your time - give yourself space to learn and adapt
Health & wellbeing
If you've been receiving support from our Student Support Team, please discuss your future support requirements with your Counsellor or Wellbeing Practitioner as they can liaise with your doctor if required. You can continue to access our self-help resources relating to emotional and physical health while you have access to your IT account. Also, as a graduate, please be aware that depending on where you live, you may need to register with a new General Practitioner (GP). 
Alumni support from the Employability Service
Falmouth University's Employability Service continues to support your professional development after you have graduated. Many of our services and events are still open to you as a recent graduate. As a Falmouth University graduate you are able to use many of our professional and high quality online resources for life; these include an AI CV builder and review tool, interview simulator and networking tool, jobs search and more.
Search for graduate jobs and opportunities
Connect with students and other alumni
Access thousands of tools and resources to support your career or start-up.
Keep in touch with the University
Visit our Employability page to find out more about our employability service.
Creative Cornwall
From community arts organisations to internationally acclaimed designers, content creators working on global projects to humanoid robot developers and world renowned theatre companies; Cornwall is a hive of creators making a buzz in their respective fields. So while many of you will have your sights set on new cities, why not consider sticking around and joining our creative community?
Going solo?
If you're planning on setting up your own business after graduation, Launchpad has a few tips and insights to help you on your way.  
Whether you have a product, a novel, an EP or a creative service you want to pursue, taking your idea to market rests on developing a standout pitch. This pitch will go to everyone from investors, bankers and suppliers to licensors, community gatekeepers and agents.  
What do our Launchpad investors look for in a pitch?
Market gap – Is there a need for this product?
Revenue – Will somebody pay for the product 
Plan – What are the build and route to market plans 
Team – Do I believe that they can deliver the plan
Traction – Is there evidence of the above?  
You should be able to condense your pitch into a 30 second speech – aka, the elevator pitch. This should succinctly cover who you are, what you do, where you add value and what you're asking for. Don't forget, you should always tailor your pitch to who you're talking to. A pitch that will win over an agent may not convince an investor. 
Find out more about Launchpad
Housekeeping
In the run up to leaving university make sure you find some time to take care of your finances, your accommodation and, most importantly, your wellbeing.  
Student loans 
In your final year 
If you think you're getting the wrong amount of loan you need to request a change as soon as possible.  Any reassessments will need to be completed by May.​
Repayments – HOW
Student Finance will start to consider your income from the April after you graduate. As such; you should not see any repayments leaving your wages prior to this point.​
Starting work for an employer?  You'll probably be taxed via "pay as you earn" (PAYE) which will also automatically calculate any loan repayments due.
Self employed?  You'll need to do your own tax return once the tax year has finished. This process will also calculate the amount you need to repay for the given tax year.​
Going abroad?  You'll need to complete an 'overseas income assessment form' if you're planning on leaving the UK for more than 3 months.​
Advanced Learner Loan?  This may be cancelled if your previous course was classed as an 'Access to HE course'.​
Student loan repayments – WHEN?
From the April after you graduate you'll be liable for loan repayment if you earn more than the threshold in any 'pay period'. 
The above thresholds are reviewed in April each year and may change in line with average earnings.​
Normally any outstanding loan will be written off 30 years after it becomes eligible to be repaid.
 Repayments may work differently if you're from Scotland, Wales or NI.
 Finance after graduation 
You will cease to be a student when the summer term ends.​
After this point you will be expected to either find paid employment or access benefit support via Jobcentre Plus.​
The property you consider your 'main residence' will be liable for council tax from 31 May – even if you intend to start postgraduate studies in September 2021.  This will include houses considered as a 'student house'.​
If you have extensions for work beyond 28 May you may be exempt from council tax for this period.  Please see the Students' Union for advice on how to demonstrate this to Cornwall Council.​
Postgraduate study?  A Postgraduate Masters Loan is available.
Accommodation 
Leave your accommodation as it was when you moved in 
Pay any outstanding rent and bills 
Transfer or cancel any services, such as wifi, that you may have set up 
Update your address with your bank, subscriptions, GP and anyone else that sends you post
Make sure to discuss the return of your deposit with you landlord or letting agent 
Ask your landlord​ for a reference
Remember, as a graduate you are now liable to pay council tax 
For further advice, contact:​
Wellbeing 
Make sure you're registered with a GP local to where you are going to live. Your current GP will hand over all your medical records to the receiving practice.​
Keep taking any medication prescribed for mental health until informed not to by a GP or registered Mental Health Professional.​
Ensure you have a prescription that covers the transitional period.
If you are receiving support from local mental health services and will need ongoing support, tell them about your move and they'll provide a discharge summary to your new area.
If you are concerned about yourself, a fellow student or friend – tell someone. 
Before you leave… 
Pay any library fines, course materials, or equipment loan debts 
Return hired course equipment or library books and recover any deposits you've paid​
Collect personal items or course work you've stored at the University​
Clear studio spaces or lockers and check with tutors where to dispose of rubbish​
Get contact details for your tutors and course mates
Make the most of Falmouth University's world-class facilities before you leave. 
​If there's something you're not sure of go to The Compass online or in-person and the friendly team will point you in the right direction:  
E: studentservices@fxplus.ac.uk​
T: 01326 370460
Tell us your story
We're showcasing graduates who are doing really incredible things. This could be anything from awesome work experience and amazing jobs to interesting collaborations.
If you'd like to shout about what you've been up to since leaving Falmouth, we'd love to hear from you. Contact us at alumni@falmouth.ac.uk