Exposé – A Force for Good: Student project supports local food bank
14 July 2023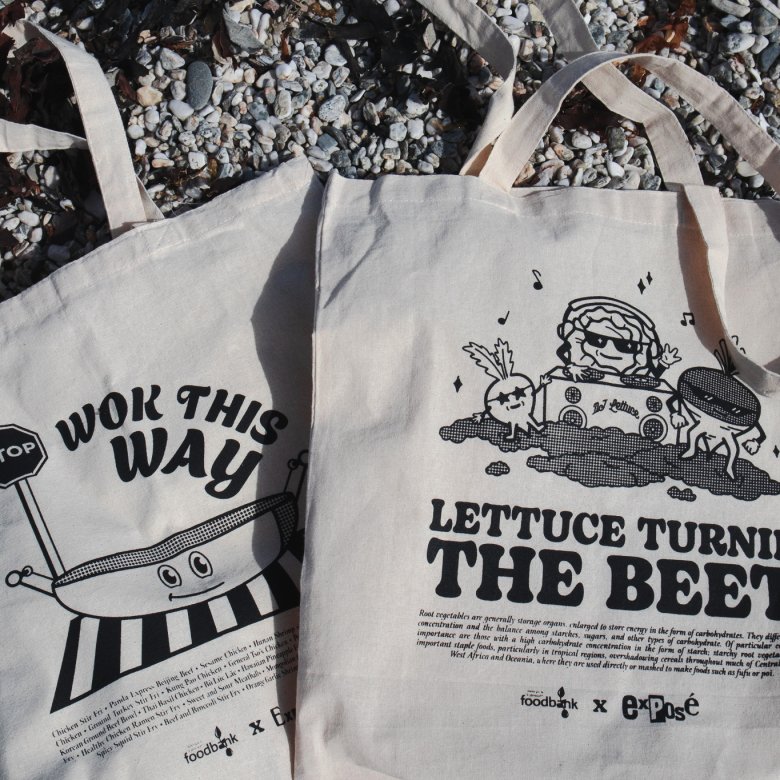 Foodstock
Three Graphic Design BA(Hons) students recently launched their final-year project 'Exposé - A Force for Good'. The project aimed to create a brand that designed merchandise to highlight the impactful work carried out by charities.
Partnering with Falmouth and Penryn Foodbank, Sam Harper, Chris Jones and Carl Langdon created and screen-printed 30 t-shirts and 40 tote bags, all featuring a unique design. On top of this, the trio held a launch event, Foodstock, in May which was hosted by local Falmouth venue The Cornish Bank.
Complementing their merchandise designs, keepsake card prints were also produced to be sold at the event, and the students created a dedicated Exposé Instagram account to showcase their aim and promote the upcoming event.
Foodstock brought in around 75 attendees and saw live music performed by artists including student acts Jake Clifton, Mia Nicholls and Zoë Alexandra and local group Eyes Alchemist. 
Not only did Foodstock raise awareness for combating food poverty in the local community, but it also raised £436.92 in donations that went to the Falmouth & Penryn Foodbank. 
Speaking to Sam and Carl about their experiences of working on the project, Sam said: "The Exposé event was so rewarding in every aspect. It was a culmination of what we'd been pushing towards; doing something in the real world. As a graphics student it can be easy to make mockups of how you'd envision your project, but actually doing it gives you so much more than self-fulfilment as you really have to consider things that wouldn't even cross your mind when working digitally.  
"Creating the brand's visuals was a drawn-out process as we went through two design cycles in the previous term trying to figure out what the brand's core aims and values were, as well as aligning the brand's appearance with the context of promoting merchandise for a good cause." 
Carl said: "We all had a similar vision of what we wanted to achieve. I really enjoyed and appreciated working with Sam and Chris to ensure we got the best outcome we could.  
"We all wanted to give back to the community and show our appreciation for Falmouth for having us for three years."