Falmouth alumna awarded British Empire Medal for services to art in HM The King's New Year's Honours list
20 January 2023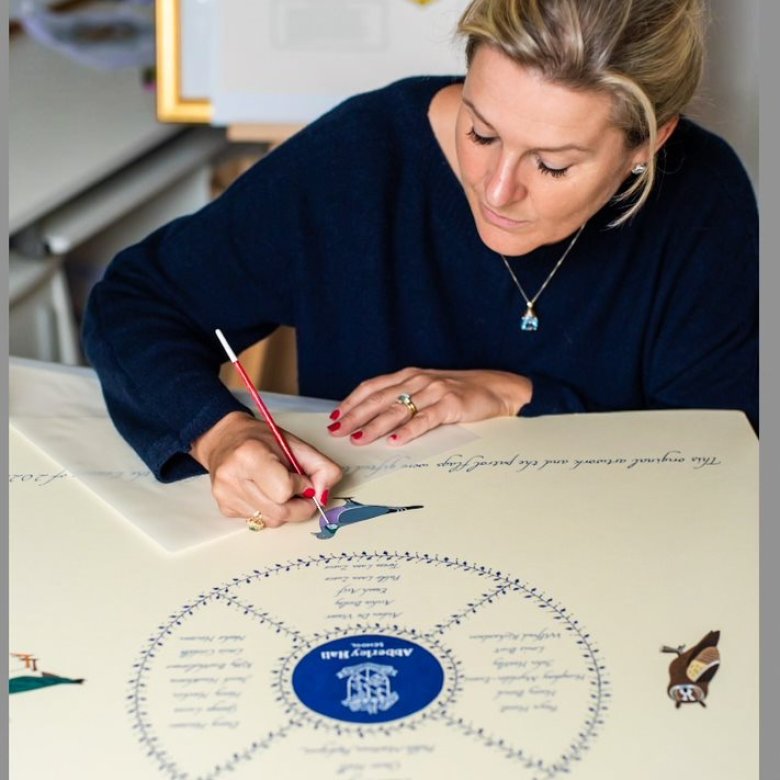 Claire Dongan
For Clare Donegan, getting the email that she'd been awarded a British Empire Medal (BEM) from HM The King for services to art wasn't exactly what she was expecting. "It was such a shock! I got an email saying I was nominated by the Secretary of State for Wales after they saw some of my work, and it was just surreal.  
"It's like winning the lottery; you see it happen to other people, but you never think it'll happen to you!" 
Clare's unique art centres on 'Rolls of Honour'; beautifully hand-decorated illustrations alongside names and battle honours – all in handwritten calligraphy. They were a popular commemorative piece during and after World War I and II, though have become something of a lost art over time. Thanks to Clare, they're making a comeback.  
How did you get into military art? 
Clare studied BA General Illustration at Falmouth, graduating in 1995. Her memories of studying and living in Falmouth are still very clear – she even remembers her interview: "the chap who was interviewed before me was brilliant, but very arrogant. I got the impression he didn't fit the ethos at all, and I went in afterward and just threw myself at it. I thought I wouldn't even get in, but little did I know I'd be graduating with a Distinction a couple of years later!" 
After working in London for a time, Clare settled back in her native Herefordshire and worked for the local council for 14 years while raising a family. She still painted portraits for friends, but it wasn't until she was made redundant that being an artist full-time seemed an option – and she was offered a one in a million opportunity.  
In 2002, Clare created her first roll of honour; a commemorative piece for a friend who was leaving their role in the Army. It wasn't until 2014 that the artwork was spotted at the barracks by a visiting regiment, and they immediately wanted their own.  
Since then, it's been non-stop; Clare's unique artworks are in huge demand internationally. "Now, I create these pieces for regiments across the world. I've had commissions from as far as Canada, Australia and beyond. It's just such an honour to know that my work is displayed in museums - and even palaces - as military history for years to come." 
How do you approach creating each piece?  
The original works can take months to complete – a real investment from the commissioning body –  and can be any size from A4 to nearly 8ft in length. 
Each piece throws up its own production challenges, but Clare still remembers the practical issues she faced creating the first piece. "I was trying to design my first Roll of Honour but couldn't find a giant compass large enough to make the circle, so in the end I bought a huge ceramic bowl and ended up using that as the template." 
However, throughout the process Clare is aware of the duty creating a piece of history brings. "I'm very aware of my commitment to the service personnel. I want to make sure that the prints are affordable, so I factor this in when making and sourcing copies." 
So, what's next for Clare?  
Last year, Clare completed a huge 6ft x 4ft Roll of Honour commissioned by the Grenadier Guards to commemorate Her Majesty The Queen's Platinum Jubilee, alongside a 7ft x 4ft piece for the Household Cavalry; now displayed in the Household Cavalry Museum in Knightsbridge, London.  
Since many of Clare's commissions are won through word of mouth she's already working flat out for the foreseeable ahead of King Charles III's coronation.  
While now primarily known for her military work, she's also open to public commissions; "I've just finished a leavers' gift in the same 'roll of honour' style for a school, and that was lovely. It's something historic; something just a bit more special than a leavers' hoody...!" 
For more information on Clare's work, visit her website.