Journalism BA(Hons)
In this career-focused journalism degree, we combine the rigour of industry accreditation with a distinctive emphasis on creative digital storytelling. Supported by experienced tutors and mentors, you'll discover a passion for unearthing untold stories.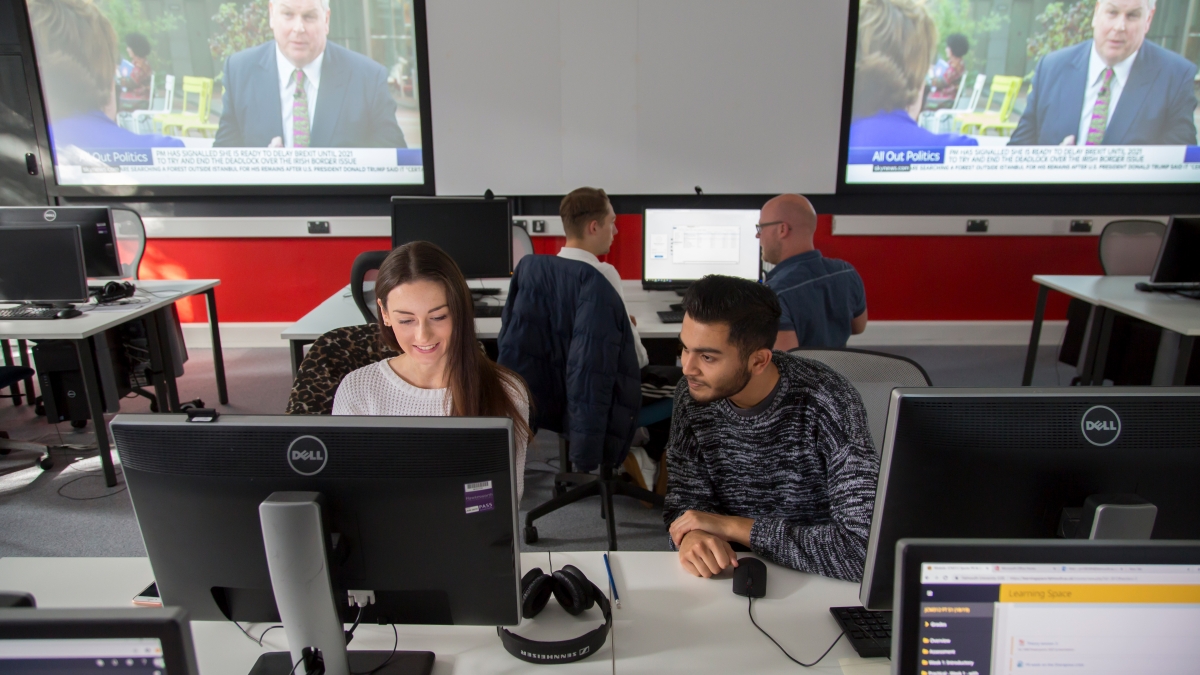 Key details
| | |
| --- | --- |
| Location | Falmouth Campus |
| Course Duration | 3 years |
| Attendance | Full-time |
| UCAS code | P500 |
| Contact | 01326 254350 |
Introduction
You'll develop an eye-catching portfolio and become an engaged, mobile journalist. Our academic team places employability at the heart of teaching, so work placements, professional mentors and real-world opportunities are embedded within your learning experience.
You will:
Benefit from our working relationships with international, national and regional media, including Euronews, BBC Cornwall and Pirate FM, and partnerships in PR and marketing too.
Graduate from a course accredited by the National Council for the Training of Journalists (NCTJ), the Broadcast Journalism Training Council (BJTC) and the Professional Publishers Association (PPA).
Be taught by journalists who have worked within BBC television and radio, Associated Press and regional newspapers and magazines around the UK.
Take part in our work experience programme, drawing on our wide network of news media organisations, including the likes of the BBC and Reuters.
Create a vibrant and industry-ready multimedia portfolio of articles, packages, bulletins, podcasts and more.
Take part in optional study trips at home and abroad, and meet top journalists such as Kate Adie and George Monbiot in our guest lecture and workshop series.
What our graduates do
Our students have turned their degrees into roles like Nickelodeon Television Producer, Supedry Social Media Editor, BBC News Environment Reporter, Restaurant Magazine Senior Reporter, and Virgin EMI Records Creative Assistant.
Course details
What you'll learn
This accredited journalism course teaches essential and specialist skills through industry-based training. During the three years, you'll also be engaged in the stimulating study of media law, public affairs, ethics and the many debates that shape journalism today. Our syllabus is informed by the rigorous requirements of our accrediting bodies and offers opportunities to create your own magazine, study life as a foreign correspondent and produce a documentary.
You'll learn the basics of journalism, from the language of news and opinion writing to politics and media law, as well as blogging and photography. You'll start using video and audio recording equipment, and learn the valuable, time-honoured skill of shorthand.
Modules
News Reporting 1
This module will introduce you to the language of news, news values and the practical methods used by the digital journalist to gather, produce and disseminate news stories.
Journalism & Communications in Context
Through discussions, readings and lectures, this module gets you thinking about the many big debates affecting journalism today, putting the modern media into a range of contexts to inform your own reporting and writing.
Multimedia Methods
Based in our newsroom, you will start to use the video and audio equipment that will form such an important part of your digital toolkit, learning to record and edit through a series of engaging reporting tasks.
Blogging & the Personal Voice
Blogging, vlogging and podcasting are accessible and creative ways of making your voice heard. This module helps you find your own personal voice, creating a platform distinct to you and based on analysis and discussion of leading practitioners in this field.
Politics & Law for Journalists
Through discussions about topics in the news and study of some key concepts, this module introduces you to key themes and organisations to help you report effectively, as well as some of the restrictions imposed on journalists by the law and regulators.
Photojournalism
This module will introduce you to the exciting and impactful genre of photojournalism, to help you extend your digital toolkit and become a better multimedia storyteller.
We'll challenge you to apply your knowledge and skills to deadline-driven processes, in line with media law and regulation. You'll also push your creativity by writing features and other long-form copy, and producing magazines, while developing your academic and research skills on a major issue of your choice.
Modules
Magazine Content & Creation
Here you will learn about the history, role and business of magazine publishing before working with peers to conceive, design, plan and pitch an original magazine idea of your own.
Applied Media Law & Public Affairs
Building on your first-year studies, this module focuses on applying your developing political and legal knowledge to scenarios and real-world situations, to give you the confidence to report effectively and safely.
Features & Long Form
Having learned the disciplines of news writing, this module lets you spread your stylistic wings by creating a portfolio of features ranging from reviews to longer news backgrounders, informed by class discussions of outstanding examples in the professional world.
News Reporting 2
This module, informed by the NCTJ syllabus, develops your reporting and writing skills to enable you to produce engaging, accurate reports and learn key skills in social media, data crunching and analytics.
Journalism & Communications Research
You'll learn the skills needed to conduct effective and impactful academic research, focusing on a topic of your choice to dig deeper into the trends, issues and controversies affecting journalism today.
Advanced Multimedia Methods
In this module, we'll focus on the creation and production of video and audio online, furnishing you with skills that are particularly important in newsrooms today. At the end of the module, you should be able to produce short, audio-visual packages suitable for digital distribution and work productively in a variety of multimedia newsroom roles.
As well as taking on industry placements, you'll learn key roles in the newsroom by running a multimedia news and information service alongside your peers. You'll also get the chance to follow in the footsteps of specialist correspondents in disciplines like foreign or lifestyle journalism, study the rich relationship between literature and journalism, and finally undertake a dissertation or mini-documentary on a topic of your choice as we help connect you with your first job.
Modules
Dissertation or Mini-Documentary
Tailor a major piece of research to suit your preferences, by either undertaking an academic dissertation or by shooting and producing your own mini-documentary, both under the supportive supervision of a dedicated lecturer.
Multimedia Enterprise 1 and
Multimedia Enterprise 2
These two modules help you prepare for the real world of news and content production. You'll be engaged in a series of live news days, which give you the chance to perfect your storytelling while helping to manage, motivate and collaborate with your peers. An employability strand enables you to hone your CV, create a strong portfolio and explore opportunities for immediate employment after graduation.
Literature & Journalism
This module will focus in depth on the long, productive and, at times, uneasy relationship between literature and journalism. Through readings and discussion, you will explore the boundary between the two areas and produce a report in a journalistic or creative format of your choice.
Specialist Correspondent
Specialising in an area of news brings some challenges, but also huge rewards, and in this module you can choose between specialisms like foreign correspondence or lifestyle journalism to develop an insider's knowledge of how leading reporters operate.
The modules above are those being studied by our students, or proposed new ones. Programme structures and modules can change as part of our curriculum enhancement and review processes. If a certain module is important to you, please discuss it with the Course Leader.
From module information to course aims and assessment criteria, discover the full course details
How you'll learn
You'll learn by doing – and critically reflecting – through practical workshops, news days, lectures, seminars, and group and one-to-one tutorials. Each week involves at least 12 hours on campus, and at least 24 hours on assignments and self-directed study.
We'll push you to gain hands-on experience through work placements and course trips, and source extra-curricular projects to make the most of our facilities and support.
How you'll spend your time
Year

Timetabled teaching

and learning activity

Guided

independent

study

Placements

1

24%

76%

0%

2

31%

69%

0%

3

22%

70%

8%
How you'll be assessed
| Year | Written exams | Practical exams | Coursework |
| --- | --- | --- | --- |
| 1 | 12% | 6% | 82% |
| 2 | 22% | 18% | 60% |
| 3 | 0% | 0% | 100% |
The above percentages relate to 2019/2020 data.
Assessment methods
Continuous assessment via practical assignments, portfolios, and academic essays and presentations.
In-class tests on politics and law for journalists and applied media law and public affairs.
Exams set by the NCTJ and concentrated in the second year of your studies to enable you acquire a professional qualification alongside your degree.
Final-year dissertation or mini-documentary.
Staff
You'll be taught by industry professionals with experience in roles like field producer for the BBC and deputy editor for the Oxford Mail. They also provide expertise in everything from ethics and regulation, to media law and public affairs, to blogging and digital media.
Some members of staff only teach on specific modules, and your course might not feature every member shown here.
Facilities
A well-equipped digital newsroom with news feed.
25 workstations with professional scriptwriting and editing software.
The Soundhouse, our dedicated radio studio and podcast facility
The Lighthouse – a dedicated writers' room and events space
The Shed – dedicated study area
A wide range of DV cameras and audio recording devices.
How to apply
Apply via UCAS
Ready to join us? If you're applying through UCAS Apply and Track, you'll need to reference the university and course codes below. 
University code: F33
Course code: P500
Applying as an international student? 
International students can apply for a course through UCAS, via an agent or directly with the university. For more information about how to apply as an international student, visit our International applications page.

 
We consider all applications on their own individual merit and potential. We invite all applicants to an interview day or audition to give them the opportunity to demonstrate this along with what inspires and motivates them in their field. Applicants will also be able to show their portfolio or give a performance depending on the course. We welcome applications from all subject backgrounds, whether you've specialised in STEM, the arts or humanities.
As a guide our typical offer at undergraduate level is 104 – 120 UCAS Tariff points, primarily from Level 3 qualifications such as but not limited to A-levels, a BTEC Extended Diploma or a Foundation Diploma.
For applicants whose first language is English we require you to have or be working towards GCSE English Language Grade 4 (C), or equivalent.
If English is not your first language you will need to meet the same standard which is equivalent to the IELTS Academic 6.0 overall score, with at least 5.5 in Reading, Writing, Speaking and Listening. We accept a range of in country equivalencies and approved tests.
If you need a Tier 4 student visa to study in the UK, you'll need to take a recognised language test that is approved and vouched for by the University. You can read our English Language Requirements for more information.
UK/EU applications: 15 January 2020 (for equal consideration)
Late applications will be considered if there are places available.
International fee payers can apply throughout the year. But we recommend applying as early as possible, to make time for visa and travel arrangements.
Interview information & application advice
What we're looking for
We want someone who:
Is enthusiastic and committed, with experience in relevant subjects.
Has been involved in a school magazine, personal blog or similar.
Knows about world affairs, politics and popular culture.
Makes informed references to current developments across a range of subjects.
Has analytical skills, and can comment intelligently and incisively on recent news events and campaigns by various causes.
Shows independence and initiative.
Has extra-curricular interests, part-time jobs or hobbies.
Fees, costs & funding
Tuition fees 2020-21
£9,250 - full-time UK/EU
£16,000 - full-time international
Tuition fees are set annually and are subject to review each year. The University may therefore raise tuition fees in the second or subsequent years of a course, in line with inflation and/or the maximum permitted by law or Government policy. Students will be notified of any changes as soon as possible.
Typical course costs
£100-£200 - Recurring annual costs
£600 - Optional study visits and placements for the course duration
If you need to bring equipment or materials with you, these will be outlined in your Welcome Letter.
The figures above don't include accommodation and living cost
Funding
For information about funding available, please visit our undergraduate funding page
Ask a student
What better way to find out about life at Falmouth University than by asking our current students? 
From course details, our facilities and the local area to the social scene and settling in, our students are ready and available to answer any questions you might have. Simply set up your account, send them a question and they'll get back to you within 24 hours.