New On-Campus Undergraduate Students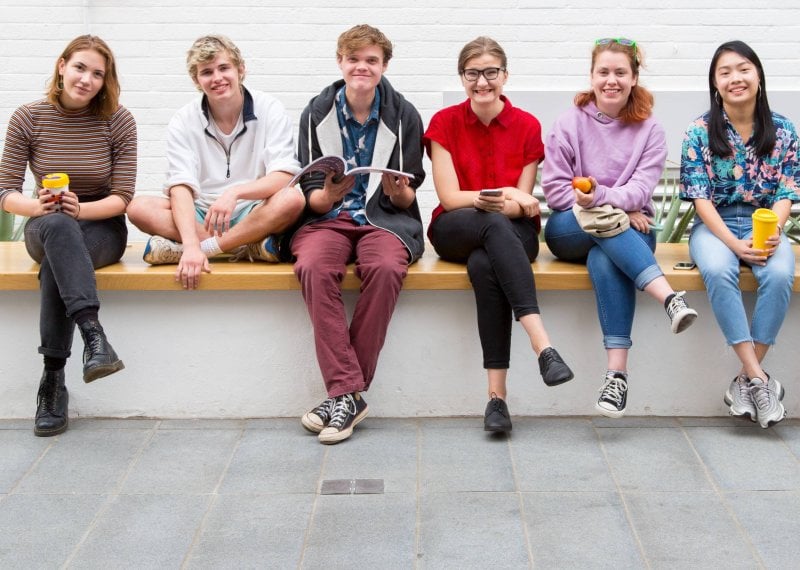 Welcome to Falmouth!
On this page you'll find important information on what to do before your arrival at Falmouth if you're an undergraduate student studying on campus, as well as how to get settled once you're here.
If you're an international student or an online student, we have specific information and advice for you. Select the relevant button below:
Becoming an official student
To be officially registered as a student at Falmouth University, you must complete the online enrolment process. You will be contacted approximately two weeks before the start of term with instructions on how to do this. 
All students must enrol online before the first day of term. Doing this will also release your student loan, if applicable. 
Once you have enrolled, you will be able to access your Falmouth University IT account. This allows you to log into your University email, connect to the campus Wi-Fi, as well as download Microsoft Office 365 apps for free and other key digital tools you'll need during your studies. 
If you have any difficulties getting set up with your IT account, you can find some handy information here, or contact the IT Service Desk. 
Accessing your timetable is a vital part of getting started at Falmouth. It will tell you when and where your sessions are and help you to plan your time around your studies.  
Once you have enrolled, you'll be able to view your timetable. If you prefer you can access your timetable via Outlook or by clicking on the tile in the Student App & Portal.
Your timetable will also contain all your important course induction sessions (beginning Monday 18 September) which you should attend.  
We've got an app for that...
The Student App & Portal is here to make your life easier. It's a gateway to all your important university systems like your email, timetable, and the Learning Space, and allows you to access everything from one place.
The Student App & Portal is also home to all the latest news and events, so if you're ever looking for some information around living or studying at Falmouth, this is the best place to start. You'll be able to access the Student App & Portal once you've enrolled and set up your IT account.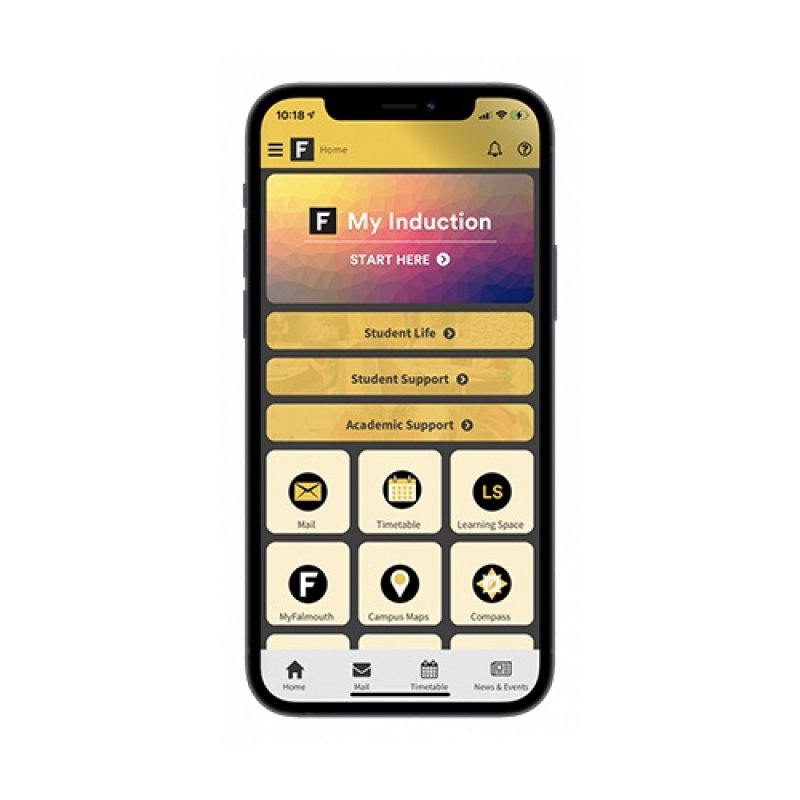 Preparing for your studies
Hear from our student mentors
Watch these videos to get advice about starting university from our student mentors.
Preparing for student life
We want to make sure you enjoy your life as a student. That's why we provide lots of help so you can not only hit the ground running but be supported throughout your time at university.
Check out all of the different support you can access below.
Living and mixing with new people means that students are more at risk of certain illnesses than the general population. It's therefore important to have the right vaccinations.  
We strongly advise that before coming to university, you should check that you've been vaccinated for:  
Meningitis  
Measles, Mumps and Rubella  
Covid-19 
It's important to register with a GP surgery here in Cornwall when you arrive. Make sure to register as early as possible, so your doctor has time to access your full medical history.
SafeZone is our official security app for use on our campuses, and features live chat and one-button assistance requests without the need for remembering phone numbers. It also has the ability to let the security team know if you're working somewhere alone or out of regular hours. 
What to expect when you move in, planning your journey, as well as what to do and where to go when you get to University.  
Book your arrival slot 
If you're moving into University managed accommodation, you will receive an email inviting you to book your arrival slot at the end of August. You must remember to book your slot.  
Welcome Weekend (Friday 15 - Saturday 16 September) 
Welcome Weekend is the main moving in period for new students at Falmouth University.   
Getting the keys to your accommodation
Check-in at the Sports Centre on Penryn Campus, where you'll collect your keys, parking pass and Student ID card.  
Display your parking pass clearly on the front of your car and drive to Glasney Lodge, where a member of the team will direct you to your accommodation block.  
You'll have 20 minutes to unload, before your car will need to be moved to one of our other car parks.  
Once you've unloaded, fill in the accommodation inventory and report any issues to Glasney Lodge.  
If you arrive outside your arrival time, don't panic. You'll still be able to pick up your keys from Glasney Lodge.
Check-in at the Sports Centre on Penryn Campus, where you'll collect your keys, parking pass and Student ID card. 
Once you have your keys, go to your halls of residence to start unloading your belongings.
You'll be issued instructions in your confirmation email about where to collect your keys. 
Arrange key collection with your letting agent or landlord.  
Take pictures of the accommodation when you arrive, and create your own inventory, even if there is a formal one already in place.
Registration centre
Once you have unloaded and moved everything into your accommodation, you should return to the Registration Centre (the Sports Centre on Penryn Campus) to:  
Collect your Student ID if you haven't already. 
Register with a GP. 
Meet some of our Student Mentors. 
Explore our range of student services. 
Ask any questions to the Compass – your go-to place throughout your studies for information or advice.  
Discover more about student funding and finance. 
Learn about local transport links. 
Visit the IT helpdesk at the nearby Daphne Du Maurier Building (follow signs). 
If you're moving to Falmouth on Welcome Weekend, you'll be able to pick up your student ID card at the same time you collect your accommodation keys. If you're arriving after Welcome Weekend, you'll be able to find the Student Records team on your home campus (where you undertake the majority of your studies) between 18 – 22 September. 
Falmouth Campus - Seminar E (Fox Building), 10am-2pm
Penryn Campus - Compass Helpdesk in the Library (Exchange Building), 10am-2pm
From 25 September, you will need to collect your Student ID card from the Compass Helpdesk on your home campus during opening hours. 
Well done, you're here! Now's the time to take a deep breath, relax and start getting to know Falmouth.
Your Induction 
Your course induction takes place from Monday 18 September to Friday 22 September, and will help you hit the ground running. Get to know your team of academics and the other people on your course, enjoy guided tours of campus, become familiar with your facilities, and learn about our range of support services. 
You'll be able to find details of your induction within MyTimetable after you've enrolled online. You should attend all your timetabled sessions during induction week, as they'll cover important information you'll need throughout your studies.  
Welcome Events 
You can expect a packed programme of events this September, helping you to feel part of the Falmouth community, make friends, experience something new and have fun.  
Our full line up of events will be published on the Events Calendar soon!
Welcome to Falmouth
Once you start at Falmouth, we'll be sharing lots of tips, tricks, and information to guide you through your first few weeks as a student and help you kick-start your creative journey with us. Keep an eye on our weekly student newsletter in September.
Getting around 
Our focus on green travel makes getting around easy and we encourage all students, staff and visitors to use sustainable transport whenever possible. If you want to head out, take a look at public transport options