Clearing 2021 opens 5 July
Thinking of joining us in 2021? There's still time to apply, so head on over to our undergraduate apply page to find out more.
Not ready yet? Then you can explore our Animation, Film & Television courses, our industry-standard facilities and discover what student life is really like below.
When you're ready to take your next step, you can get in touch by clicking the button below and filling in our simple online form. One of our friendly course advisors will then get in touch to talk you through your application options.
View Animation, Film and TV courses
Check back on 5 July to see the courses available in Clearing 2021
Why Falmouth?
As a member of CILECT (Centre International de Liaison des Ecoles de Cinéma et de Télévision), we are recognised as one of the world's best film and TV schools. But why else should you join us?
Professional equipment
You'll be supported by an award-winning Technical & Craft team while working in our world-class facilities, which include production studios, green screen, post-production suites, audio suites, animation studios and a 129-seat cinema. Our staff also work professionally outside the University so you can be confident that the craft skills you are taught are at the forefront of current industry practice.
Media Equipment and Facilities
Industry opportunities
As a student at the School of Film & Television you'll not only have the opportunity to work on real paid jobs through our creative agency MAYN Creative, you'll also be able to get involved in one of our in-house micro-budget feature films and get the chance to submit films to festivals.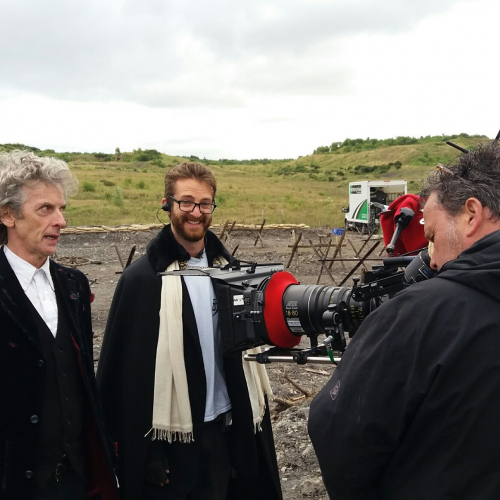 High flying graduates
---
Film graduate Kieran Hayhow returned to Falmouth to speak to current students about working on the likes of His Dark Materials, Sex Education and Broadchurch. "It was a surreal and humbling experience to come back and talk to students about my experiences in the industry and answer their questions about launching their own careers in the film and television business," said Kieran. "My full credits include Thirteen, Ordinary Lies, Doctor Who, Casualty, Eat Locals, We can be Heroes, A Discovery of Witches, Salisbury and War of the Worlds, where I also directed some of the second unit scenes." Read more about Kieran's career.
Read about graduate Kieran Hayhow's impressive career
Read More
Further information & support
Apply for 2021
If you've found the course for you and want to make Falmouth your home, it's time to take your next step. Fill in our simple online form and one of our course advisors will call you to take you through your application options.
Go to form