How to apply
Our dedicated Clearing team is on hand to help you secure your place at Falmouth University and answer any of your questions. Simply call our hotline: +44 (0)1326 213730 Monday - Friday: 09:00 - 17:00. Alternatively you can always request a call-back or apply online any day, at any time.
Applying out of hours? 
Our simple online application form lets you apply anytime you like and it takes just 5-10 minutes to complete. 
Want us to call you?
If the hotline is closed or you can't get through simply request an immediate call-back. Just fill out the form and we'll call you as soon as possible to discuss your options and answer any questions. 
Prefer chatting online? 
Our expert Clearing team is available to answer any questions via Live Chat. You can also message a student directly to chat about everything from a course, student life and the uni experience to Falmouth living via Ask a Student.
Live Chat with us Ask a Student 
Who can apply through Clearing?
You can apply through Clearing if:
You haven't already applied for a university course this year
You haven't received any offers 
You haven't met the conditions of any of your offers
You've changed your mind 
View all available courses
Why Falmouth?
As a member of CILECT (Centre International de Liaison des Ecoles de Cinéma et de Télévision), we are recognised as one of the world's best film and TV schools. But why else should you join us?
Professional equipment
You'll be supported by an award-winning Technical & Craft team while working in our world-class facilities, which include production studios, green screen, post-production suites, audio suites, animation studios and a 129-seat cinema. Our staff also work professionally outside the University so you can be confident that the craft skills you are taught are at the forefront of current industry practice.
Media Equipment and Facilities
Industry opportunities
As a student at the School of Film & Television you'll not only have the opportunity to work on real paid jobs through our creative agency MAYN Creative, you'll also be able to get involved in one of our in-house micro-budget feature films and get the chance to submit films to festivals.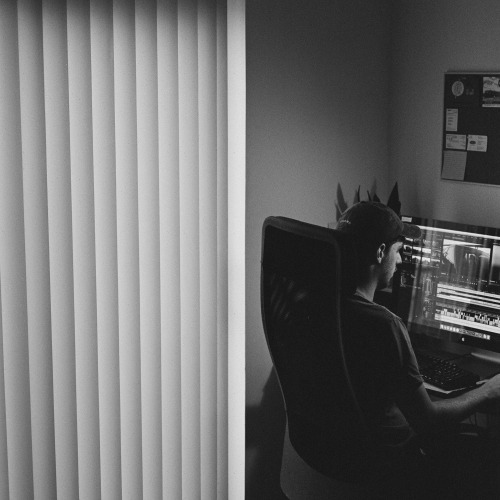 High flying graduates
---
Working on live projects with industry clients and benefiting from mentorships and masterclasses from experts in their field helps our graduates get their foot in the door. Two days after handing in his final dissertation, Sam Holding was already starting work as a video editor at Beagle Media, an international content production studio with bases in London, Los Angeles and Washington DC. Read on to see how his course helped him get there, and what happened next.
Instant Success for Ambitious Film Graduate
Read More
Further information & support