Film & Television MA (Online)
Key details
| | |
| --- | --- |
| Course Duration | 2 years |
| Attendance | Part-time |
Start dates: January / May / September
(Three intakes per year)
Course overview
From screenwriting, casting and pitching to production management, filming and editing, this online master's in Film & Television will help you develop a technical prowess across pre-production and post-production. You will also be challenged to innovate; questioning industry traditions, conventions and creative canons to carve your own original space in the industry.
Whether you are already working in the industry, have just finished an undergraduate degree or are after a career change and want to level-up your skillset, we'll help you bring innovation and originality to your chosen specialism.
You will:
Take your film and TV creative practice, technical craft and research skills to the next level of professionalism
Develop projects that mirror industry practice and workflows
Be empowered to navigate the digital and online environments of today's Film and TV industries with professional flexibility
Develop confidence to challenge the fast-paced environments and production cultures of contemporary international visual media, cinema and TV industries
Be able to evaluate the quality of film and TV projects in terms of creative and cultural appeal as well as standards of industrial proficiency
Question traditions, conventions and canons within film and television so that you can progress towards innovation and originality in your chosen specialism
Studying Film & Television online means you'll be part of our renowned School of Film & Television community. Check out the stories below to discover more about our amazing students, graduates and staff.
MA Film & Television (Online)
Graduates from the School of Film & Television have gone on to work as production designers, senior producers, senior camera operators and production assistants. They've also had their work featured at world-class festivals, secured development from the BFI and BAFTA, and been published in titles like Film International, MAI: Feminism & Visual Culture, Total Film, The Telegraph, The Guardian and Little White Lies.
You will be supported by expert staff to enhance your filmmaking craft and research skills across pre-production, production and post-production. While developing projects that mirror industry workflows, you will deepen your understanding of how global cultural, political and social contexts frame and influence audience engagement. You will also learn to work with others in a productive and collaborative environment.
Modules
This course is comprised of five modules, four 30-credit modules and one 60-credit project (180 credits in total). The modules have been specifically designed to be studied in a non-linear order, with the order in which you'll study the modules depending on when you begin the course. All modules on the course are compulsory and must be passed in order to complete the award.
MA
You will need to complete four 30-credit modules and one 60-credit project (180 credits in total). All modules on the course are compulsory and must be passed in order to complete the award.
From module information to course aims and assessment criteria, discover the full course details for the MA.
PGDip
You will need to complete four 30-credit modules (120 credits in total). All modules on the course are compulsory and must be passed in order to complete the award. A dissertation (major project) is not required.
From module information to course aims and assessment criteria, discover the full course details for the PGDip.
Module details
With this module, you start building your film and television industry competence to shape practical projects from an initial idea to a final screen artefact. Your tutor offers step-by-step professional instruction to nurture your creativity.
You'll get acquainted with production workflows across various creative, professional and technical roles. On completion, you'll have grasped a command of essential professional skills and an understanding of the fundamental standard processes of the contemporary film and television industries. 
To complete this module, you will devise and develop a creative project pitch (industry standard treatment), a short (scene or sample) screenplay and a short pre-production portfolio with optional audio-visual samples (clips). Your submission will be accompanied by a written critical reflection on the process and potential funding and distribution strategies.
You'll be documenting your progress in an online journal, sharing ideas and your weekly tasks with your tutors and peers to help you organise your work. Weekly webinars will give you a chance to learn by example and to receive constructive feedback on your progress.
(30 credits)
Working on a case study, you develop a critical understanding of practical skills that underpin contemporary film and television industries' operations and project/business management challenges.
This industry research module uses student-centred practice, offering you an opportunity to spend time on in-depth research of a chosen sector of film and television industry, one that aligns with your interests, career plans and ambitions. Focussing on a case study of your choice you'll manage your project under supervision of your tutors and via sharing with your peers.
Starting with factual queries and gathering of information, you'll then progress to critical research to evaluate and analyse your industry data. You'll document your research journey and your findings in an online journal which will inform weekly webinar discussions.
As you progress through your course and later when you enter the job market, the in-depth knowledge of sources and informed critical arguments you acquire here, will help you gain confidence in your professional choices as well as support you making informed decisions, whether you choose pre-production, on-set work, post-production or exhibition/distribution and reception of film and television.
(30 credits)
In this module, you'll pre-produce a short cinematic or televisual form or a screenplay. Practice informed by a critical study of selected examples will help determine your potential contribution to film and television culture.
Designed for you to excel in film and television practice in an informed, professional way, yet crafted to help you follow your interests, this module offers two options: pre-production or screenwriting.
You'll explore critical frameworks and screen practices as they pertain to fields of cinema, television, online viewing platforms, art galleries, transmedia, social media and citizen journalism. Active participation in practical project development will take you through the typical stages of film and television production, making you aware of real-world industry workflow. An overview of the contemporary industry and its commissioning, distribution and exhibition channels will help you situate your original ideas and skills within the current film and television market.
(30 credits)
This module helps you expand your knowledge of how global cultural, political and social contexts frame and influence both production/distribution strategies and contemporary audiences' engagement with various available screen texts.
You'll explore inter-disciplinary contexts interrogated by scholars and critics who now examine film and television as focal points in a wide range of socio-cultural analyses. The shift from modernism to postmodernism followed by the arrival of the internet served as catalysing moments for the emergence of new critical approaches to the contemporary film and television industries. This module will introduce you to the most impactful and recent among such debates.
Every week, you'll sample examples from media studies and cultural studies as disciplines that build on previous academic thought, but exemplify new strategies of understanding creativity in the digital age. Next to analysing traditional film and television texts, you'll discuss transmedia as well as the broadly understood moving image that is available online.
You'll consider relevant contexts of funding, commissioning, production, distribution and exhibition and their impact on today's screen representations and storytelling tactics.
Not only does this module encourage you to use these recent research strategies and methodologies in your investigations of selected film and television examples, but also to apply them to your developing film or television practice.
(30 credits) 
This module culminates your academic and creative learning, providing a bridge for your professional aspirations. Working on your portfolio with your supervisor, you advance your chosen film and television expertise in one of the following areas: production, screenwriting, or academic research.
You'll have the opportunity to excel in practising the following skills that can be used in professional settings in film, television and the creative industries, as well as in academia and beyond.
Using student-centred practice, your tutors will start by discussing your project proposal with you to advise on the format and the option that would best suit your interests, ambitions and career plans.
You'll work on the same project across two study blocks, the first of which will be dedicated to preparation (research, writing, conception), and the second to execution (compiling and presenting your portfolio).
(60 credits)
The modules above are those being studied by our students, or proposed new ones. Programme structures and modules can change as part of our curriculum enhancement and review processes. If a certain module is important to you, please discuss it with the Course Leader.
How you'll learn
You'll learn through a blend of lectures, webinars, guest talks, tasks and discussion forums, which you'll access via our dedicated virtual learning environment. This is also where you'll find all key documentation, get course announcements and access extensive learning resources.
You'll be supported academically by Online Tutors, who will also deliver weekly webinars and facilitate the online forums. As you progress through the course, formal teaching will gradually shift towards more independent exploration and learning.
If you need assistance with anything that isn't directly related to course material, a dedicated Student Advisor team will be on hand to help. You'll also have access to Falmouth University's excellent employability service, RealWORKs
You'll refine dynamic filmmaking practices, spending 20-25 hours a week working on your craft. We incorporate optional face-to-face events for all our online students. There will be up to two per year, and they'll typically run over weekends, to fit around your other commitments.
Study hours
A postgraduate student should dedicate at least 20-25 hours per week for study.
Assessment methods
Assessment provides the course team with a means of offering tailored guidance alongside advice on how to progress knowledge and skills in key areas that relate to the course Learning Outcomes. The course team will identify your strengths and weaknesses as an individual and discuss them with you throughout your time on the course.
You will be assessed via coursework at the end of each module in the form of visual, verbal and written assignments. You will also receive regular feedback via webinars, Q&As and workshops with your peers.
Staff
You'll learn from a team of award-winning film and television practitioners, expert academics and technicians with specialist skills in lighting, cinematography, lighting, post-production, sound editing and more.
Some members of staff only teach on specific modules, and your course might not feature every member shown here.
Facilities
Dedicated easy-to-use virtual learning environment (VLE)
Study alongside students from around the world
Accessible online audio / visual content
Optional face-to-face events*
Invitation to attend alumni events
24/7 access to Falmouth's extensive online library of contextual books, journals and resources
Access to online software tutorials at LinkedIn Learning
Students' Union community
A Student Advisor to support you throughout your studies and access to our Student Support Services
Access to our Careers and employability service RealWORKS
*Please bear in mind that the Covid-19 pandemic may impact these events. You can view the latest information here.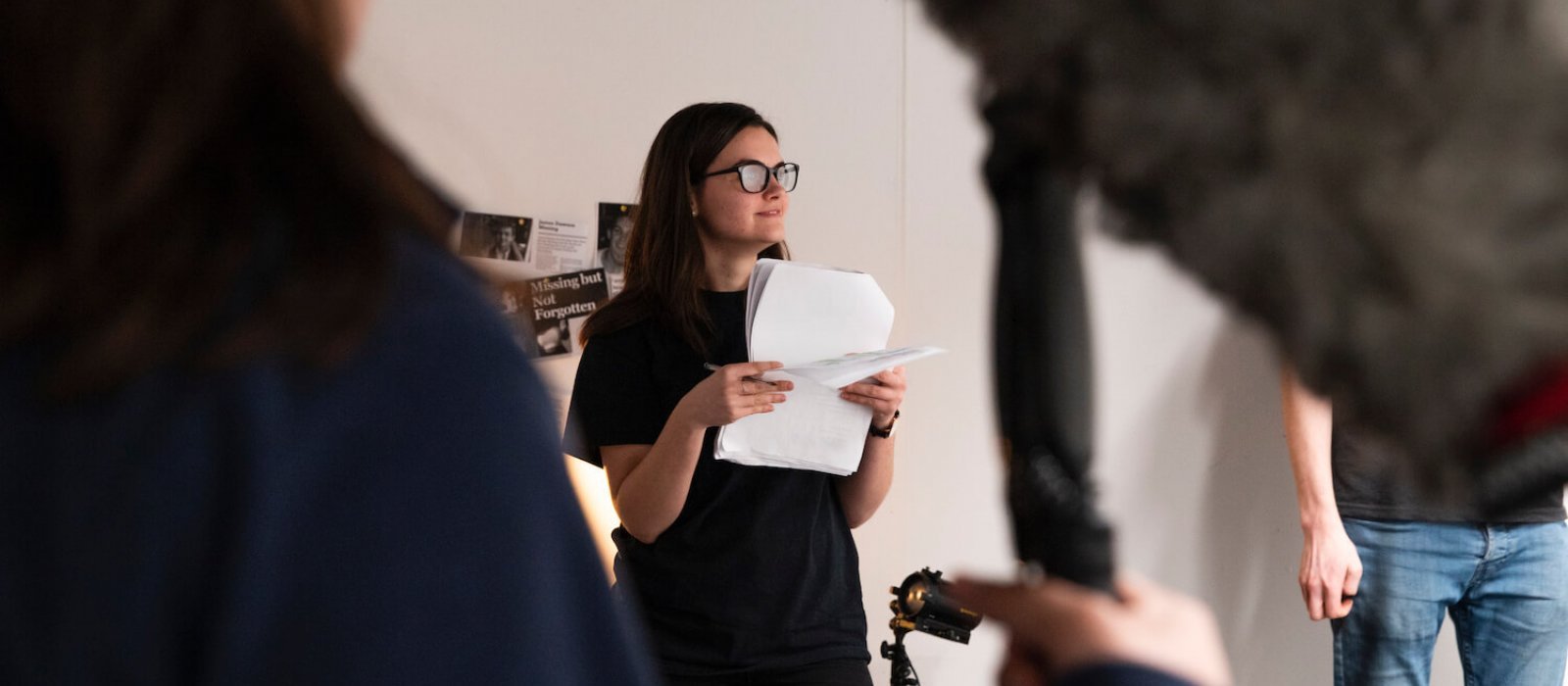 Get in touch
If you'd like to talk to an Advisor about this course, or your application, request a call back using the form below. We'll get back to you to answer any questions and support your application journey. 
Apply now
Ready to apply for postgraduate study? You can apply for the Film and Television MA (Online) by selecting a pathway button below.

An honours degree or Level 6 equivalent qualification is desirable. However, candidates without a degree or formal qualification are still encouraged to apply. If you'd like to discuss our entry requirements, speak to an advisor.
If English isn't your first language, you'll need to demonstrate English language skills that are sufficiently developed for successful completion of your studies. We accept a range of recognised English language qualifications that are equivalent to the International English Language Testing System (IELTS) Academic minimum score of 6.5 overall, with a minimum of 6.0 in Reading, Writing, Speaking and Listening.
This course has three intakes per year: January, May and September.
We are currently taking applications for September 2021. The application deadline for this intake is 31 August.
| Academic start date* | Application deadline |
| --- | --- |
| 20 September 2021 | 31 August 2021 |
| 24 January 2022 | 10 January 2022 |
| 30 May 2022 | 9 May 2022 |
Please note:
*Virtual Welcome Week begins the week before the academic start date. During this time, our Student Advisor team will host Welcome Webinars and be in touch with practical information on how to study online.
An Early Bird discount is available for early applications. The scheme offers a £300 MA / £150 PGDip tuition fee reduction if you apply by the Early Bird discount submission deadline:
| Early Bird discount submission deadline* | Academic start date |
| --- | --- |
| 4 April 2022 | 30 May 2022 |
| 25 July 2022 | 19 September 2022 |
*If you receive an offer and within two weeks you accept the place and pay the acceptance fee, you will then qualify for a further £300 off your MA tuition fees (£150 off PGDip fees). Both these payments would be applied to your final fee instalment.
To discuss all our discount opportunities, contact an advisor.
What we're looking for
We invite applicants with creative drive and research ambitions who want to acquire up-to-date film and TV skills, expand on their knowledge and analysis of current global trends in the industry and explore the cultural contexts of their practical work.
Tuition fees
£11,300 total fee (incl. acceptance fee) - 2 years part time - MA/MSc course
£7,600 total fee (incl. acceptance fee) - PGDip course
£11,795 total fee (incl. acceptance fee) - 2 years part time - MA/MSc course
£7,865 total fee (incl. acceptance fee) - PGDip course
Tuition fees are set annually and are subject to review each year. The University may therefore raise tuition fees in the second or subsequent years of a course, in line with inflation and/or the maximum permitted by law or Government policy. Students will be notified of any changes as soon as possible.
Early Bird discount
An Early Bird discount is available for early applications. The scheme offers a £300 MA / £150 PGDip tuition fee reduction if you apply by the relevant deadline.
For information on fees, get in touch using our online form.
Find out more about our Graduate Loyalty Discount for Falmouth alumni, which offers a reduction in course tuition fees. 
Typical course costs
As part of studying Film & Television MA (Online) you will require:
Laptop/Computer
See recommended system requirements (Windows & Mac) for Premiere Pro
Entry level DSLR/Camera
You will require the use of an entry-level DSLR or equivalent video camera capable of filming in HD, which allows manual control of focus and exposure settings. It is preferable the camera features a mic-in port for connecting an external microphone, alternatively, a separate sound recording device can be used.
You'll be able to discuss comparable cameras and sound devices with our Course Advisors. 
Video Editing Software
You'll need to be able to access video editing software for the practical projects of the course, such as Adobe Premiere Pro, Davinci Resolve, etc. Students can use their preferred video editing software.
Adobe Creative Cloud
You may be eligible for discounted licenses through Adobe's education pricing, however there is currently no discount for Adobe Creative Cloud available from Falmouth University. If any discounts do become available, we will communicate this to you.
Movie Magic
During the course you may wish to use Movie Magic to support any practical projects. This is a recommended piece of software, not compulsory. The cost of this is currently £85.00 for an annual student subscription.
Optional face-to-face events
You will be expected to cover your own travel, accommodation and subsistence costs to attend these events.