Clearing 2021 opens 5 July
Thinking of joining us in 2021? There's still time to apply, so head on over to our undergraduate apply page to find out more.
Not ready yet? Then you can explore our English, Writing & Journalism courses, our inspiring community and discover what student life is really like below.
When you're ready to take your next step, you can get in touch by clicking the button below and filling in our simple online form. One of our friendly course advisors will then get in touch to talk you through your application options.
View English, Writing & Journalism courses
Check back on 5 July to see the courses available in Clearing 2021
Why Falmouth?
Collaborate across the creative sector to produce future-facing original work in new high-end facilities. Learn from staff with expertise from publications like the Guardian, Private Eye, The Bookseller, The Big Issue, the Daily Telegraph, and Agence France-Presse. And gain industry insights through our visiting speakers, Writers in Residence programme and placement opportunities. 
Inspiration in residence
As well as offering opportunities to connect with industry leaders through visiting speakers, placements and the chance to work on live projects, we also run a Writers in Residence programme, which brings acclaimed writers – including Matt Haig, Alice Oswald and Wyl Menmuir – to your doorstep. 
Industry-standard media facilities
With a fully equipped digital newsroom, recording studios with Newswire access and podcasting facilities and a dedicated Writers Room for workshops and events, you'll have all the tools you need to hone your creative craft.
Explore our facilities
High prospects
Our School of Communication has a 40-year reputation for producing top flight journalists. Alumni have gone on to work with the likes of the BBC, Virgin EMI Records and Creative Assembly, and have penned critically acclaimed novels, screenplays and poetry.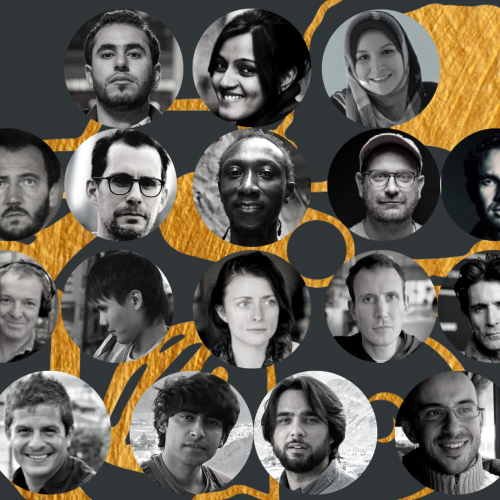 Real-world journalism collaboration
---
Falmouth journalism students were invited by the Rory Peck Trust (RPT) to gain real-world experience by profiling the finalists in the Trust's annual awards. The Rory Peck Trust aids freelance journalists around the world and the Rory Peck Awards are some of the news industry's most prestigious. BA and MA Journalism students interviewed and wrote in-depth profiles on each of this year's inspiring finalists. Having the opportunity to experience journalism in practice is of huge benefit to students and being able to explore the talent and experience of the award nominees and those involved with RPT is invaluable. Read about this collaboration.
Read about the Rory Peck Trust collaboration
Read More
Further information & support
Apply for 2021
If you've found the course for you and want to make Falmouth your home, it's time to take your next step. Fill in our simple online form and one of our course advisors will call you to take you through your application options.
Go to form