What can you do with an English, Creative Writing or Journalism degree?
Studying a degree in English, Creative Writing or Journalism is more than just crafting the perfect poem or headline; it teaches you to see the world differently. 
You may choose to study an English, Creative Writing or Journalism degree to pursue a career as an author or writer, but there are countless other career routes you can pursue with a degree in this subject.
With businesses growing their online presence, talented writers are being hired as copywriters, web editors, PR officers and content creators to help brands communicate with their audiences.
Journalism graduates can specialise in various types of journalism, such as broadcast journalism, investigative journalism or emerging trends such as data journalism. A Journalism graduate's strong written, communication and research skills will also set them up to work in sectors like marketing, media and publishing.
Job opportunities
Our English, Creative Writing and Journalism degrees are designed to equip graduates for a broad range of careers in the creative industries. You could become a:
Author 
Copywriter 
Journalist 
Reporter 
Screenwriter 
Poet Editor 
Scriptwriter 
Teacher 
Writer in Residence 
Marketing Manager 
Content Creator 
Blogger
Podcaster 
Brand Storyteller  
Press Officer 
SEO Writer 
Communications Officer 
Graduates in the spotlight
Our English, Creative Writing and Journalism graduates have gone on to carve successful careers in the following roles: 
PR coordinator at Superdry 
Media Editor at Business Insider 
Editor at Parragon Books 
Artistic Director at Sharp Teeth Theatre 
Staff Writer at FRONT magazine 
A degree in English, Creative Writing or Journalism will teach you how to articulate your ideas verbally and in writing. You'll have the opportunity to explore areas like poetry, fiction, non-fiction, screenwriting and storytelling for digital games. Under the guidance of experienced academics, industry professionals and diverse guest speakers, you'll learn how to think critically and debate new ideas. 
You'll master how to frame, follow and complete independent lines of enquiry and research using multiple sources. You'll learn how to make and market a blog and gain experience using video and audio recording equipment to create a diverse portfolio of work.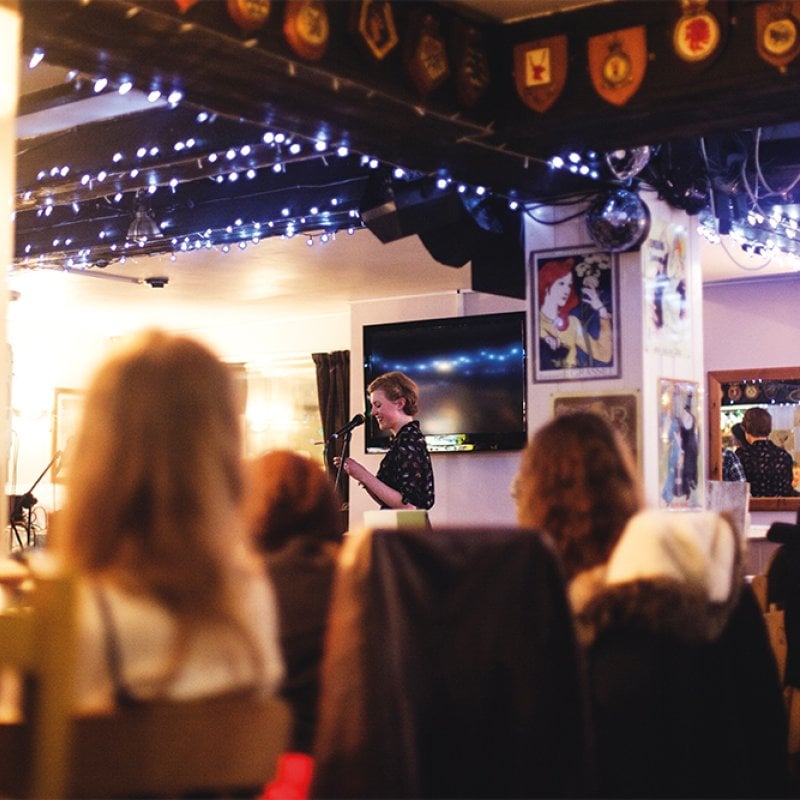 Transferable skills
Our students also develop a variety of transferable skills that are desirable to a range of employers. These include:
Verbal and written communication skills, including presentation and pitching
Strong research, observational and analytical skills
Ability to working towards live self-directed and/or client-led briefs
Leadership skills through project management and collaborative outputs
Innovative solutions to problem solving and a willingness to take creative risks
Interpersonal skills through critiques, peer reviews and group tutorials
Entrepreneurial skills in marketing your work and building professional networks
Our industry-focused English, Creative Writing and Journalism degrees give students the opportunity to gain real-world experience while they study. Students work on live briefs set by creative industry partners. In previous years, students have created podcasts, poetry collections and a range of community projects with partners such as Mind and the National Trust. There are also opportunities to gain regular work experience by writing or working for FalWriting, our student journal of new writing. 
Students can build networks through our guest lecture series and Writers in Residence programme, as well as attend and participate in external literary events such as The London Book Fair and the North Cornwall Book Festival. 
Our dedicated Employability Service is also on hand to support students throughout their studies. We offer weekly career workshops and events, support with practice interviews and advice on writing your CV or even going freelance. 
By the time our students graduate, they have their own professional identity and portfolio to start pitching to industry. 
Our English, Journalism & Creative Writing courses