Film & Television MA
Based in our world-class film school and supported by specialist, award- winning staff, you'll hone your skill set and broaden your thinking to create work with impact, relevance and reach. We cherish courageous originality and the diversity of our student body, welcoming applicants with and without a media background.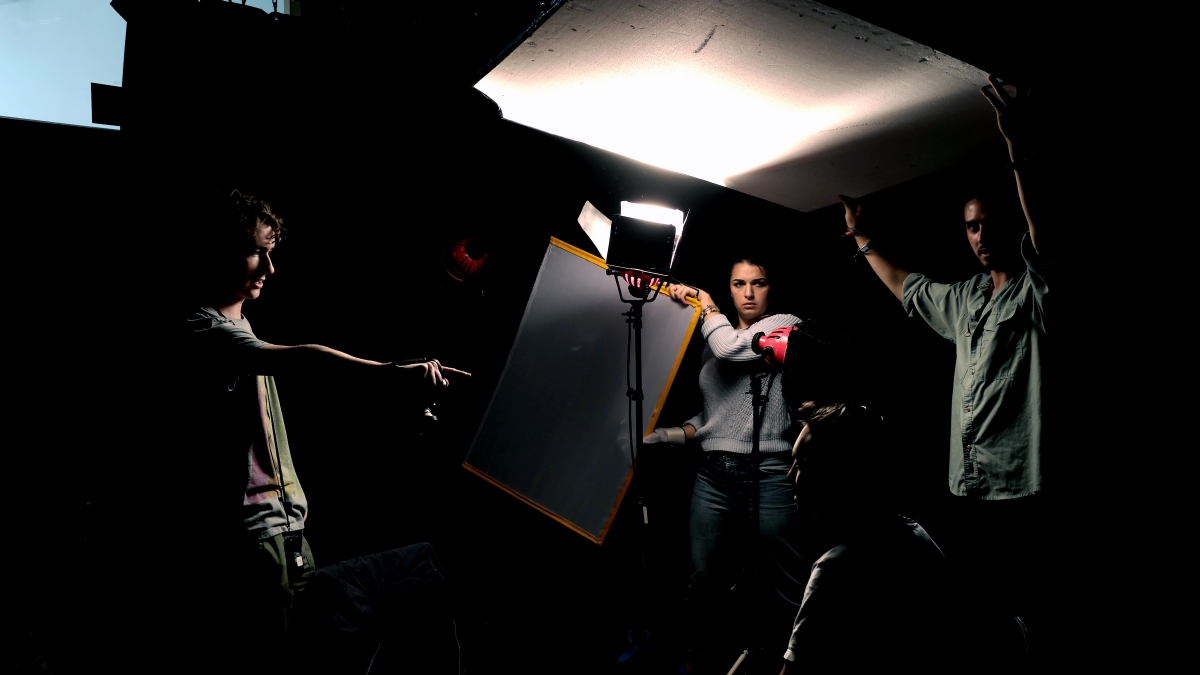 Key details
| | |
| --- | --- |
| Location | Penryn Campus |
| Course Duration | 1 year |
| Attendance | Full-time |
Introduction
This dynamic MA will help you build the craft and critical skills to place your work in line with current industry trends. You'll engage in practical projects mirroring professional workflows and creative environments. To develop an up-to-date, original practice, you'll also study the cultural contexts of global film and television markets.
The School of Film & Television is a member of CILECT, the global association of the world's best film, television and animation schools. MA Film & Television is accredited by Creative Skillset, a mark of quality endorsed by industry professionals.
What our graduates do
Our graduates have secured jobs at HBO, Sky and ITV, and worked on feature films including Disney's Cinderella, About Time, and The World's End.
Course details
What you'll learn
We'll examine how directors like Ben Wheatley and companies like Curzon and Film4 are using multi-platform release schedules. And how brands like HBO, Amazon and Netflix are shaping what we watch and how we watch it.
Exploring the blurred lines between art and technology, you'll learn everything from journalism to philosophy to essential research skills. Crucially, on top of learning to develop, write, produce, shoot, record, direct and edit, you'll look into why your ideas are worth being made.
Taking part in intensive practical group work, you'll build technical skills and nurture your creativity in all areas of short film and television project development, including learning about legal requirements, ethical standards and risk assessment. This work will be supported with a reflection on how cultural contexts frame production and audiences.
Our masterclasses and guest speaker series will introduce you to a network of experiened professionals from companies like the BBC, Channel 4, Sky and Pinewood Studios.
Modules
Contextual Studies: Screen, Culture & Society
Creative Practice: Foundation
The second Study Block invites you to develop your thinking beyond the limits of western culture. Collaborating with a crew of your peers, you'll have an opportunity to deliver a 10-minute film/TV form or screenplay inspired by research into globalisation and screen media.
You'll also get a tase of industry with the chance to visit an international film festival and undertake work placements and internships.
Modules
Contextual Studies: Screen & Globalisation
Creative Practice: Development
You'll choose your final project depending on your career plans. If you're planning to move on to a PhD you can produce a dissertation or research portfolio involving a high level of research, a complex reading of film or television, and further discussion. Alternatively, if you want to head straight into industry you can choose an Industry Practice Project, where you'll make a 20-minute film /TV form or write a feature screenplay.
You'll consult your work with an assigned supervisor and share it with your peers and the course team for step-by-step feedback.
Modules
Contextual Studies: Final Major Project
Creative Practice: Final Major Project
The modules above are those being studied by our students, or proposed new ones. Programme structures and modules can change as part of our curriculum enhancement and review processes. If a certain module is important to you, please discuss it with the Course Leader.
From module information to course aims and assessment criteria, discover the full course details

How you'll learn
Taking place over 45 weeks and 3 semesters, you'll choose specialisms focused on your ideal career, and learn from industry professional mentors. Our visiting lecture programme has featured critic Dr Mark Kermode, Red Riding writer Tony Grisoni, The Midnight Beast producer Mary Burke, and Green Wing writer James Henry.
The School of Film & Television has hosted Channel 4 Talent Day, and we often help our students secure placements at Warp Films and TwoFour.
Assessment methods
Continuous assessment with no formal examinations
Core theory based on written assignments
Core practice assessed on visual project and accompanying portfolios
Elective modules all with theory/practice options
Dissertation and/or major project in final semester
Staff
You'll learn from active writers, producers, directors, editors, sound designers and cinematographers, while our visiting speakers have featured leading critics, the writers of Southcliffe, How I Live Now and Campus, and the producer of For Those In Peril.
Some members of staff only teach on specific modules, and your course might not feature every member shown here.
Facilities
129-seat cinema, with Christie M Series 2.5k projection and 7.2 surround sound.
Four large production studios:
Production Studio 1:  multipurpose studio equipped with three Sony HXC-FB80 studio cameras, chromatte grey screen and full lighting rig. Integral live gallery including 4-input Tricaster Ultra HD production system.
Production Studio 2: multipurpose studio and support area for studio 1.
Production Studio 3: multipurpose studio with lighting rig.
Production Studio 5: Specialist green screen studio with infinity cove & 360 degree subject lighting rig. Access to Xsens motion capture kit and VR/AR/MR equipment.
Nine Mac Pro edit suites with Avid Media Composer, Adobe Creative Cloud Suite & Da Vinci Resolve.
Two specialist grading suites featuring DaVinci Resolve and 4K preview screens.
Two 28-seat 'Post Hubs' for post-production software training, equipped with dual screen Apple iMacs. Software available includes Avid Media Composer, Adobe Creative Cloud, Da Vinci resolve and Pro Tools. Production management software is also available.
25-seat dubbing theatre with Avid S6 mixing desk and Pro Tools Ultimate.
Three further post-production audio suites – all equipped with Pro Tools Ultimate.
Foley/ADR suite with access to a wide range of mics, foley traps and props.
All post-production suites network-linked to Avid NEXIS shared storage system for seamless access and integration of projects.
Digital cameras (HD to 4K) including Arri Alexa, RED, Sony, Canon, Blackmagic, Panasonic, and Arri SR3 and Bolex 16mm film cameras. Odyssey 7Q+ External Recorders are also available.
Wide range of hot and cold (LED) lighting equipment including systems by Arri, Dedo & Kino Flo alongside traditional blondes and red heads.
Grip and gimbal systems available include Free-Fly Movi M5, Wally Dolly, Indie Dolly, PD1 Dolly, Koolertron Sliders, Glidecam 2000, Libec and Camcrane Jibs.
Audio equipment includes Sound Devices 633 mixers, recorders and an extensive range of microphones.
Four animation software studios containing powerful Dell Precision Workstations with Cintiq 24" & 27" pen displays. Software available includes Autodesk Maya (3D), TV Paint (2D) and Foundry Nuke Studio (VFX Compositing), alongside Adobe Creative Cloud Suite.
Dedicated stop-motion animation studio equipped with Canon EOS camera bodies, Nikon lenses, manfrotto grip and Dragonframe capture software.
How to apply
Apply now
Ready to apply for postgraduate study? You can apply online by clicking the button below. 
Want to ask a question?
If you have questions about the course, how you'll learn or what funding is available just click the button below. 
You'll be able to submit a contact form and we'll get in touch with you as soon as we can.
We welcome applications from those with relevant equivalent Level 6 qualifications, or relevant equivalent experience, and a demonstrable interest in the subject.
We'll also welcome your application if you have formal or 'certified' learning (such as training courses not run by universities or colleges) and learning from work experience or self-study. This is called Accreditation of Prior Learning (APL), and should have been gained within the last five years, and equivalent to the learning outcomes of our minimum entry qualifications.
APL applicants using experience to apply should note there is a £200 application fee for entry with advanced standing or with exemption from specific modules or credit.
If English isn't your first language, you'll need to demonstrate English language skills that are sufficiently developed for successful completion of your studies. We accept a range of recognised English language qualifications that are equivalent to the International English Language Testing System (IELTS) Academic minimum score of 6.5 overall, with a minimum of 6.0 in Reading, Writing, Speaking and Listening.
International applicants who require a Tier 4 student visa to study in the UK must take a recognised language test that is approved and vouched for by the University. Our Applicant Services Team can help with any questions you may have about study visas or suitable language tests.
Fees, costs & funding
Tuition fees
£8,500 per year - full-time UK/EU (£250 acceptance fee payable. This is deducted from tuition fees.)
£16,000 per year - full-time international (acceptance fee up to £1,000 payable, dependent on nationality. This is deducted from tuition fees.)
£8,500 per year - full-time UK (£250 acceptance fee payable. This is deducted from tuition fees.)
TBC - full-time EU
£16,000 per year - full-time international (acceptance fee up to £1,000 payable, dependent on nationality. This is deducted from tuition fees.)
Find out more about our Alumni Loyalty Discount for Falmouth Alumni, which offers a reduction in course tuition fees.
Typical course costs
£50 - Recurring annual costs
£50 - One-off costs for the course duration (compulsory trips, final portfolios or shows etc)
£650 - Optional study visits and placements for the course duration
If you need to bring equipment or materials with you, these will be outlined in your Welcome Letter.
The figures above don't include accommodation and living costs
Tuition fees are set annually and are subject to review each year. The University may therefore raise tuition fees in the second or subsequent years of a course, in line with inflation and/or the maximum permitted by law or Government policy. Students will be notified of any changes as soon as possible.
Postgraduate Funding
There are loans, awards and alternative funding sources for postgraduate studies. Read about them on our Postgraduate Funding page.
Find out about funding
Open Days
Get a feel for Falmouth at our friendly and informal Open Days. Explore our departments, attend course information sessions and talk to staff and current students about living and studying here.
Book an Open Day