Key details
| | |
| --- | --- |
| Course Duration | 2 years |
| Attendance | Part-time |
Start dates: January / May / September
(Three intakes per year) 
Course overview
Taking a practice-based approach, while learning at a pace that fits your lifestyle, you'll be taught by expert lecturers and engage with leading international journalists and media innovators. With a network of industry connections and skills in a range of multimedia news formats, you'll leave prepared for a variety of careers in the creative industries
You'll also have the option to attend inspiring talks from industry experts through our guest speaker programme. Previous speakers have included Theodora Louloudis (The Telegraph), Sarah Rainsford (BBC) and Matthew Price (Sky News).
You will:
Be taught by leading journalists who are experienced in reporting a range of news, feature and investigative stories in an international context.
Develop a critical understanding of the shifting political, social and industry environments in which journalists operate around the world.
Focus on data journalism, investigative reporting skills, including open-source research and the use of social media to gather and distribute quality news.
Create your own multimedia toolbox, learning to shoot and edit video, record and mix audio and combine media with graphics and text.
Develop your skills as a creative and technically agile non-fiction storyteller in order to work independently as a journalist anywhere in the world.
Discover how to thrive and innovate in the international digital news and communications industries.

Studying Journalism online means you'll be part of our trail-blazing writing community within the School of Communication. Check out the stories below to discover more about our amazing students, graduates and staff.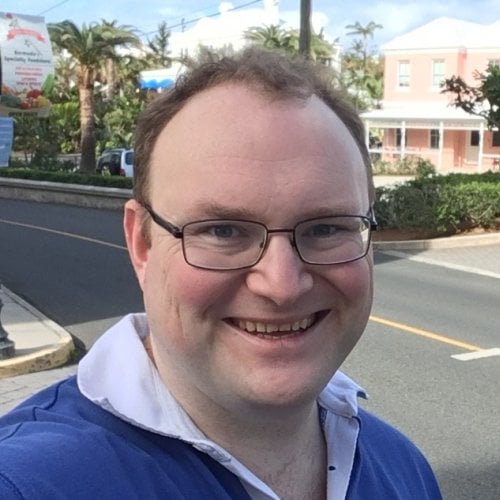 Dr Kit Chapman
Meet your course leader, Dr Kit Chapman
---
Course leader Dr Kit Chapman is an award-winning journalist and published author. He delves into his science and environmental expertise, his zeal for storytelling and the course's focus on 21st century journalism.
Read more
Graduates of the Journalism master's degree can go on to work professionally as journalists in their field of expertise – current affairs, politics and social justice, climate and environment, sport and entertainment are just a few such areas.
Your studies can also help you enter other fields that call for similar capabilities, such as content creation, content production, research, editing, communications and PR.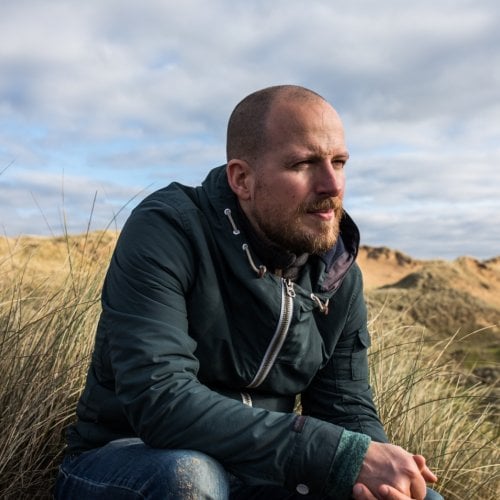 Ed Profile Pic
Meet your module leader, Edward Kiernan
---
Having worked as a producer, cameraman, editor and drone operator for some of the biggest news organisations in the world, module leader for MA Journalism online, Edward Kiernan knows that modern journalistic practice is about more than unearthing a great story.
Read more
With a focus on data journalism, social media and impactful storytelling, this Journalism MA is grounded in high journalistic standards, aiming to give you the skills, insights and confidence to innovate. You'll engage with media 'disruptors', develop an understanding of the changing relationship of journalists and an audience and explore the challenges posed by artificial intelligence, big data and 'churnalism'. Learning from journalists and news product professionals, working on local and international levels, you'll also develop an entrepreneurial mindset.
Modules
This course is comprised of five modules, four 30-credit modules and one 60-credit project (180 credits in total). The modules have been specifically designed to be studied in a non-linear order, with the order in which you'll study the modules depending on when you begin the course. All modules on the course are compulsory and must be passed in order to complete the award.
Module details
In this module, you'll explore the key political, regulatory and creative issues affecting journalists today. You'll draw on critical theory, journalistic case studies and examples of best current practice, which will be examined with the help of journalists working in different publishing/broadcasting/digital contexts.
The rapidly growing area of data journalism will be a focus, along with an introduction to creating infographics. You'll develop your skills in newsgathering, verification and ideas generation, all within a robust ethical framework of clear obligations to your sources and subjects.
Drawing on this ongoing research, you'll produce a regular social media digest of verified trending news stories, used to source stories and understand news consumption patterns. You'll also work collaboratively or individually to source, pitch and produce news content that includes original data analysis.
(30 credits)
A smart phone, an aptitude with apps and strong social media accounts are the tools of the mobile digital journalist.
Taking a lead from digital news innovators reporting in the field, you'll become fluent in key creative tools and strategic approaches for creating and promoting compelling news, video and LIVE events.
You'll also explore the effects of these technologies and processes, including the extraordinary opportunities for innovative and impactful storytelling, the changing relationship of journalist and audience, and the challenges of artificial intelligence and 'churnalism'.
(30 credits)
The radical transformation of news gathering and business models and the rapid advance of digital technology offers new opportunities for enterprising news journalists.
In this module, you'll critically examine a range of business models - from the corporate giants of the so-called legacy media empires to the 'disruptors' who are exploiting technology and shifts in news consumption patterns to transform journalism practice.
You'll employ data analytics to understand and exploit news and information trends and use digital applications to check factual information, interrogate data, create infographics and measure, analyse and present publishing and audience analytics.
As a result of this research, you'll develop a proposal for a viable news media service, product or platform, which you'll pitch online to a panel, and produce a report detailing your business plan. Through this, you'll consider essential components such as branding, financial planning, copyright and data protection.
(30 credits)
In this module, you'll acquire and consolidate the technical expertise, confidence and flexibility needed to produce multimedia news content, underpinned by critical evaluation of contemporary practice and a legal/regulatory focus on privacy and harassment.
You'll develop practical expertise in a range of content formats, with training in video and photography, as well as recording, mixing and editing audio. You'll learn how to use data journalism apps to identify and pursue news stories and present them in complex infographics of digital media.
Working independently and in groups, you'll apply these skills to produce original editorial content for an assessed portfolio, as well as producing a podcast critically examining a legal, ethical or regulatory challenge to media freedom.
(30 credits)
Your online master's degree will culminate in a Final Major Project, guided by lecturers and leading industry professionals. You'll conceive, plan and execute a substantial journalistic artefact or product/service on a platform of your choice.
You'll be encouraged to follow 'story beats' you may be developing for future professional practice. This could include climate and environment, international affairs, big data or lifestyle.
(60 credits)
The modules above are those being studied by our students, or proposed new ones. Programme structures and modules can change as part of our curriculum enhancement and review processes. If a certain module is important to you, please discuss it with the Course Leader.
From module information to course aims and assessment criteria, discover the full course details for the MA.
How you'll learn
You'll learn through a blend of lectures, webinars, guest talks, tasks and discussion forums, which you'll access via our dedicated virtual learning environment. This is also where you'll find all key documentation, get course announcements and access extensive learning resources.
You'll be supported academically by online tutors, who will also deliver weekly webinars and facilitate the online forums. If you need assistance with anything that isn't directly related to course material, a dedicated Student Advisor team will be on hand to help. You'll also have access to Falmouth University's excellent employability service, RealWORKs.
You'll spend 20-25 hours a week working to develop your journalistic craft as you refine and build your reporting skills. We incorporate optional face-to-face events for all our online students. There will be up to two per year which typically run over weekends, to fit around your other commitments.
Study hours
A postgraduate student should dedicate at least 20-25 hours per week for study.
Assessment methods
Assessment provides the course team with a means of offering tailored guidance alongside advice on how to progress knowledge and skills in key areas that relate to the course learning outcomes. The course team will identify your strengths and weaknesses as an individual and discuss them with you throughout your time on the course.
Assessments are 100% coursework, submitted in an electronic format to the virtual learning environment and designed to reflect professional practice. Assessment methods include:
Portfolios of editorial work
Presentations
Projects
Reflective journals
Critical essays
Reports
Staff
Our MA Journalism team works with international news organisations, staff and alumni to provide you with the breadth of experience and networks needed to accelerate your career.
Some members of staff only teach on specific modules, and your course might not feature every member shown here.
Facilities
Dedicated easy-to-use virtual learning environment (VLE)
Study alongside students from around the world
Accessible online audio / visual content
Optional face-to-face events*
Invitation to attend alumni events
24/7 access to Falmouth's extensive online library of contextual books, journals and resources
Access to online software tutorials at LinkedIn Learning
Students' Union community
A Student Advisor to support you throughout your studies and access to our Student Support Services
Access to our Careers and employability service RealWORKS
*Please bear in mind that the Covid-19 pandemic may impact these events. You can view the latest information here.
Get in touch
If you'd like to talk to an Advisor about this course, or your application, request a call back using the form below. We'll get back to you to answer any questions and support your application journey.
Ready to apply for postgraduate study?
Ready to apply for postgraduate study? You can apply for the Journalism MA (Online) by selecting the button below.

An honours degree or Level 6 equivalent qualification is desirable. However, candidates without a degree or formal qualification are still encouraged to apply. For more information about entry requirements and Accreditation of Prior Learning (APL), speak to an advisor.
Experience of producing journalism, either in the industry or another context, in a paid or voluntary role, collaboratively or independently. Examples could include (but are not limited to) a university website, community website or personal blog.
You will also need to submit a 450-word essay identifying a journalist or news service you admire; explain why you value their journalism. 
If your first language is not English, you'll need to take one of the following tests to verify your proficiency:
IELTS - minimum overall score of IELTS 6.5 with at least 6.0 in Reading, Writing, Speaking and Listening
TOEFL iBT (online test) - minimum of 88 overall and at least 21 in all 4 components
LanguageCert (online test) - a High Pass from the ESOL B2 Communicator test in reading, writing, speaking and listening (2 parts)
We also accept a range of equivalent recognised English language qualifications.
For more information about equivalent international qualifications or English language requirements please contact our friendly Course Advisors.
This course has three intakes per year: January, May and September.
| Academic start date* | Application deadline |
| --- | --- |
| 20 September 2021 | 31 August 2021 |
| 24 January 2022 | 10 January 2022 |
| 30 May 2022 | 9 May 2022 |
Please note:
*Virtual Welcome Week begins the week before the academic start date. During this time, our Student Advisor team will host Welcome Webinars and be in touch with practical information on how to study online.
An Early Bird discount is available for early applications. The scheme offers a £300 MA tuition fee reduction if you apply by the Early Bird discount submission deadline:
| Early Bird discount submission deadline* | Academic start date |
| --- | --- |
| 4 April 2022 | 30 May 2022 |
| 25 July 2022 | 19 September 2022 |
*If you receive an offer and within two weeks you accept the place and pay the acceptance fee, you will then qualify for a further £300 off your MA tuition fees. Both these payments would be applied to your final fee instalment.
To discuss all our discount opportunities, contact an advisor.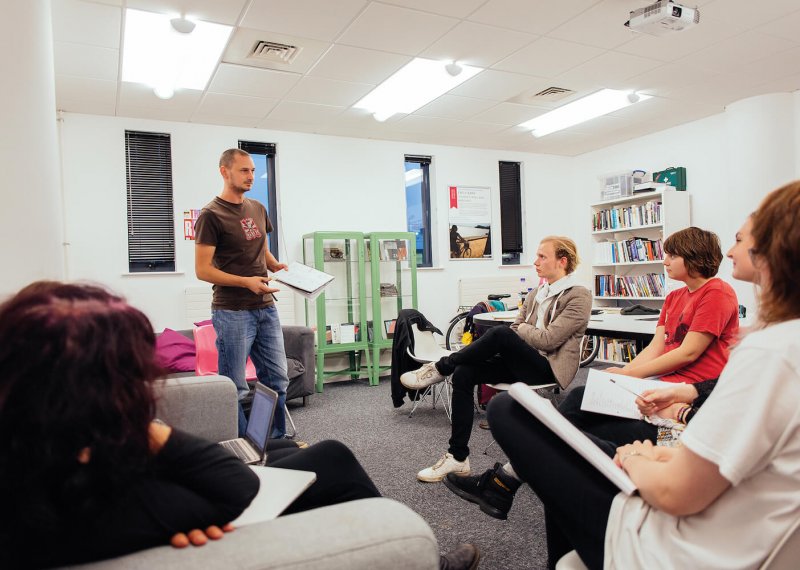 " The tutors, are incredibly supportive and passionate about journalism, which is one of the reasons I signed up for the master's course – to be inspired to get myself out there "
Tuition fees
£11,300 total fee (incl. acceptance fee) - 2 years part time - MA/MSc course
£11,795 total fee (incl. acceptance fee) - 2 years part time - MA/MSc course
Tuition fees are set annually and are subject to review each year. The University may therefore raise tuition fees in the second or subsequent years of a course, in line with inflation and/or the maximum permitted by law or Government policy. Students will be notified of any changes as soon as possible.
Early Bird discount
An Early Bird discount is available for early applications. The scheme offers a £300 MA tuition fee reduction if you apply by the relevant deadline.
For information on fees, get in touch using our online form.
Find out more about our Graduate Loyalty Discount for Falmouth alumni, which offers a reduction in course tuition fees.
Typical course costs
You'll also require a desktop/laptop capable of running Canvas, our online learning platform, and a smartphone (iPhone or Android) of a reasonable specification. 
It would be useful to have access to a steadying gimble for film work and an external interview microphone via an iRig style interface.
If you have any questions on these requirements, please call our course advisor team.
What better way to find out about life at Falmouth University than by asking our current students? 
From course details, our facilities and the local area to the social scene and settling in, our students are ready and available to answer any questions you might have. Simply set up your account, send them a question and they'll get back to you within 24 hours.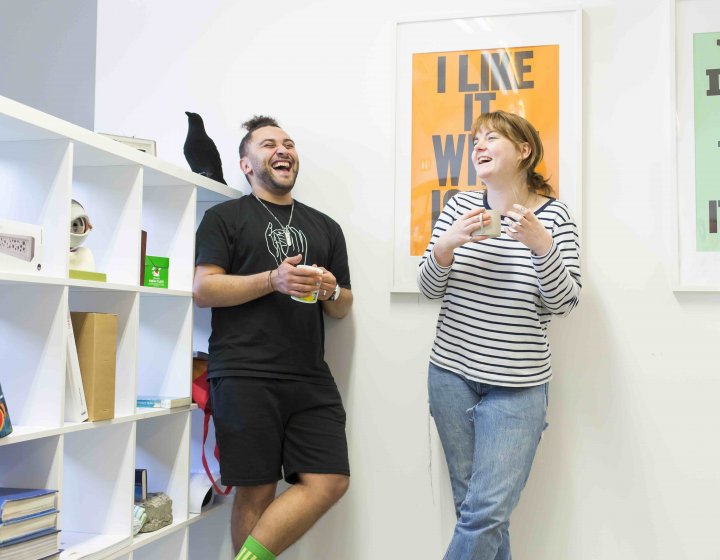 Comedy Writing Ma 2022
Comedy Writing MA (Online)
Get the skills, tools and industry insights to push your projects to the top of the commissioning ed...
Comedy Writing MA (Online)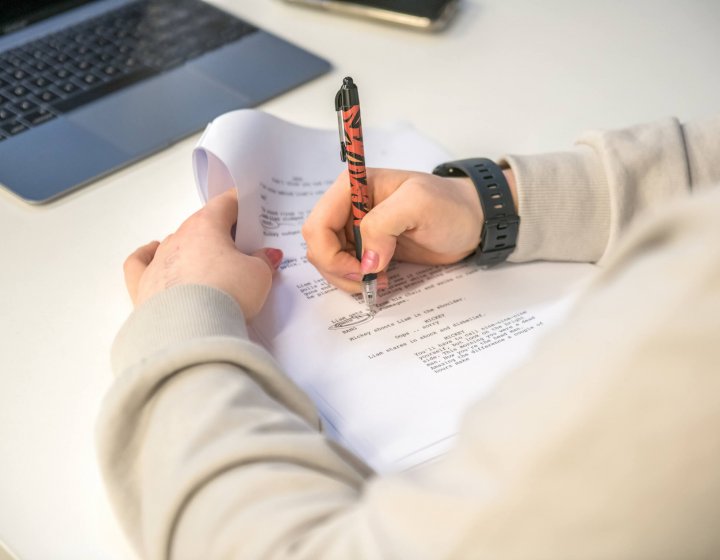 Student Annotating Script
Writing for Script & Screen MA/PGDip (online)
This course is designed to equip you with the writing skills, industry knowhow, professional skills ...
Writing for Script & Screen MA/PGDip (online)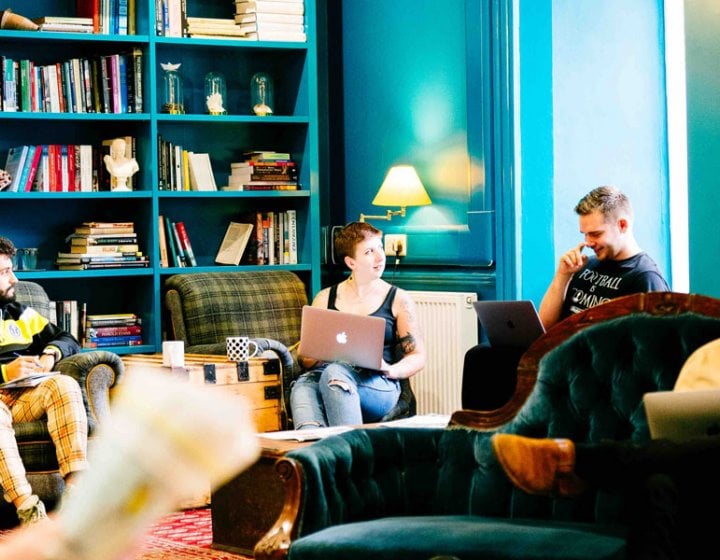 Professional Writing 2022 crop
Professional Writing MA
Develop the skills to forge a successful career in professional writing. You'll learn to craft fic...
Professional Writing MA