How to apply
Our dedicated Clearing team is on hand to help you secure your place at Falmouth University and answer any of your questions. Simply call our hotline: +44 (0)1326 213730 Monday - Friday: 09:00 - 17:00. Alternatively you can always request a call-back or apply online any day, at any time.
Applying out of hours? 
Our simple online application form lets you apply anytime you like and it takes just 5-10 minutes to complete. 
Want us to call you?
If the hotline is closed or you can't get through simply request an immediate call-back. Just fill out the form and we'll call you as soon as possible to discuss your options and answer any questions. 
Prefer chatting online? 
Our expert Clearing team is available to answer any questions via Live Chat. You can also message a student directly to chat about everything from a course, student life and the uni experience to Falmouth living via Ask a Student.
Live Chat with us Ask a Student 
Who can apply through Clearing?
You can apply through Clearing if:
You haven't already applied for a university course this year
You haven't received any offers 
You haven't met the conditions of any of your offers
You've changed your mind 
View all available courses
Why Falmouth?
Working in some of the best university facilities in Europe, you'll get the chance to work on live industry projects and occasional paid briefs via our in-house agency, go on internships and study visits to places like London, the Galapagos Islands, New York and the Red Sea and hear from industry experts through our guest lecture series. 
In-house creative agency
Mayn Creative offers students the chance to work on commercial and creative projects for real clients, opportunities to collaborate with practitioners from a variety of creative disciplines and experience in an agency setting – giving them a headstart when graduation comes around. Mayn also produces Intro, a zine celebrating the talents of our current cohort.
Find out more about Mayn
Peerless facilities
Our multi-million-pound photography facilities are some of the best in Europe. Housing dark rooms, process areas and photomicroscopy laboratory, post-production suites, full professional studios and a gallery, our Institute of Photography encompasses both traditional and digital processes. The equipment hire desk is manned throughout the year too, so you can loan the latest industry equipment for free whenever you need it.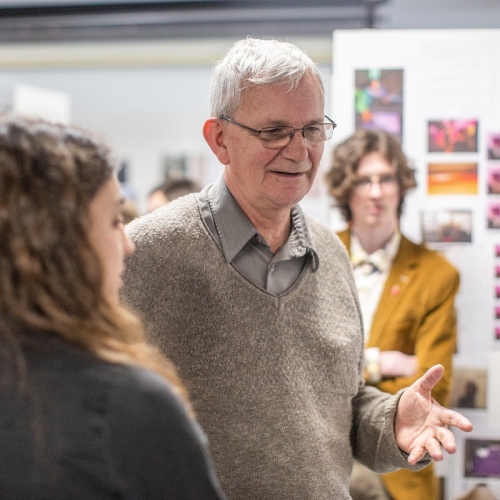 Guest lectures
---
Through our guest lecture series you'll gain industry insights and inspiration from photographers like Rut Blees Luxemburg and Shona Marshall, wildlife filmmakers like Doug Allen, and photojournalists like Antonio Olmos. Read on to hear what happened when legendary photographer Martin Parr paid us a visit.
Photographer Inspires Students
Read More
Further information & support