Fresh from Falmouth: January 2023
27 January 2023
With the new year comes new creative offerings from our talented community of innovators, creators and moment-makers. Here's the latest from our staff, students and alumni. 
The latest from our creative community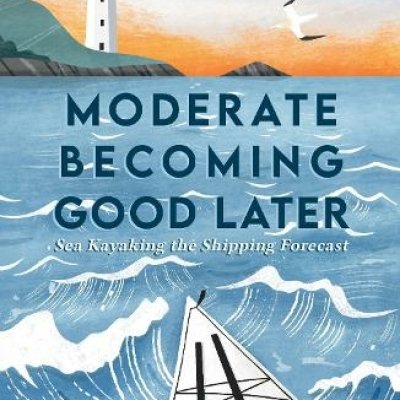 Moderate Becoming Good Later: New book by Toby Carr and Katie Carr 
Just over a year since Falmouth University lecturer, architect and adventurer Toby Carr passed away, his book (co-written by his sister Katie Carr) has been made available for pre-order.  
Chronicling Toby's attempt to sea kayak the areas of the Shipping Forecast, Moderate Becoming Good Later is both an epic adventure and a personal voyage of discovery. 
Graduate announced as a Portrait of Britain winner 
Fashion Photography BA(Hons) graduate Logan Davies has been announced as a winner of The British Journal of Photography's Portrait of Britain Awards 2022.  
"As queer people we are exiled from society and transform ourselves into fantastical creatures unbound by expectations of what it means to be a man or woman – escaping from captivity to become free." 
- Logan Davies 
Dr D Ferret interviewed on Movement Radio  
Dr D Ferret, course leader for Popular Music BA(Hons), was interviewed on Movement Radio's Archipelago show about her book Dark Sound: Feminine Voices in Sonic Shadow (Bloomsbury 2020). 
In the episode, D discusses how artists have embraced darkness in their art to subvert a narrative that has shaped gender archetypes for millennia - the feminine voice as a corrupting presence whose song threatens the morals and virtues of men.
Illustration student to exhibit at the Bologna Children's Book Fair 
Third-year Illustration BA(Hons) student Charlotte Cree is certainly one to watch in 2023. Her book I Need to Tell You Something, a silent narrative project about childhood sexual abuse and the process of seeking help, was selected by a jury of 50 worldwide publishers for the Dpictus Unpublished Picturebook Showcase 2022 and will be exhibited at the Bologna Children's Book Fair in March.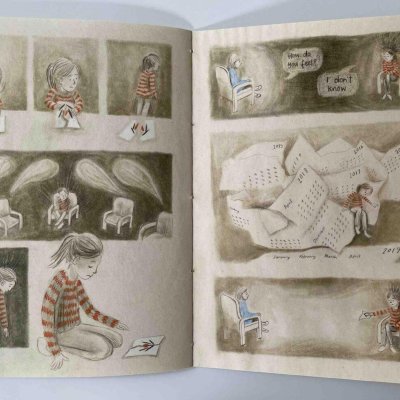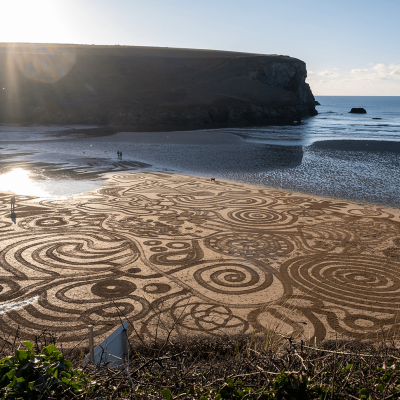 Students explore blue space with sand art master 
In partnership with Health Works Cornwall, students from our Graphic Design, Marine & Natural History Photography, Film and Press & Editorial Photography courses worked with renowned artist Tony Plant on an installation at Mawgan Porth beach.  
The collaboration is part of a wider programme of activity between academics and artists which aims to explore how 'blue spaces' (outdoor environments that prominently feature water) can have a positive impact on creativity and wellbeing. 
Lecturer designs new medals for the RCPS Medal Awards
The Royal Cornwall Polytechnic Society (RCPS) has just announced the reintroduction of its Medal Awards, championing excellence in science, industry and the arts. First awarded in the 1830s, the medals played a pivotal role in the RCPS' early history – one of the first recipients was Alfred Nobel in 1865.  
The new medals were designed by Fine Art lecturer Lucy Willow. A highly regarded specialist in medal art herself, in 2018 Lucy received the British Art Medal Society's (BAMS) Marsh Award for the Encouragement of Medallic Art in recognition of her work supporting students in the BAMS annual medal competition.