Clearing 2023: Your questions answered
08 September 2023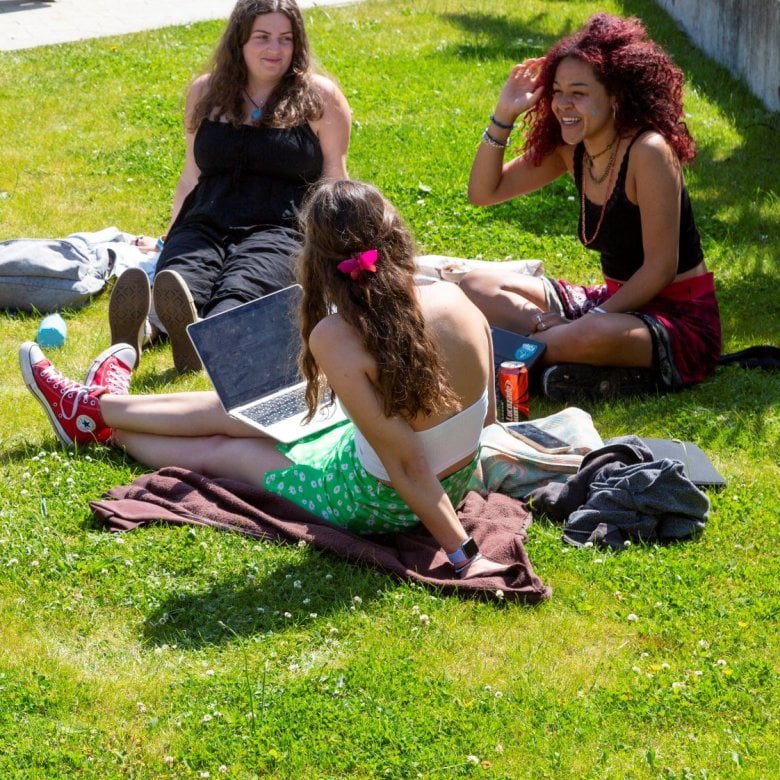 Students at Penryn Campus
Clearing student life questions
I'm worried about money. Are there opportunities for part time work on or off campus? 
Falmouth is both a vibrant student town and busy tourist destination, so there are plenty of opportunities to find part time work in the local area. You can search for vacancies on job sites or contact Falmouth's Employability Service for support when you arrive.  
You can also get regular work with the University by becoming a Student Ambassador or mentor. You'll get paid to provide support at events like Open Days, chat to prospective students online or create content with our marketing and social media teams to show future students what life at Falmouth is really like! 
Will I be able to get around Cornwall on public transport? 
Yes! You can currently travel anywhere in Cornwall by bus for just £2 for a single or £5 for an unlimited travel day ticket. There are also three train stations in Falmouth and one in Penryn, which will get you to our nearest city, Truro, in less than 20 minutes. As Truro is a mainline station, you can change there for adventures further afield.  
Newquay Airport also offers national and international flights, and there are buses and trains running between Falmouth and Newquay, though these are not direct.  
What is the nightlife in Falmouth like? 
Our creative community on the coast enjoys a vibrant nightlife, with the high street buzzing with activity. From quirky pubs to underground bars and lively nightclubs, check out our top places for nightlife in Falmouth in our Guide to Falmouth Nightlife.  
Is there support available for new students? 
We take student support very seriously. Whether you're looking for academic, mental health or personal support, our Student Support team are always here to help. Head to our Student Support hub to see all the types of support that are available to our students.  
We also have a dedicated team of Student Mentors who will be assigned to you when you join the University. They are your go-to for getting settled in at university and making sure you know where to go and who to turn to when you need help. 
Connect with Student Mentors on Discord
When does Freshers Week start? 
Our Welcome Week events begin on 15 September with Welcome Weekend. You can find all the information about what's happening on the Students' Union website ?
However, if you join after Welcome Week, there will still be lots of opportunities to meet other students and explore the area, so don't worry about missing out.  
What is the weather like in Cornwall? 
Today it's 22 degrees and sunny. It's a classic late Cornish summer and there really is nothing better. In the winter, the weather can get pretty...epic. Bring your raincoats ready for a stormy coastal walk that'll knock the deadline stress right out of you.