What it's like to live in Glasney Student Village - shared room
15 May 2023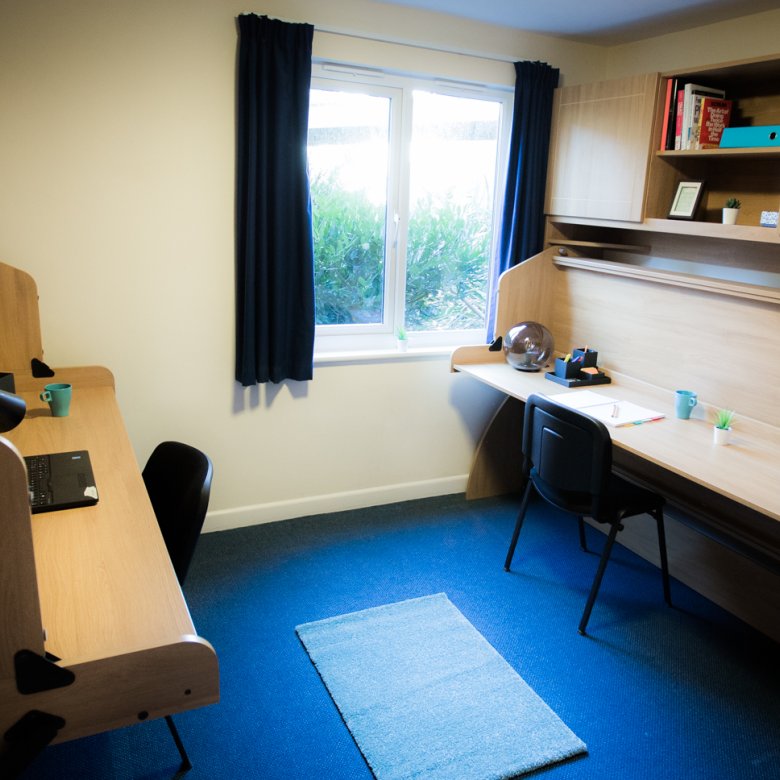 Glasney_2
This piece was written by Costume Design for Film & Television BA(Hons) student Natalie about her experience living in a shared room in our Glasney Student Village.
Moving from home to university can feel like a daunting step, but getting a clearer picture of what your accommodation might be like can make the transition smoother.
I live in a shared room in Glasney Student Village. When I first moved in, I was nervous, as I didn't know who my roommate was, but as soon as I met her I realised that we were both feeling the same. We helped each other unpack, making the task seem less daunting. We also met all of the other flatmates together, which made it easier to approach people.
Previous to coming to university, I had never shared a room before. I found it helpful that you both have your own wardrobe, cupboards and desk, which allows you to have your own space. The main thing you really share is the ensuite bathroom, which never really felt like an issue and you can take turns cleaning it, so you don't have to do it every time.
If you do get a shared room, here are my top tips: Don't bring too much stuff, as you don't want the space to seem claustrophobic and reach out to your roommate as soon as you find out who they are (they'll probably really appreciate that you made the effort to talk first). Also, don't buy things the pair of you will only need one of before you arrive; you can delegate these things between you and save money. Bring photos or décor to put on your side of the room, so that it still feels like your own space, this can also help if you are worried about homesickness.
I share a kitchen with 9 people. Initially, I thought this meant I'd be waiting to use the hobs or the oven lots. However, I soon discovered that not everyone cooks and those who do, tend to have meals at all sorts of hours. Also, it's nice to make dinner at the same time as your friends, as it makes the time it takes feel shorter. Once you get to know your flatmates better, you can even collaborate on meals, which can save you a lot of money and time.
One of the reasons I wanted to live in Glasney Student Village is because it is located on Penryn Campus. This means I only have to walk 5-10 minutes to the main buildings (depending on how much of a rush I'm in) and the students' union is really close too. I also find being so close to the sports centre really useful, as I do badminton 3 times a week.
I found that living on campus made it really easy to make friends. Within the first few weeks, there are lots of freshers' events taking place and being so close to them made it really easy to attend. Also, I live so close to the main university buildings that I can often go home in between lectures to drop things off or have lunch and I can invite my friends who live off campus too.
From where I live, Glasney Lodge is only a 5 minute walk. There, I can collect all my post, as well as talk to them about any maintenance issues. The campus shop is also very close by. This is very useful if you've forgotten any ingredients for cooking or you just want a snack between lectures.
One of my favourite places to eat on campus is "Koofi", which means coffee in Cornish. It's a café right next to my accommodation block and they also do amazing pizza at a really affordable price. It's a really chilled environment in there and, in the winter, I often took my work there and had a hot chocolate to change up my environment.
One of my favourite things about campus is the amount of spaces there are to hang out with friends. If the weather is nice, there are picnic benches all over campus. There is also the walled garden, where they put hammocks out during the summer. The first floor of the exchange is a relaxed environment that you can go with your friends and maybe you will even get some work done whilst you're there.
Overall, I've found living on campus in a shared room to be a really positive experience, as it has allowed to me to save money and time, as well as making the friends who I will go onto live with next year.