Graduate's video production company hired by Airbnb and BBC World Service
21 December 2022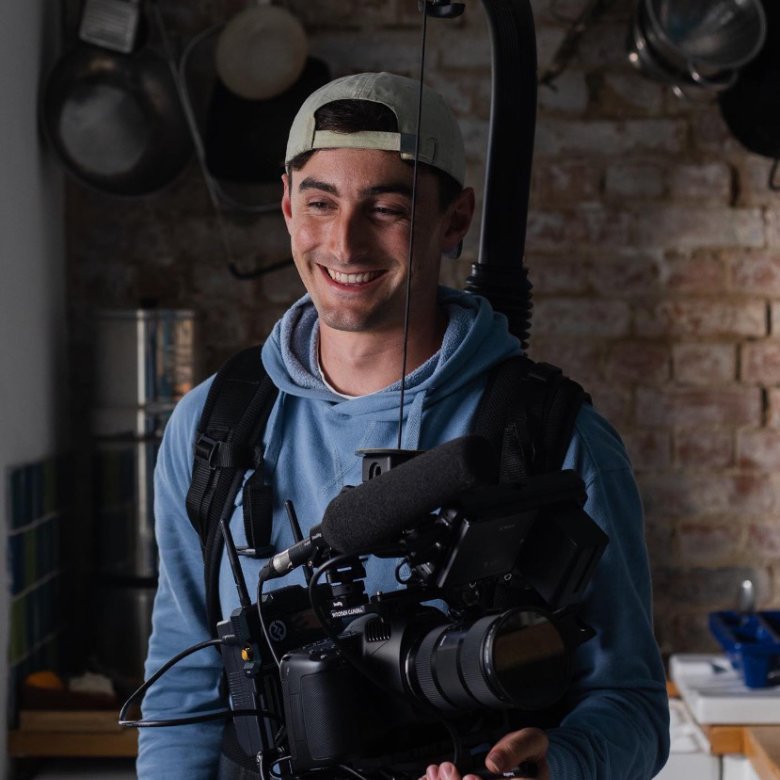 ollie couch film grad
Here Now Films Turner Twins
Turner Twins test brand-new electric hydrofoil surfboards in the lakes of the Alps. Produced by Here Now Films for Fliteboard.
This spark for adventure was first cultivated at Falmouth when Ollie attended our School of Film & Television guest lecture series  
"The guest lecturers really opened my eyes to the sheer diversity of what was out there. I remember attending a lecture by the director of Black Mirror and hearing that only five years ago this guy was just your average Joe. Now, he was spending half his time travelling the world looking for ideas and inspirations and the other half producing feature series. It was these industry speakers who really put the wind in my sails." 
One of the biggest campaigns that Here Now Films has worked on was for Airbnb last year. However, at first Ollie was hesitant about even accepting this work. 
"Airbnb was under fire – quite rightly so – for the influx of second home ownership in Cornwall. The Airbnb Cornwall campaign aimed to highlight its new second home registration platform as well as explore four case studies of local people who benefitted from the tourism industry that Airbnb helped to facilitate. We were dealing with a topic that was very challenging and we questioned whether it was wrong to even say yes to this job." 
In the end, Ollie decided to accept the commission as he was confident the company could produce a campaign that was sensitive and genuine. The video campaign explored four stories of people who depended on Airbnb as a source of income.  
"We had to make 16 short films in the space of a month. We'd never done anything on that scale before and had never worked with such a big client either. It was intense but we were really happy with each and every one of the films we made. I think we struck the line perfectly, the people in the films were allowed to voice both their concerns and their reliance on tourism in a way that didn't feel forced."
Here Now Films Airbnb Jaxon
Here Now Films Airbnb Ellen
Artist Ellen discusses living and making work in Cornwall. Produced by Here Now Films for Airbnb.
"Creating a film is an act of magic. It begins with words on a page that is transformed into a working script, you then get the shot list and a mood board and then suddenly we're there on set. It's only when the sounds, colours and sequences are in place that all of a sudden you have a series of images that tell a story." 
When reflecting on his time at Falmouth, Ollie says: "Falmouth was like a creative nest that takes you from knowing pretty much nothing to being competent at filming very quickly. You have the opportunity to learn right on your doorstep." 
So what advice would Ollie give to aspiring students looking to make themselves known in the industry? 
"Focus on developing a killer portfolio of work, which may mean you have to be prepared to work for free at the start. Work breeds work – the free film may turn into a paid job with that client or a client's competitor. Everyone goes to university but many don't have a portfolio that demonstrates what they love, live and breathe." 
If you're interested in working in video production then take a look at our School of Film & Television, which offers courses in everything from animation and post-production to film and costume design