Falmouth and Penryn are vibrant towns with an amazing cultural and social scene. 
Throughout Falmouth and Penryn you'll find independent shopping, gourmet hotspots, cocktail bars, craft beer courtyards and beachside bistros. Not to mention galleries, music venues, cinema screenings and poetry slams. So, whether you seek solitude on a coastal walk or revel in one of the many events Falmouth is known for, there'll be something for you all year round. 
Cafes and restaurants
Falmouth and Penryn champion independent cafes and coffee houses serving up delicious food and brews in unique surroundings.
Head to Espressini for speciality coffee to kick start your day, find a bench with a reservoir view for brunch at Wild Vibes or step into The Verdant Tap Room in Penryn for locally brewed beers and authentic wood-fired pizzas. 
We're also lucky to have a plethora of restaurants to pick from. Whether you want fresh local seafood, delicious vegan options, international flavours or local farm produce, Falmouth has something for you. We're also home to national chains like Wetherspoons, The Stable and The Lounge.  
Bars, pubs and clubs
Throughout Falmouth town, bands play and open mic nights take place regularly. Check out The Cornish Bank, bookshop/pub Beerwolf Books, The Chintz, Jacob's Ladder pub, Gylly Beach Cafe and The Front, where there's a mix of upcoming bands, folk sessions and acoustic beats to keep you going. 
Further afield discover what's on at the Old Bakery Studios in Truro, the Acorn Theatre in Penzance and the Eden Sessions: international artists performing in the biomes. 
If you're looking for somewhere to dance, check out Toast, Mangos or Club I for a rich mix of commercial tunes and underground DJs to keep you moving 'til late. 
Things to do in Falmouth
Museums and galleries
Rich in tradition and culture, Falmouth and Penryn are steeped in history – much of which can be discovered at the National Maritime Museum. Those looking to immerse themselves in their surroundings can also head up to Pendennis Castle – a Tudor fortress dating back to the 16th century, built by King Henry VIII. If you fancy learning more about the area's fascinating history, make sure to check out the local book shops dotted along the high street, or on Visit Falmouth.
Falmouth Art Gallery is a great starting point if you're looking to get stuck into the area's vibrant arts scene. The gallery offers a diverse programme of exhibitions and boasts a collection of over 2,000 artworks. It's also a good spot to pick up a postcard to send home. The Poly on the High Street is a well-loved cultural centre offering exhibitions, talks, live performances and film screenings.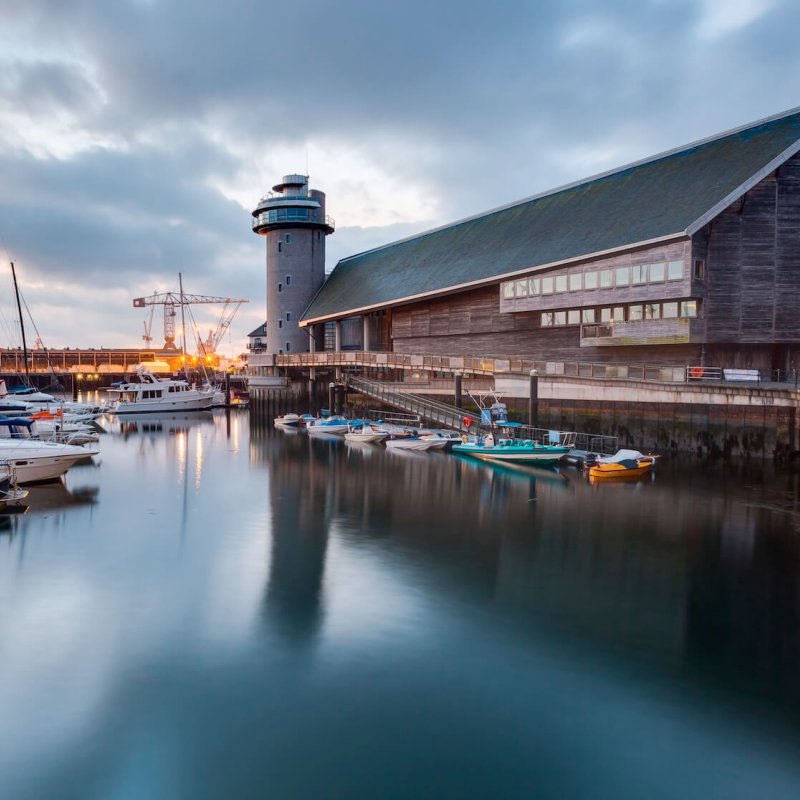 Local beaches 
With Gylly beach just a short walk from our Falmouth Campus and protected by a natural harbour, sea swimming is taken up by many in our student community, eager to take the plunge (if you're a surfer, head to the north coast for the best waves). Sea kayaking and paddle boarding are also available to those keen on taking to the water. Find out more about group sessions and equipment hire with Gylly Adventures.
On-foot from Falmouth 
Cornwall is renowned for its natural beauty, and from Falmouth you can enjoy a day of adventuring on foot. Heading east along the South West Coast Path from Swanpool beach, you'll find Maenporth, a secluded sandy beach that's perfect for a day in the sun. Beyond that, the Helford Passage awaits. Why not take a scenic hike to the Ferry Boat Inn before catching a bus back to Falmouth?  
Those feeling even more adventurous could be tempted to catch the ferry across to St Mawes, where Cornwall's picturesque Roseland Peninsula provides the perfect setting for a day of exploration. 
Students' Union events
From the freshers' ball to outdoor cinema screenings, themed nights at the Stannary to graduation, the Students' Union hosts a jam-packed programme of events throughout the year.
View our upcoming welcome events and discover more about the Students' Union.
Introduction to the Students' Union
Introduction to the Falmouth and Exeter Students' Union
The inside scoop
Hear directly from our students about life at Falmouth
Ask our student community
What better way to find out about student life at Falmouth than asking our current students? Simply set up your account, send them a question and they'll get back to you within 24 hours.