The Cinematologists podcast was started in March 2015 by film scholars Dr Neil Fox and Dr Dario Llinares as a labour of love, combining the singular pleasure of watching films with a passion for debate about cinema as an art-form.
Their aim was to try and combine the live, almost tactile electricity of the film experience with the intimacy of heated post-film social debate, contextualised with an accessible yet scholarly incisiveness.
The podcast is often based on a live event film screening where contributions from the hosts and audience members are recorded and edited together with related interviews and contextual chat from Neil and Dario, but there are also long form interview episodes with academics and filmmakers.
The podcast blends together scholarship, enthusiasm, and fandom and, as such, attracts an audience of academic critics and filmmakers who gravitate towards it as a place that talks about film in a way that nowhere else does.
The Cinematologists is presented by Dr Neil Fox and Dr Dario Llinares. Neil is a Senior Lecturer within the School of Film & Television at Falmouth University. Dario is a Principle Lecturer in Contemporary Screen Media at the University of Brighton.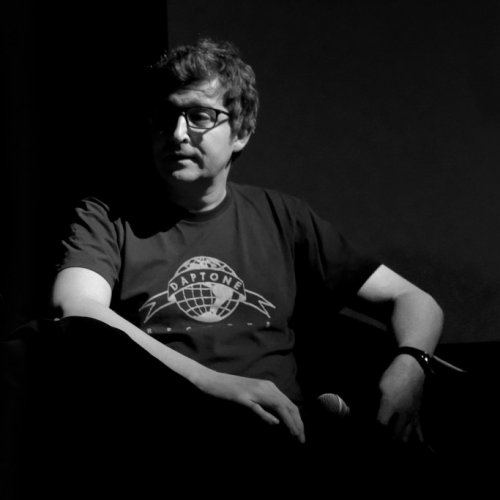 Dr Neil Fox
Project lead - Dr Neil Fox
---
Dr Neil Fox is a Senior Lecturer at Falmouth University and has written and produced a number of short films including Backwoods and It's Natural To Be Afraid. In 2016, Neil wrote and produced his first feature film, Wilderness. Neil's research interests include film education, screenwriting, podcasting, music documentaries and concert films. Find out more about Neil's professional and academic experience, projects and outputs by visiting his staff profile.
Staff profile
Partners of the Cinematologist research project have included:
BFI

MUBI

Curzon

ICA

Club Des Femmes

Auteur Publishing

Right Now Film Festival

Film-Philosophy

 
The collaborators on this research project can be discovered below and also include:
Dr Felicity Gee

Dr Sabina Stent
The podcast episodes are produced bi-monthly, usually focused around a cinema screening where Neil and Dario record an introduction to the film as well as the post-screening audience discussion. These 'live' sections are complimented with guest interviews featuring filmmakers, academics, actors and critics all of whom bring unique and fascinating insights to the specific films and questions of cinema culture.
Alongside recording the podcast, the project has been a vehicle for Neil and Dario to explore how podcasting can be used for academic research, which evolved in them publishing the first ever book on academic podcasting in 2018, leading them to being seen as the pioneers of podcast studies.
Plans for the future are to keep growing the podcast and establish more partnerships. In terms of podcasting itself, Neil and Dario want to continue exploring what academic podcasting is and set up a network of academic podcasters. They believe podcasting has the potential to make academia and knowledge sharing more accessible alongside curating different voices and giving them a platform where they can be heard.
Associated published research:
With more than 100 episodes, 20,000 followers, and fans including top film critic, Mark Kermode, The Cinematologists has become one of the best and critically-acclaimed film interview podcasts in the UK with corporate partners including the British Film Institute.
Reviews
"A podcast and film club that bridges the gap between criticism, academia, film-making, and fandom. It's a terrifically welcome forum for informed film debate." 
- Mark Kermode, The Observer experts' experts, 2020