My top five reasons to choose Falmouth
10 December 2020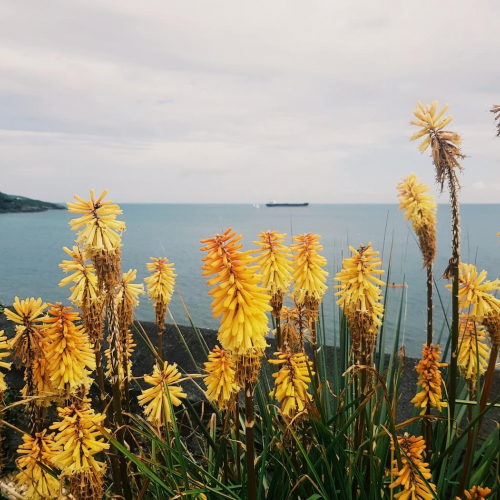 Why Falmouth, you ask? I think the real question is why not?!
Imagine being able to study the course of your choice, in one of the most stunning locations in the UK! Of course, there are endless questions you ask yourself when trying to choose the right uni for you; will I fit in? What will the people be like? How far from home is it? Is there lots to do? Falmouth really does have so much to offer. Here are my five top reasons to choose Falmouth.
One: Courses
Falmouth has some pretty unique courses - there are things I bet you didn't even know you could study but at Falmouth you can. The Games Academy was probably one of the biggest surprises I had. I didn't realise how many courses there are although we all know that the Fashion and Textiles Institute is the place to be and Sportswear Design is the course to be on! So far in my time at Falmouth I have been inducted on new machinery that is only available at a handful of universities, had guest lectures from industry professionals and heard from alumni, as well as learning where some of our graduating 3rd years are going to work. Some of these are the biggest companies within the sportswear Industry.
Two: Location
The Southwest is undeniably beautiful with so many places to explore and over 400 beaches to visit; you aren't going to run out of day trips in your time here. Living in Falmouth enables you to step out of your door and be at the beach in 20 minutes, not many city universities can offer you that; a relaxed environment to take a well-earned break from studies and just spend time living. It's a safe place to live and study, so your first big move away from home can be a very laid-back one. Not to mention the many restaurants, bars and pubs to try out in and around the town. My personal favourite being the Meat Counter who cater to all your dietary needs or a cheeky pasty which you're bound to be able to find at any time of the day!
Collaboration is at the heart of Falmouth University
Three: Community
Community is something you tend to think about a lot when moving away from home, at least I did. The move is full of so much that is unknown which can be very daunting. However, if you're choosing Falmouth there really isn't anything to worry about! The first thing to remember is everyone is in the same position eagerly waiting to meet new people and settle in. This is bound to happen due to the wide range of societies on offer, social spaces to meet people on and off campus and student mentor led meet ups with course mates. I also found that Falmouth is a great place to widen your mindset, helped by the huge variety of people coming from all over the UK and beyond enabling you to connect with people you may have never imagined meeting before.
Four: Collaboration
To a certain extent we all depend on each other and are studying courses that encourage us to work together in a similar way to how you would in industry. For example, once I've made my garment, I'll need some photos and a fashion photographer is only a call away waiting to expand their portfolio. We are taught and work alongside our fellow students on other courses enabling us to make links with people on different paths within our own industry as well as many other creative industries. Collaboration is at the heart of Falmouth University
Five: Social
Falmouth may not have the rows of nightclubs like a city uni, but its town is still full of spirit! There are a few clubs to choose from if you want to dance the night away, as well as bars to have a more cocktail related evening. The Stannary also host events for an easy night out on campus, (a place I'm sure you'll become familiar with during freshers). However, for the ones who like a quieter life Falmouth is also just what you're looking for, quiet walks around the coast, heading for a dip or a surf on a sunny afternoon or spending time talking over pizza with newfound friends - it all can be done here.
Falmouth really has become a second home to me and during my first year here I've been able to make a little life for myself meeting new people and getting totally engrossed in my studies. Its been better than I could have ever hoped, there will always be a place in my heart for Falifornia!
You might also like