Waad Al-Kateab speaks to Falmouth MA Journalism
24 September 2020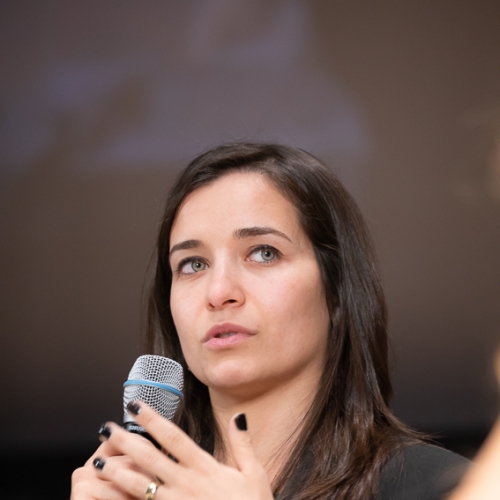 Oscar-nominated and BAFTA-winning documentary director Waad Al-Kateab spoke to MA Journalism Course Leader Kate de Pury recently about how her citizen journalism in war-torn Aleppo, Syria, developed into a passion for the profession.
Waad said of her work filming under fire in the Syrian civil war:
We were seeing something with our own eyes which was totally different from what was on TV – we had a responsibility to record everything that was happening.
In 2011 she was an economics student in Aleppo when she picked up a video camera and started documenting events around her as the opposition uprising against the regime of Bashr al-Assad began.
The conflict unfolded over the next five years and Waad shot video throughout, creating a record of how people in her city neighbourhood endured bombing attacks, siege and finally flight from Aleppo. Her video footage also charted her own personal story as she falls in love with Hamza - a doctor at an emergency hospital treating the wounded, often children, after each attack – and gives birth to her daughter Sama.


Channel 4 News received Waad's video reports and showed them on their news broadcasts and social media platforms – these highly personal reports gave a rare glimpse into what life was like in opposition-held Aleppo as the conflict intensified.
News Editors at Channel 4 saw that in a larger news environment dominated by state media in Damascus and Moscow - no western journalists were able to operate in Syria after Marie Colvin was killed in Homs in 2012 – Waad's citizen journalism added an essential and unique viewpoint to western media's overall reporting of the Syria story.
With Damascus' forces closing in, Waad, Hamza and Sama eventually fled Aleppo in 2016 and she is now settled in the UK. Working with Channel 4 editors and co-director Edward Watts, Waad sifted through 500 hours of her video footage to create her award-winning documentary 'For Sama.'
Falmouth MA Journalism students will discover how Waad's video was used in news reports for Channel 4, following her development from eyewitness citizen reporter to professional film-maker and journalist.
You can see a clip of the interview over on our Facebook page
You might also like