Patrick Gale Donates Emmy Nomination Medal to Falmouth University
13 February 2019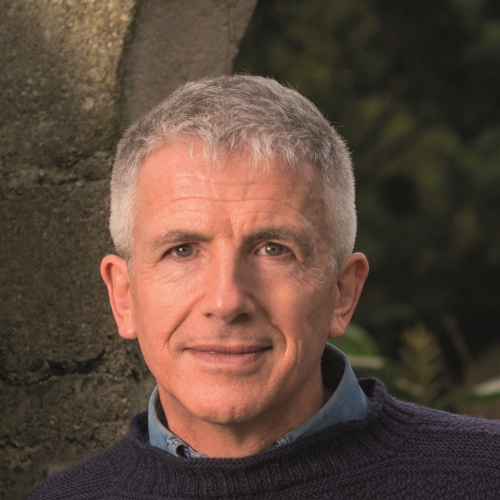 When Patrick Gale, award-winning author and screenwriter, guest lecturer and Honorary Fellow of Falmouth University, stepped up onto the stage to accept the 2018 International Emmy Award for Best Mini-Series (for Man in an Orange Shirt), he was "wild with surprise".

The two-part drama was the centrepiece of the BBC's 2017 Gay Britannia season and was broadcast in the U.S. during Pride Week in June 2018. In November 2018 it won the International Emmy. The statuette stayed with the show, but the nomination medal and certificate went home with Patrick, who has kindly donated both to the Falmouth University archives.

Various fans offered to buy the medal but Patrick decided to donate it instead; it now sits alongside the scripts for the series, including the never-made 'third episode'.

Patrick has donated a large quantity of materials from throughout his career, which are held in a special collection. He made his first donation in 2009 and the archive now contains materials from all seventeen of his novels, along with his screen and journalism work.

When asked how it felt to receive such a prestigious award, Patrick told us: "It was completely amazing, not least because news of the show's nomination came through well past the point when I was expecting any further excitement or responses. Several of us went to New York for the awards ceremony – both producers and the director – and had pretty much succeeded in convincing ourselves that being nominated was an award in itself, when lo and behold Best Short Drama or Mini-series was the first award announced and we won."

Patrick donated the medal because he thought it was "important for writing students to be able to see an award. We all fixate on the writing process but – with screen projects at least – this is crucial but only the start of a long, long process." He also admitted that he had "already managed to scratch it on the journey home – not being terribly good with things" and had "got rather tense" with how many fans were offering to buy it.
Looking back at how Man in an Orange Shirt developed, Patrick told us: "It was five years from our first meeting at the BBC where I received the commission to write Episode One to the screening of both episodes at the National Film Theatre. This award nomination came through another two and a half years after that. Alas, I didn't get to come home with a handsome statuette as the Emmy was for the show, not its writing, and I was not a producer on the show. For my next show I have ensured I have an executive producer credit!"
Fans, writing students and the curious can find a wealth of materials from the show in the archive. Patrick's collection documents his entire career; from his earliest writing as a teenager, through his days as a jobbing journalist writing book reviews and Hollywood profiles for Marie Claire, through to his commercial success with novels such as Notes from an Exhibition (soon to be adapted for the big screen by Film4, filming this summer).

Sarah Jane, Archivist & Special Collections Officer, described the collection: "[It] includes draft manuscript notebooks (the first draft of his novels are written long hand, in pen and ink – the books come to us well used and battered, full of crossings out and reworkings, smudges, dog paw prints and apple stickers – a real testament to his creative process). [There are also] editor's notes, later drafts and research materials."

Each time Patrick finishes a cycle of writing, publishing and promotion, he donates the next set of materials to the archive.

Sarah added: "The archive is used by Creative Writing, English and Professional Writing courses and illustrates a real-life industry example of the career and creative process of a writer. It is also used, like many of our Collections, by our creative students in other disciplines looking for inspiration for their own work, such as our Making:Archives project run with BA Textile Design."

The Patrick Gale Collection is in good company, with archive collections from other Cornish writers and creative practitioners such as playwright Nick Darke, designer and pioneer of landscape theatre Bill Mitchell, as well as the archives of Kneehigh Theatre and Wildworks.

When asked what advice he would give to writers looking to break into the industry, Patrick told us: "Don't get hung up on the differences between screenwriting and any other kind of fiction; all fiction comes down to the same nuts and bolts. The most enduring and successful screen projects tend to have really strong narratives and thoroughly developed characters.

"Just as with a novel, start with your characters; the more richly you've developed them and thought through their psychology, the more rewarding they'll be to play and the more likely your producers will be able to attract the likes of Vanessa Redgrave to play them!"

To book in a viewing of Patrick's work in the archive, please email Sarah at archives@fxplus.ac.uk. It is open to all: staff, students and members of the public.
You might also like