WildWorks Film by Director Chris Morris
14 January 2019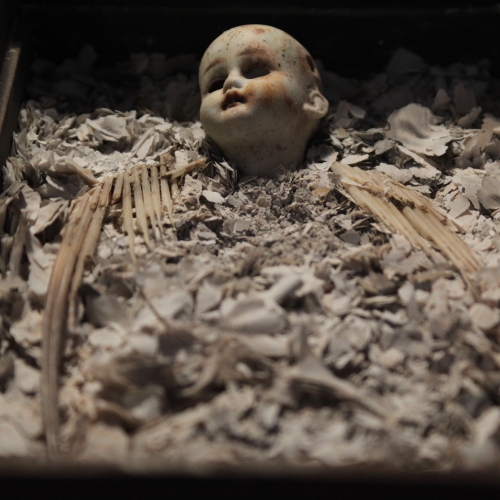 Objects in attics can tell all sorts of tales, as Professor Chris Morris, Director of Falmouth University's School of Film and Television, knows.

His latest short documentary film A Difference Place, explores the attic of the late Bill Mitchell, founder and Artistic Director of the boundary-pushing Cornish theatre company, WildWorks.

The attic was Bill's private space where he would think, write and create. He was a seasoned collector of objects, an active collagist and a creator of many strange and wonderful things.

Since Bill's death in 2017, his partner Sue has welcomed a range of people into the attic to share and respond to Bill's collection. This film is the first of the creative responses and attempts to capture an essence of the special place, before anything is moved.

It's a place full of fascinating and macabre oddities; Chris describes it as a "whole space bursting with stories, memories and intriguing works of art that we can only imagine the meaning of. Snow globes, scissors, cages, [collections of] red, polar bears, and figurines… an overwhelming assault on your senses; so many drawers to open, files to look in, boxes to unpack, objects to view."

The attic seems to defy categorisation and time. As Chris put it: "Time appears to be altered or different in this creative space – I spent three hours the first time I visited and it felt like minutes – I was in the attic last week for ten minutes and I thought I'd been in there for hours when I came out!"

As the space is so stuffed with objects and artwork, filming was a bit of a challenge. There was only room for two people to be working at the same time and the team largely used Bill's own domestic lighting due to the limit on space.

Chris, who directed, edited and animated the film, explained his process: "This was always going to be a film about an empty room – a space without its creator – so I decided to listen through old interviews with Bill to pull out some salient thoughts for the soundtrack. I asked Sue, his partner, to be filmed in the space. Lastly, I decided to create some animated sequences. The attic is full of objects that 'can' move, so producing some simple, handmade, on-location animated sequences seemed to respond to Bill's own processes in a coherent way. I'm a documentary filmmaker, not an animator; I loved the challenge."

When asked what objects particularly spoke to him, Chris said: "The point of collection appears not to simply be a desire on Bill's part 'to collect', but to bring together objects that wouldn't normally meet and see where that would lead his thought process. A jet plane in a bird cage. An action man with a donkey head. A doll's head with bird wings laid on a bed of ashes… His books of collaged images were perhaps the most extraordinary: endless pages of juxtaposed images ripped from magazines, books and newspapers that provoke emotion."

The film also features a number of extraordinary images from a collage book entitled 'failed treatments' which Bill created in the months before his death from cancer.

Bill was passionate and enthusiastic about directing and working on WildWorks' projects up until his last day. He was at the peak of his creativity, excited by plans for the coming years.

At a team production meeting in April 2017, Bill said: "This is life, this is what happens, but the work will continue, it will develop and it will be brilliant."

A few months before his death, Bill visited Falmouth University's School of Film and Television, where Chris met him for the first time, after years of watching WildWorks' plays.

Chris has also joined the Board of Trustees for WildWorks, so will continue to work with the company on Bill's creative vision for its future.

You can watch the film here.

Filmed by: George Hoagy Morris
Music by: Jamie Mills
Directed, edited and animated by: Christopher Morris