New Partnership with Tate St Ives
20 September 2018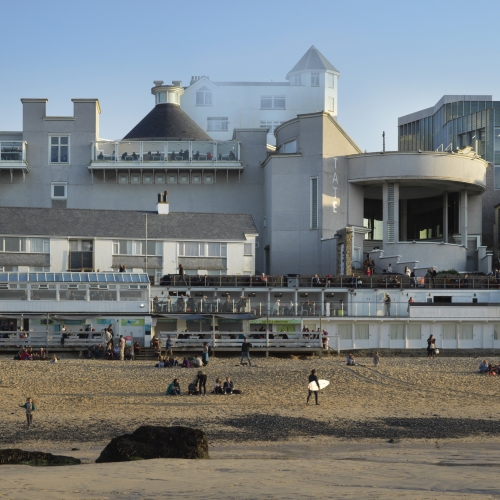 We're delighted to announce a new partnership with the Tate St Ives, where students will gain special access to the gallery through Tate St Ives' innovative Young Peoples programme.
The three-year pilot programme has two aims:
To support the development of students' skills for employment and experience of cultural industries for students across Falmouth School of Art and to contribute to widening cultural participation in Cornwall.
To develop an innovative partnership between a Higher Education Institute and a national art gallery and contribute to knowledge in how such collaborations can impact on cultural engagement in a regional context.
Anne Barlow, Director of Tate St Ives, said: "We are excited to be working in partnership with an outstanding institution such as Falmouth School of Art at Falmouth University. This is an opportunity for students studying in Cornwall to get behind the scenes of a national art institution, gain professional development knowledge and have opportunities to explore, and platform, their creative practice."
Falmouth's Head of Art, Roger Towndrow, added: "This is an exceptional opportunity for our students to engage directly with an important project at such a prestigious art institution. We are delighted to be working in partnership with Tate St Ives."
Events will be rolled out over the year, starting with 'pitch' days to all year groups in September and October 2018. A 'careers fair with a difference' in February 2019 will give students the chance to meet arts industry insiders and Tate staff face-to-face to find out about different roles and career pathways in the arts and cultural industries. The programme will offer personal and professional skills to take away, including workshops, tours, talks and in gallery activities. Curatorial, Marketing and artist-led sessions will take students through diverse and thorough training in peer-led practice, digital marketing and designing and leading workshops.
Rachael Woodhead, Learning Curator: Children, Schools and Young People at Tate St Ives, said: "We want to directly connect young people with artists and artistic practices and place them as agents of their own learning. Working across the whole of Falmouth School of Art, we want to improve cultural access and opportunities for more diverse young people in Cornwall through working in partnership with the Higher Education Sector."
You might also like