Journey to the Underland
09 July 2021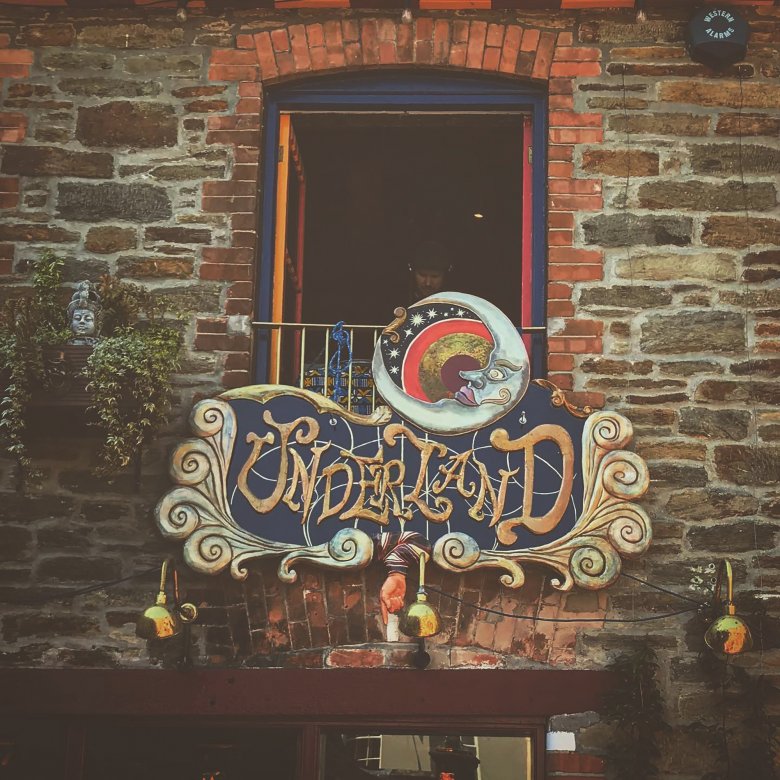 Underland
We caught up with the team behind The Chintz bar and new venue Underland – both situated in the Old Brewery Yard, Falmouth – to see what makes them tick, when to visit and what on Earth made them decide to start a new business in the middle of the pandemic. 
You run The Chintz, a hugely successful bar in the Old Brewery Yard – what sets it apart from other venues?
The Chintz evokes the bright and abstract world of Alice in Wonderland, but it's quite difficult to sum up simply. Fundamentally, it's about having fun and not taking anything too seriously. We really wanted to create a place where people would feel as comfortable as they would in their own home - somewhere you could come and hang out on your own and not feel weird or be worried about getting unwanted attention.
What has the last year been like?
As a hospitality venue during the pandemic, it's been pretty difficult. It's been hard to see how the restrictions have prevented people from doing fun things like dancing or hugging people, but the support from the local community has been immense and people have been really understanding. We can't wait for the world to get back to normal. 
You've just opened a new venue – Underland – what inspired you to do that in the middle of a pandemic?
It is a bit mad to open another venue during a pandemic, but we'd started construction beforehand and we weren't going to let coronavirus slow us down! It actually worked out pretty well for us, as we were able to work on the bar undisturbed and it gave us a chance to revamp the courtyard and improve the place as a whole.
How would you describe Underland? 
The Underland is the little sister to The Chintz, so we wanted  to keep the same ethos across both venues, but The Chintz is more eclectic and off that wall, while Underland is more  sophisticated with an other-worldly feel to it. Plus, Underland is where we'll be holding live music and performances – we've installed a state-of-the-art sound system, a stage and a late licence, along with an amazing line-up of bands booked to perform. 
Why visit?
Why not!? You might like it, you might not, but you'll never know if you don't come along and try it out. We've got a whole range of different beers on tap as well as a massive selection of bottles beers and ciders, a sunny courtyard and different band every week. Add in The Chintz bar upstairs – with amazing cocktails, toasties, cheese boards and a roof terrace – there's something for everyone all in one place. 
What's on? 
There are loads of things to look out for this year at Underland. We've got music from all over the country, from Smokey's King Shufflers – who play Chicago blues – to The Undercover Hippy, who plays super-upbeat folk style music. We've also got DJ sets, poetry performances and more. Upstairs in The Chintz, we've got everything from drag nights to cheese and wine evenings. You'll find something new to discover every night in the yard!
Explore student life in Falmouth