Debunking the myths surrounding online study
22 August 2022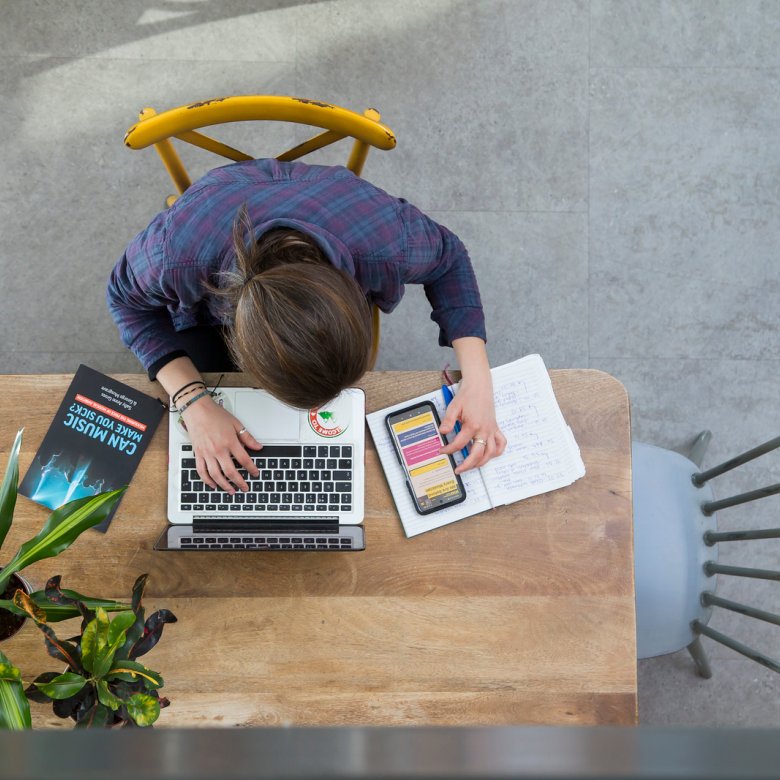 Online study myths debunked
Myth 1: Online degrees aren't as high quality as on-campus degrees  
Falmouth has a history of more than 120 years of creative thinking and design innovation. And while our online degrees can't boast of being 120, the undergraduate and postgraduate courses have been developed against this established and innovative backdrop – often with academics who teach on-campus, too. With years of experience in delivering undergraduate and postgraduate degrees, our online provision is far from a post-pandemic reaction, and many of our courses pre-date it entirely. 
With 15 postgraduate degrees and five undergraduate degrees currently available, our online courses represent the breadth of the creative industries in the same way as the on-campus courses. Our online degrees are validated and awarded the same as those taught on campus, meeting the Government's required academic standards and underpinned by Falmouth's specialisms of creative innovation; creative thinking, problem solving, communication and storytelling – all key to future economic and cultural success. 
And if you're wondering whether online students get the opportunity to don a gown and mortar board upon completing their studies, the answer is yes! Online students graduate alongside on-campus students at the annual Graduation ceremonies and celebrations, shaking hands with Chancellor Dawn French and receiving the infamous Dawn Doubloon...
Myth 2: Online degrees are just on campus degrees, but delivered online  
Online learning in higher education has been around since the 1980s, but has been reported on more in recent years with increased use of digital tools and platforms as a result of the COVID-19 pandemic. 
Falmouth's online degrees have all been designed from the outset to be taught online. Advanced learning research underpins their design, and they're delivered through a bespoke virtual learning environment, known as Learn - a platform which has been crafted specifically for online tuition. Learn brings everything you need to complete your course together in one place: your course activities, your connections with other students and tutors, rich learning resources and dedicated support.  
Teaching takes place through lectures from practicing professionals and webinars where you can connect with what's being taught, ask questions and collaborate. Lectures are pre-recorded and re-watchable, so you won't have to worry about attending them live – it's like 'learning on-demand' to suit your schedule. Course materials are released via the virtual learning environment at the end of each week, allowing time to plan your workload for any upcoming studies. 
Online study helps promote the skills and self-organisation required to work from anywhere in the world. What's more, many of the creative sectors our online courses cover are moving more and more towards this new remote working style, as MA Indie Game Development (Online) module leader Matty McGrory explains: "The delivery of the course really does mirror the direction the industry is going in, and I was attracted to teaching on Falmouth online master's course because that really does suit game development as a discipline. Once you have mastered the technology and ironed out any barriers, it really helps people making games to be able to work whenever you feel most creative and to work around your life commitments".  
Myth 3: An online degree won't help me to advance my career  
A common misconception about online study is that by not being on campus, students may miss out on those all-important connections to industry professionals, and the opportunities brought about by those relationships. At Falmouth we're proud to create exciting opportunities for students through our industry connections and dedication to 'doing it for real', and that applies just as much to online students. 
Whether it is tackling live briefs from real clients, or hearing from sector leaders via webinars, our renowned industry connections are as integral to our online degrees as those taught on-campus. Furthermore, lots of our online academic staff work part-time as tutors, balancing their Falmouth University roles with working in industry, so online students benefit from the very latest industry-informed expertise – take MA Marketing and Digital Communications (Online) module leader Rosie Smith as an example.  
These career-shaping connections really do lead to inspiring graduate destinations for our online students. Over the past few months alone they have secured some prestigious jobs and opportunities, including as a comedy writer for the BBC, as a UX designer for fashion and lifestyle brand Seasalt and starting a successful production company.  
Myth 4: I won't stay motivated and on-track on an online degree  
At Falmouth we encourage open innovation and global connection and are proud of the strength of our online community. Yet it may be hard to envisage, particularly if you are new to online study, or have been part of online learning communities that lacked meaningful connection and engagement, and subsequently made staying motivated a challenge.  
There are levels of personal commitment and focus required, but once you start your degree, you'll become part of Falmouth's rich, connected online learning community, in which there are lots of opportunities to collaborate and discuss with your tutors and peers throughout the course.   
This is where your virtual learning environment Learn excels; regular conversations, feedback and engagement in activities are essential elements of a Falmouth online degree. Discussion forums provide one method of communicating with other students on your course, where you engage with tasks, ask questions and gain feedback. The Course Hub is another collaboration space where you can connect with other members of your course community, access important shared documents and additional materials to help you with your online studies. 
Optional face-to-face events scheduled throughout the duration of many of Falmouth's online degrees provide another meaningful way to meet members of the community in person, stay motivated and to get deeper insights into your chosen industry. Recent BA Creative Writing (Online) and MA User Experience Design (Online) events provided the students and staff with particularly invaluable and enriching experiences.  
As BA Visual Communication (Online) student Blossom explains: "It might surprise you – as an online degree – to know that the interaction with other people is what I've enjoyed most so far. After working on my own for many years, it has been so exciting to meet, talk through work and share ideas with other people; I had not anticipated just how inspiring that would be". 
Myth 5: I will receive no support from the University as an online student  
Wellbeing, accessibility and employability are just some of the ways Falmouth students are supported throughout their time with us, and online students benefit from the same levels of support, to ensure you never feel isolated or lost.  
While you're studying, your Tutor will offer regular feedback on your work and be your first point of contact for any academic queries. You'll also have continual access to technical support, and a Student Advisor who'll be there to answer any general questions you have, help you to access academic and wellbeing support services (like our employability service, RealWORKS) and guide you through your student journey. 
One student on MA Comedy Writing (Online) was particularly impressed by the levels of support they received, telling us: "Studying this course has led to a personal discovery: I have ADHD and I had no idea. I thought I was careless and absent-minded, but I have come to understand that the things I struggle with most are not personality flaws, but symptoms. The staff at Falmouth have been so helpful and understanding in this process. My supervisor has been particularly encouraging. I have learned about comedy and writing over the past two years, but this discovery is still the most valuable thing I have taken away from my experience". 
So, whether you're looking to study around your life commitments, level up in your current profession or explore a new specialism entirely, our online degrees will equip you with the knowledge, skills and insights you'll need to make a real impact.