Parents & Carers Guide to Online Study
See how you can support a student considering an online degree at Falmouth.  
There are many reasons to study a degree online. For some students, the flexibility of online study means they can balance it with work, family life, location and personal commitments. For others, studying from home may better suit their learning style. In short, studying an online degree is a great way to access education if moving to university isn't right for you.
How does online study work?  
Online students at Falmouth receive the same standards of teaching quality and industry connections as our on-campus community.  We offer a wide range of online undergraduate and postgraduate degrees. Our online degrees are validated and awarded in the same way as those taught on campus, meeting the Government's required academic standards. In fact – our degree certificates don't even say "online". 
Our online degrees have all been designed from the outset to be taught online. Advanced research underpins their design, and they're delivered through Learn, a bespoke virtual learning environment. Learn brings everything students need to complete their course together in one place: course activities, connections with other students and tutors, rich resources and access to dedicated support.
Through a combination of lectures, webinars, tutorials and collaborative work, students are encouraged to explore their creativity and develop professional skills and expertise to make them ready for a career in industry. The majority of academic teaching takes place through online lectures from practicing professionals and online seminars where students connect with fellow students for stimulating discussions.   
Lectures are pre-recorded and re-watchable, so do not have to be attended live (though that is an option if you'd like). The course materials are uploaded to Learn at the end of each week, giving students plenty of time to plan their workload. 
All our online undergraduate degrees can be studied full-time or part-time, depending on the applicant's preference. Our undergraduate degrees are designed to get you ready for industry sooner, so are 'accelerated degrees'. This means that a full-time graduating student would gain a full undergraduate degree in just two years but wouldn't have as long study breaks or summer holidays. If you were to study one of these courses part-time, you'd have a full undergraduate degree in three years, rather than two.  
All our online postgraduate degrees are studied part-time, to work around jobs, family life and other commitments. A student on one of our online master's courses would gain a master's in two years.  
All our online undergraduate degrees are 'accelerated' degrees. 
An accelerated degree condenses traditional undergraduate degree into two years rather than three if you study full-time. If you study part-time, then it would take three years to complete. That means students work across three study blocks per year, with shorter breaks between each study block rather than a traditional long break over the summer.  
Accelerated degrees are a great way to fast-track studies, progress faster and join the workplace sooner, while usually saving money on total tuition fees and living costs. 
Yes, online students graduate alongside on-campus students at Falmouth's annual Graduation ceremonies and celebrations, shaking hands with Chancellor Dawn French and receiving their degree certificate - which does not state the degree was obtained online. 
Getting lost in the jargon?
Download your guide to university application jargon below:
What's the university application process like? 
There are a few different ways to apply for our online degrees, depending on the course, and the applicant's educational background and experience. 
Applications for all our online degrees – master's and undergraduate degrees – can be made directly with us, and this is the best option if the applicant doesn't have UCAS points, has been out of education for a while, or has a non-standard educational background. Find out more about applying with non-standard qualifications.
Applications for our online undergraduate degrees can also be made via UCAS if the applicant already has qualifications which have given them UCAS points or is working towards them.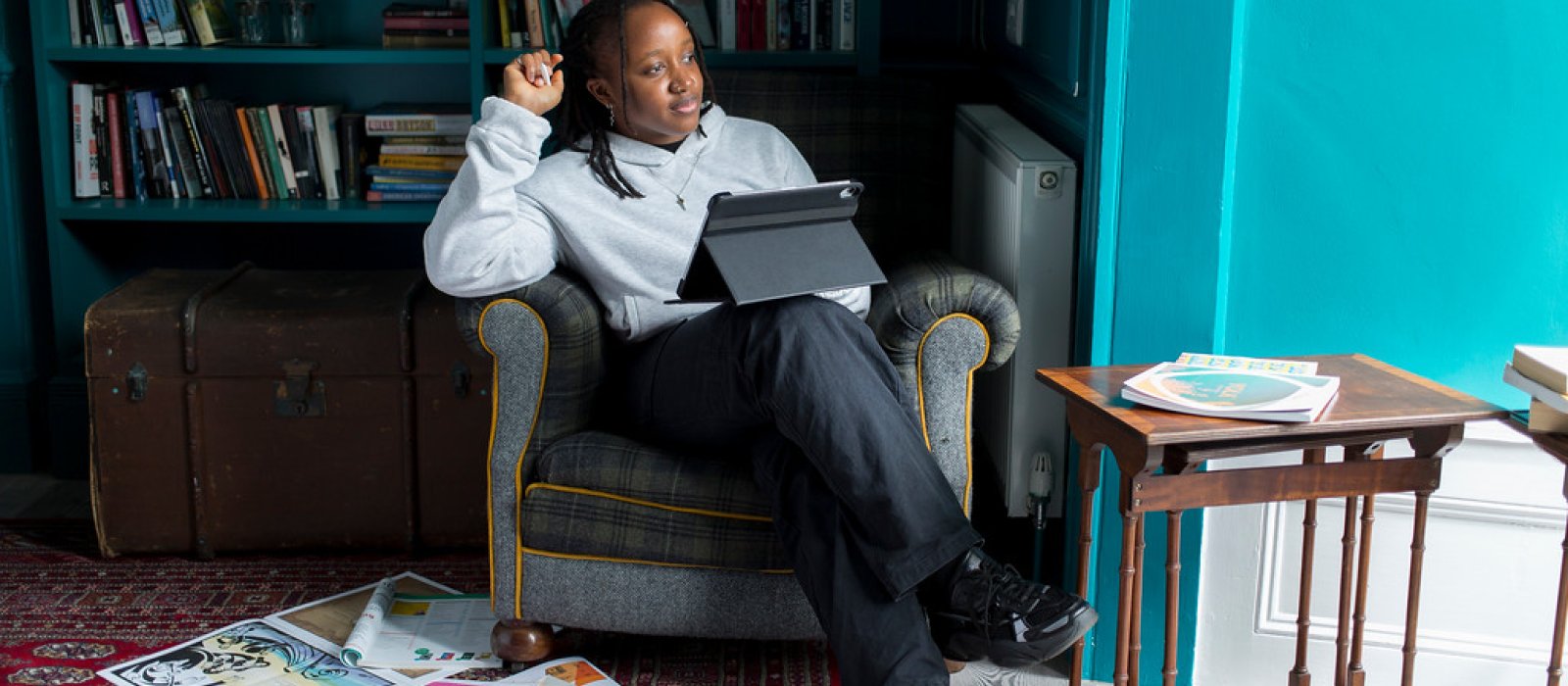 How does funding for online degrees work?  
Funding for undergraduate online degrees 
Undergraduate students from the UK who want to study online may be eligible for funding from the Student Loans Company and may be able to apply for a tuition fee loan to fund their studies. Find out more. 
Please note maintenance loans are not available for online, distance learning study unless students are unable to attend a course on campus because of a disability. Non-UK students studying online will need to secure funding from their home country or a private source. An applicant should make sure to contact us if either of these things apply to them.
Funding for postgraduate online degrees 
Eligible UK and EU students can apply for a postgraduate master's loan from the UK Government. Head to the Gov.uk website to find out about eligibility criteria and applying. 
Applicants to our online postgraduate degrees can get up to £600 off tuition fees for early applications and acceptance of an offer. Visit the course pages to find out about Early Bird Discount dates.  
What support is available to students studying online?
Online students have access to multiple forms of support during their time studying with Falmouth to help them make the most of their online learning experience. 
Students have access to our dedicated virtual learning environment, known as Learn, which is where they engage with course materials and connect with lecturers and fellow students. Each online degree has a Course Hub, which contains useful information regarding resource lists, course toolkits and assessment guidance to help keep students on track. They also have access to a Student Hub, which covers technical support, regulation information and study skills. 
For one-to-one academic support, students are allocated an online tutor who will offer support and feedback on academic work. 
A dedicated Student Advisor team are on hand to offer support for anything that isn't directly related to learning, such as questions about wellbeing, accessibility or employability. They are contactable via email, phone, WhatsApp and video meetings.