Tracing. Placing. Making.
12 March 2020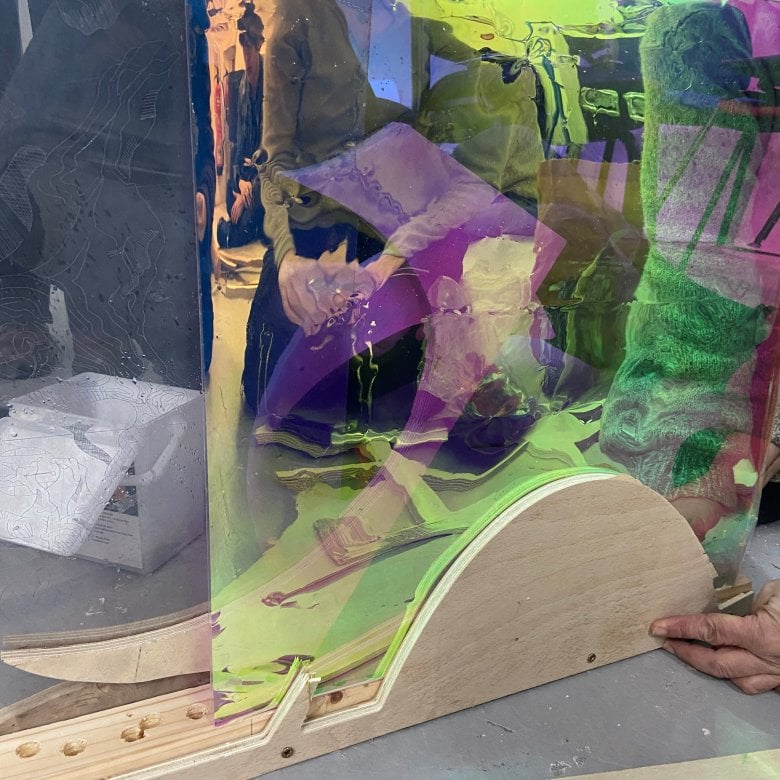 Tracing. Placing. Making.
Fine Art students have been inspired by a programme of workshops designed to encourage students to think about how and where they make work, and with what materials. 'Tracing. Placing. Making.' was a programme of study groups that ranged from a visit to a granite quarry, to collaborating with School of Film & Television students, to sourcing unused and scrap materials to produce a sculpture.
In creating the programme, Associate Lecturer in Fine Art, Dr David Paton, wanted to provide students in all three years on the Fine Art degree with the opportunity to develop the ways in which they share ideas, and to help them identify the places and processes that inspire them as young artists.
He tells us, "Beginning with a field trip walk from our Penryn Campus to Trenoweth Dimension Granite Quarry in Mabe Burnthouse, the group was encouraged to explore how industry and rural communities co-exist, and to look at how such a regionally ubiquitous material as granite is extracted and used.
As the group dodged the hail storms and enjoyed bright winter sunshine, the tour of the quarry brought the relationship between place, making and material into sharp focus."
Following the field trip a series of study groups were held by David and Associate Lecturer Rachael Jones, to bring students together to talk about and develop their work and approach. David continues, "We reviewed examples of student work and their response to the quarry. Through the lens of the Cornish landscape, the group explored aspects of their own work in relation geographical understandings of place.
"In our next study group we bought together students from Fine Art and Film courses to identify relationships between artwork and document.
"Groups of students worked together to create a small wooden structure, which could act as a frame through which they could film. The groups then took their quickly fabricated structures around campus for a period of film making and then editing. The students produced three radically different one-minute films, which after viewing, provoked a really valuable discussion. As second year Fine Art student Nathan Henton highlighted, the camera acted as a research device through which you can explore surface and sculptural composition."
Shania Anderton-Green, a student from the School of Film & Television, enjoyed working with the Fine Art students, "It was great to have some time in the course that was dedicated to direct collaboration with another course, it was a lot of fun. It also seemed that it gave everyone good inspiration for their projects."
A further study group for the Fine Art students explored the act of making, and invited students to go out and source a series of found objects. Bringing the found objects back to the sculpture workshops, they collaboratively produced a sculptural object. By identifying how unused and scrap materials can be given new forms of value through the mechanisms of creativity and empathy, they identified a number of ways in which they could develop their own work.
The final session gave students an opportunity to share their thoughts on the Tracing. Placing. Making. programme, and to consider future options for developing their own study groups and projects.
Fine Art student, Julie Davenport, shared, "It has majorly altered how I will perceive my work in the future, which being a first year is extra helpful. Working with the film students really helped me see the advantages of working in collaborations, not just talking about it. The sense of place is very important to me. I will be looking out for any further lectures or workshops you put on!"