Timber Talks
03 April 2020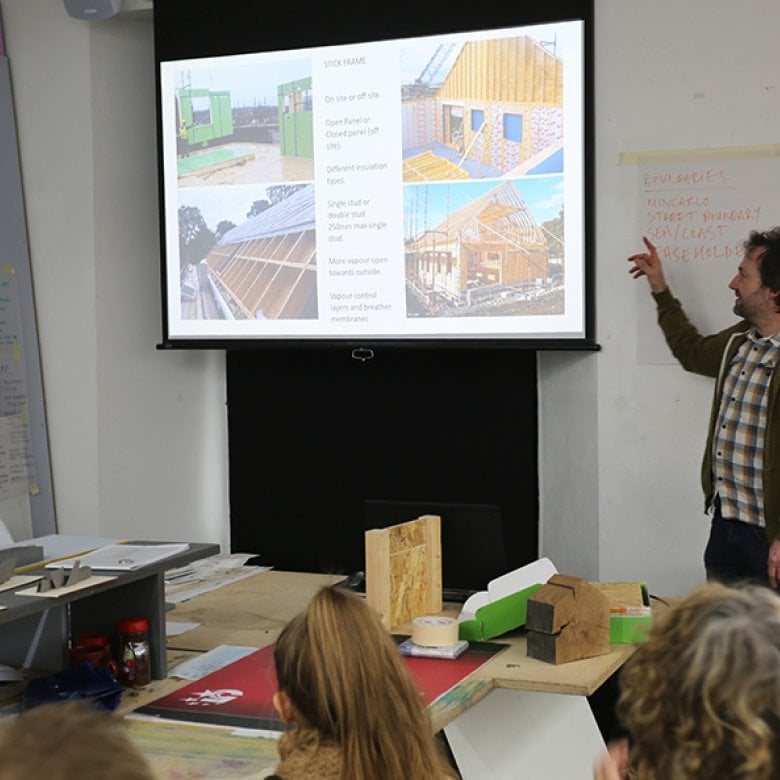 Tom Jubb at SADI
Architecture students regularly benefit from workshops with speakers who share their knowledge and experience of diverse crafts and capabilities. Recent workshops for third year students have included a close look at timber-frame technology and learning the skills required in traditional boat building.
Tom Jubb, from local timber frame technology company Post-Beam, held a technical workshop for students. They looked at the future of timber technology and the challenges of building in remote sites and challenging locations. The discussions covered varied subjects from different types of construction, to options for materials, all highly relevant and informative for students.
Architecture student Kath Hawkins shared her thoughts on the session, "Tom gave a really interesting and practical presentation based on his time at Carpenter Oak, and the recently launched Cornish offshoot company, Post-beam. His experience of building in challenging environments was invaluable for us on our current project, and critically, gave us an insight into some of the problems we could encounter, and how we might devise unconventional solutions to overcome them."
Local boat-builder, Amy Stringfellow, delivered a hands-on workshop on boatbuilding for the third year students. The workshop included trying out steam timber bending to see how to work timber into appropriate forms for boatbuilding.
BA Architecture Senior Lecturer, Toby Carr told us, "It was brilliant to have local craftsman Tom Jubb join us and share his knowledge and enthusiasm for building with timber. Students got an insight into the future of the timber industry in the UK, sustainable building technologies and Tom's specific experience of building on the Isles of Scilly, the site for our final project this year."