Students Webcomics on The Promise
2 June 2020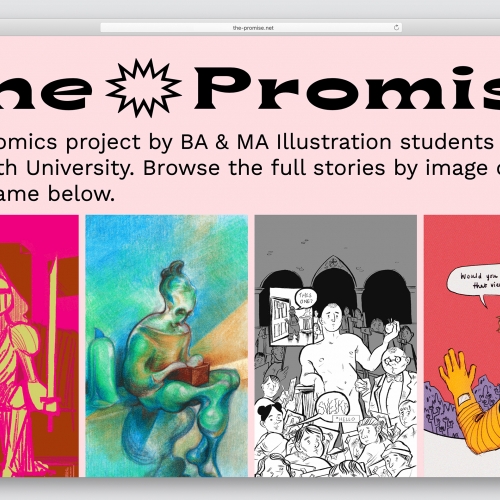 The Promise is a new collection of webcomics produced by BA & MA Illustration students at Falmouth University since January 2020.
The title / brief for the collection was developed by an editorial team of 3rd year BA students following a collective survey of contemporary themes including 'marketing hype and miracle cures, the campaign trail, extinction and ecological collapse, gathering clouds / silver linings and a world of possibilities, just around the bend.'
The project was initiated before the current pandemic but some of the work made during the spring inevitably reflects lockdown life while other works offer either pure imaginative fictional escapism or recollections of a pre-Covid 19 world.
The site is built to be read fullscreen on mobile or desktop and borrows from and builds on the earlier Mould Map 7 webcomics project (mouldmap.com) with students learning from and experimenting with ways of using the unique responsive sequential format.
Student, Claudia Pezzini said, 'I think that now more than ever, an online collection of webcomics such as The Promise can be considered the perfect platform to showcase work. Having an archive with the work from multiple illustrators responding to the same theme, yet with different styles and interpretations, it's an incredible thing already but the fact that it's in an online form makes it more accessible and shareable. The theme of The Promise gave us a direction yet we were able to freely give it the twist we wanted. I am very grateful for this opportunity, it was a very interesting challenge!'
Hugh Frost, studio tutor / project coordinator, is delighted with the result, 'I've been blown away by the work produced by the students, many of whom were working sequentially for the first time. I almost cried when the first comic was submitted! Both because it's a powerful theme but also so fully realised in its micro narrative and so far beyond what I'd expected anyone to have at that point a few short weeks into the project. Seeing the students find focus for the project and supporting each other remotely through this extraordinary time has been fantastic.'