Student gets industry experience as Frugi pays campus visit
01 June 2022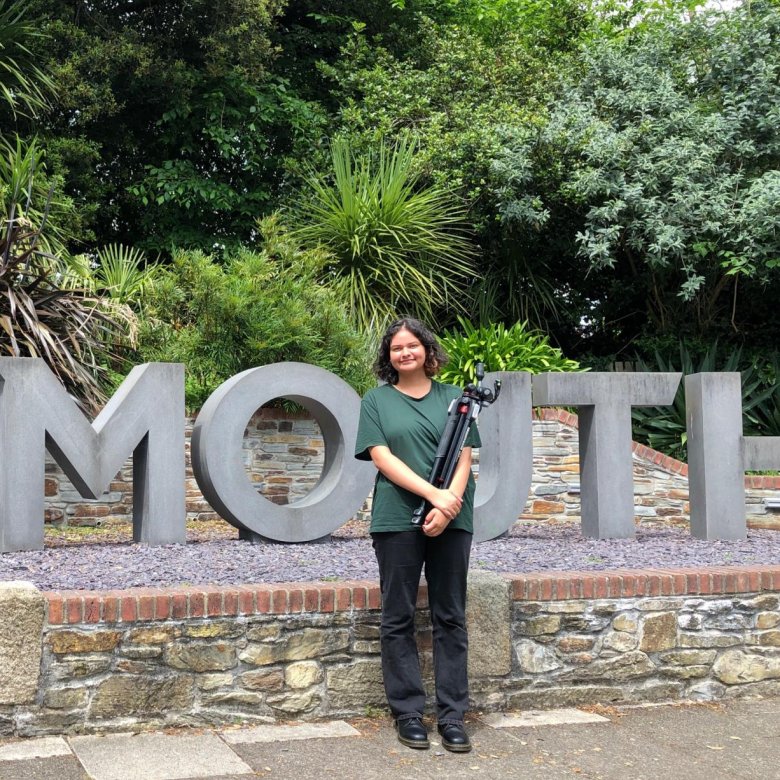 Frugi student
First year Fashion Photography student Sinead Flanagan has assisted Frugi's creative department on a photoshoot for their latest clothing line. The Cornish childrenswear brand chose to shoot the line on our Falmouth Campus.
Frugi is one of the most popular childrenswear brands in the UK. The Helston based company has grown enormously over the last eighteen years, giving Sinead an opportunity to get a first-hand account of a professional photography shoot.
Sinead told us that opportunities to collaborate with industry are highly valued by students. "You really can't get enough of these opportunities whilst at university. They provide such a brilliant insight into the industry and help pair our theoretical skills learnt on the course with practical ones.
"For me, today demonstrated the power of a well-oiled team. As students, we need to take on multiple roles for our projects – we're the directors, lighting assistants and photographers when we're doing our work.
"But seeing everybody play their own specific roles within the Frugi team was impressive. The whole shoot ran really efficiently, and just being in the same space as them allowed me to pick up some useful tips.
"The relationship between the photography director and the child models was really key, for example. Genna was such a friendly face for the kids, and they responded so well to her instructions as a result.
"If a child decides they don't want to do something, then there's not much you can do about it! Having that relationship is super important, and something I'll bear in mind going forwards, regardless of who I'm photographing – adults can throw tantrums too!"
Genna Whitehead, who works as a photographer for Frugi, felt that the Falmouth Campus was the perfect place to fulfil her brief.
"Cornwall is full of beautiful beaches and quaint villages, but our brief for this project was to capture something that would be more relevant to a larger portion of our audience.
"We felt that Falmouth Campus struck the perfect balance between a slightly more built-up location, while still retaining the beautiful greenery that surrounds it.
"We definitely appreciate Falmouth University accommodating us for the day, and it was a pleasure to meet and work alongside Sinead for the day."