Investigating 'rainbow washing' in advertising during Pride
30 May 2023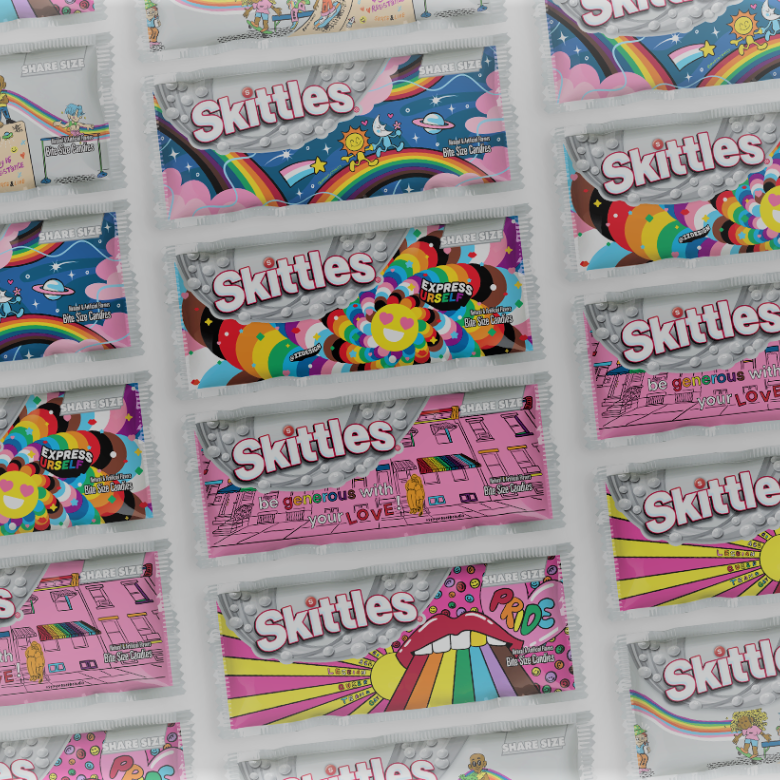 Skittles - Give the Rainbow - Website Banner 2
Ikea Dining Room Table Advert 1994
Ikea's 1994 Dining Room ad featured nothing more than two men sat at the table discussing their relationship. One of the men said, "we've been together for about three years", directly confirming they are in fact a couple. There was no stunt. By treating the relationship and the men in the ad as the norm it gave LGBTQ+ audiences a way to connect. There aren't stereotypical flamboyant men or tanned white men with six packs, it is just simple, everyday people.
Previously, LGBTQ+ advertising had been restricted to print media and so only had a limited reach. When people saw this ad, it received a lot of backlash and calls for boycotts of Ikea. Ikea's phone lines flooded with complaints and even a store evacuation in Hicksville, New York, after a bomb threat.
For context, at the time, 'gay-vague' was the standard practice to reach out to these communities and avoid such backlash. Advertisers would hide things in their ads, or they would suggest the people in the ad might be a part of the community - but they never confirmed it. Things like the subliminal messages placed within the license plates for this Subaru ad were the way to get to their audience. 

If you look closely, you can read the hidden messages. These particularly appealed to the lesbian contingent of the community and Subaru managed to build a stereotype which is still thought of today – 'Lesbians own a Subaru'. Past this, Subaru sponsored Pride parades and even hired Martina Navratilova, a pro-tennis player and outed lesbian, to be a part of their campaign. Given advertisers had already found a successful way to reach these communities, and at a time when AIDS became the highest cause of death of all Americans aged 25 – 44, why would Ikea take such a risk and be so bold?  
Their aim for this piece of communication was to make it clear that Ikea welcomes everyone into their stores. Customers are customers. People are people. They took the risk to display their entire customer base, not just the ones that the public wanted to see, but everyone. By doing this they received praise from activists stating "it humanises us" which is exactly what the ad did. It made the LGBTQ+ community look like people, like they belong as much as their straight counterparts. Could this ad run today? Absolutely - but it might not have the same impact. Today we are more accepting in society and the simplistic ad could just be overlooked by the majority, but it would still be appreciated by the few. 
Lesbian Guacamole Bisexual Transgender 
By the mid-2010s, support for the LGBTQ+ community by corporations had risen massively. Now businesses are supporting charities, pride parades and releasing products covered in rainbows. Every year we see them change their logos to a rainbow and hear them vocalise their support. But if it is just in June, is it really support? Or is it just a PR stunt?
Marks & Spencer released a sandwich in 2019. They took the LGBT acronym and changed what it stood for, to illustrate their support. Now it stands for "lettuce, guacamole, bacon, & tomato". This product caused an internal divide within the community. People were conflicted on whether or not it was offensive. Pink News, a leading LGBTQ+ online publication, sarcastically tweeted "Ah yes, so that's what LGBT stands for …", clearly portraying their stance on the matter - that it is no more than a joke. 
This sandwich controversy came after M&S did the same thing the year before. In 2018, they announced the 'Rainbow Roasted Veg' sandwich to show their support for the community which also received mixed reactions due in-part to their advertising in far-right publications.
Another reason so much controversy surrounded these two sandwiches is that M&S did not make it clear on the packaging that they were making any donations or supporting any cause other than their own profits. In reality they donated £10,000 to the Albert Kennedy Trust, a charity that helps homeless LGBTQ+ youth, and a further €1,000 to BeLong in Ireland.
The donations were unclear, and the products were seen as a full exploitation of the LGBTQ+ community by slapping a rainbow onto the packaging for profit. On their website, M&S stated that they released it "in recognition of this year's Pride", portraying the idea that they created the sandwich to show support, but without actually supporting. Separately they said they were "also showing their support" regarding donations, meaning the sandwich was nothing more than a display. Because individual sales of the sandwich didn't lead to donations it makes it look more like rainbow commercialism – exploiting the community without helping it. 
So why didn't they make it obvious on the packaging that they were doing it for a reason besides their own profit? Especially after the year before when people had similar reactions. 
Egg-cellent Kisses
Cadbury Advert - It's the Creme Egg Golden Goobilee
In 2021, Cadbury's Crème Egg released a TV ad featuring a same-sex couple sharing a Crème Egg and a kiss. This campaign also featured people with disabilities, a range of different races, different ages, and overall diversity. The concept was showing weird ways people might eat a Crème Egg, such as 'lickers', 'dippers', and 'sharers'. It had a mixed reception, those that enjoyed the weirdness, those that disliked it, and those that were offended by the content.
By including a same-sex, mixed-race couple they managed to reflect the modern reality of our society and their own customer base. It's been reported that the agency, Elvis, regularly consulted with members of the LGBTQ+ community throughout the creative process, to ensure they avoided stereotypes.
After the ad aired, Cadbury faced a lot of backlash. The ASA received 40 complaints and roughly 30,000 people signed a petition to get the ad taken down. The fact they were a real life same-sex couple raised concerns around their safety and their newfound fame. These concerns made the agency realise they had a duty of care to protect and train their talent for whatever the public response to the advertisement might be. 
Dispite this, Cadbury received a lot of support and recognition for the ad, including a nomination for the British LGBT Awards in 2021 and a change.org petition entitled 'DO NOT CANCEL The Cadbury's Creme Egg Advert With Two Men Kissing - In Fact Amplify It!', which gathered 49,367 signatures.
Plain white rainbow 
Finally, look at this Skittles campaign from 2017, entitled 'Give the Rainbow'. The company released rainbow-less packs of Skittles because "during Pride, only one rainbow matters". In the campaign, Skittles dropped their bright rainbow branding and released limited edition packs for the month of June. Portions of each pack's profits were donated to UK based LGBTQ+ charities, which was clearly advertised on the point-of-sale displays and packaging.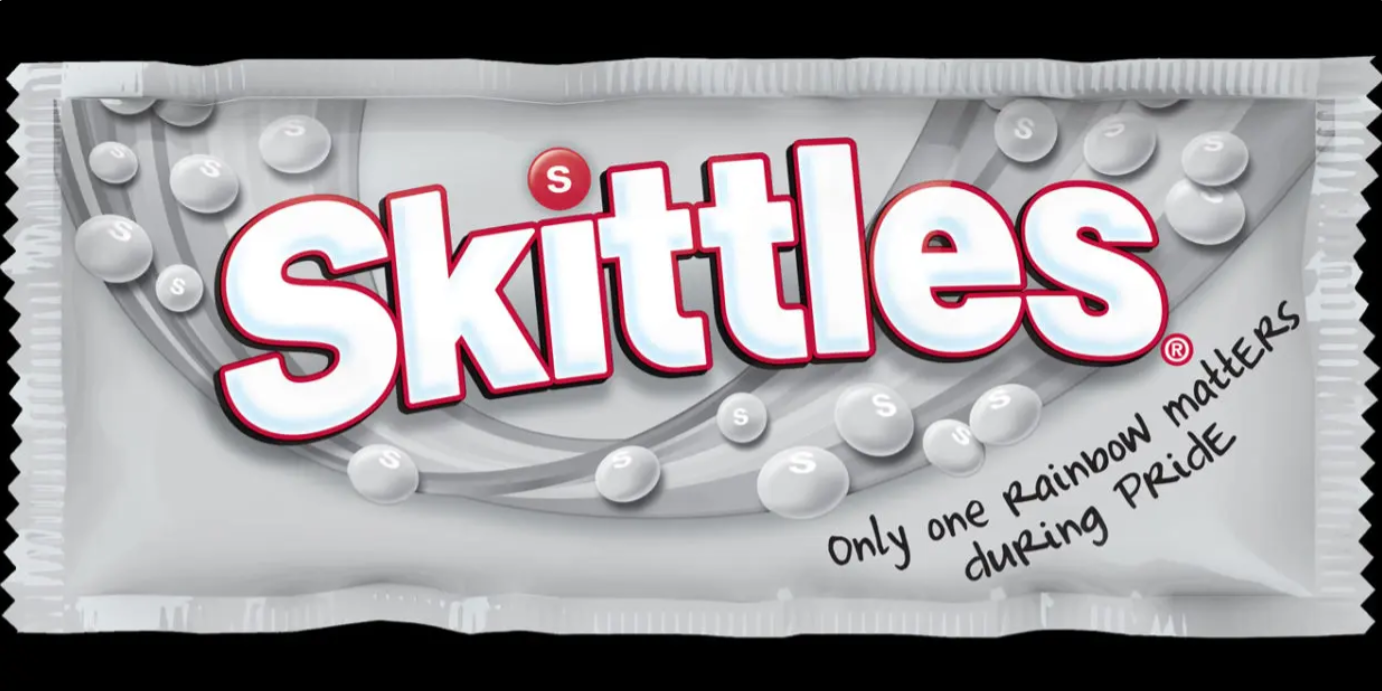 As well as making them look supportive, it also gave Skittles a way to distinguish itself in a time when every company's logo is a rainbow, and everyone is pushing out rainbow merch. By taking the rainbow away, they managed to both show support and ensure they stood out from the crowd. A clear positive for a risky marketing decision. Reportedly, the campaign resulted in 250 million impressions with a 73% organic earned reach and additional sales of almost one million pounds from pride packs alone. Since 2017, this campaign has run annually and has expanded to Skittles' other global markets, including Canada, Germany, and the United States.
So - what are some things to consider when producing a 'rainbow ad'? 
How can brands avoid rainbow washing?
Involve the LGBTQ+ community 
Cadbury made sure to include diverse talent both in front and behind the camera. They created something different and original. It got people talking. This also helps you to avoid stereotypes and old marketing troupes.  
Be truly diverse 
This is something that is still lacking in inclusive advertising today. When people think of the LGBTQ+ community they immediately go to same-sex cis-gendered couples. Forgetting that a massive chunk of the community exists beyond the LG. Don't forget the BTQIA+! 
Align communications to match your values 
If we know the company is supporting other organisations or politicians that believe otherwise, don't release a pride campaign - especially not whilst you're still advertising in right-wing newspapers … M&S … 
Don't just slap a rainbow on everything in June
Doing this just makes you look bad. If it is just rainbow without any donation or support for the community, it is just rainbow commercialism and is completely see through.
Support us and we will support you.