MA Advertising Students Nominated for Chip Shop Awards
4 June 2019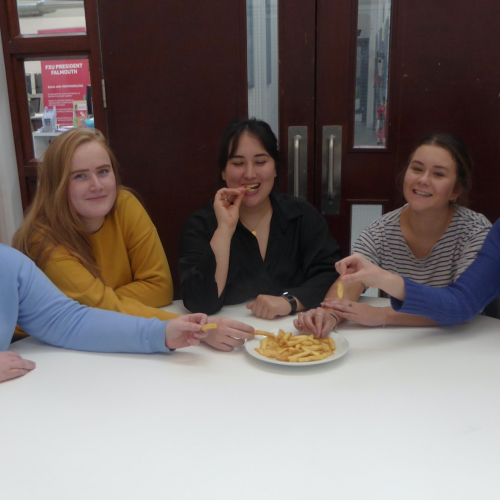 "Pure, unadulterated creativity with no limits", that's what the Chip Shop Awards are about. Creating for the sake of creation. Getting serious about silliness. Standing out. Being controversial. Being brave. Competing with industry professionals. Getting noticed.

This year, five MA in Creative Advertising students have been nominated for Chip Shop Awards: Rachel Ferguson, Sophie Lock, Isabel Snellen, Catherine Walker and Aoife O'Leary.
Jack Kramer, Course Coordinator on MA in Creative Advertising, told us: "The Chip Shop Awards is where virtually anything goes and is therefore a great platform for students to express themselves. To have so many nominations is hugely exciting and of course, testament to how well our students are doing."

Rachel Ferguson, Catherine Walker and Sophie Lock have been nominated for the Best Stunt/Experience category. Together, they came up with an idea for Google which aimed to raise awareness of what it's like living with Dyslexia. Each time a user visited the Google homepage and typed in a question, the letters would muddle and rearrange.

Rachel said: "It feels great to be nominated alongside other talented creatives. It's a whole new level of exciting when your work is recognised by industry professionals, making all the hard work worthwhile."
Sophie agreed: "It feels great, especially as we're nearing the end of the course and will be setting out to find jobs at agencies in a few months' time. The Chip Shop Awards are a lot of fun as there's no rules, anything goes. It's great to be recognised for something we had fun doing."
Sophie and Catherine both received second nominations. Sophie's second was as an independent creative for Best Retail category, while Catherine's other nomination was for Best Stunt/Experience, for a piece that she made with her external partner Josh Wilkinson.

Aoife O'Leary and Isabel Snellen have been nominated for the Best Ambient category, which, as Isabel explained, "means placing an ad in an unusual space."

Aoife told us: "We did a piece for UNICEF, drawing attention to the issue of child brides. We decided to create a piece that would be featured in the Classified section of a newspaper."

Isabel said: "It's very exciting – almost a confirmation that my thoughts aren't that bad!"

Aoife agreed: "I'm really delighted and shocked to be nominated. I really didn't expect it. It's great to have my friends in the class be recognised too!"

After graduation, the group each plan on applying for placements with city advertising agencies. Ultimately, they'd all like to work as creatives, either independently or in pairs. And with Chip Shop Awards nominations on their CVs, they're well set for that next step.
You might also like