Falmouth pair work with Tim Peake for Spaceport Cornwall broadcast
18 November 2022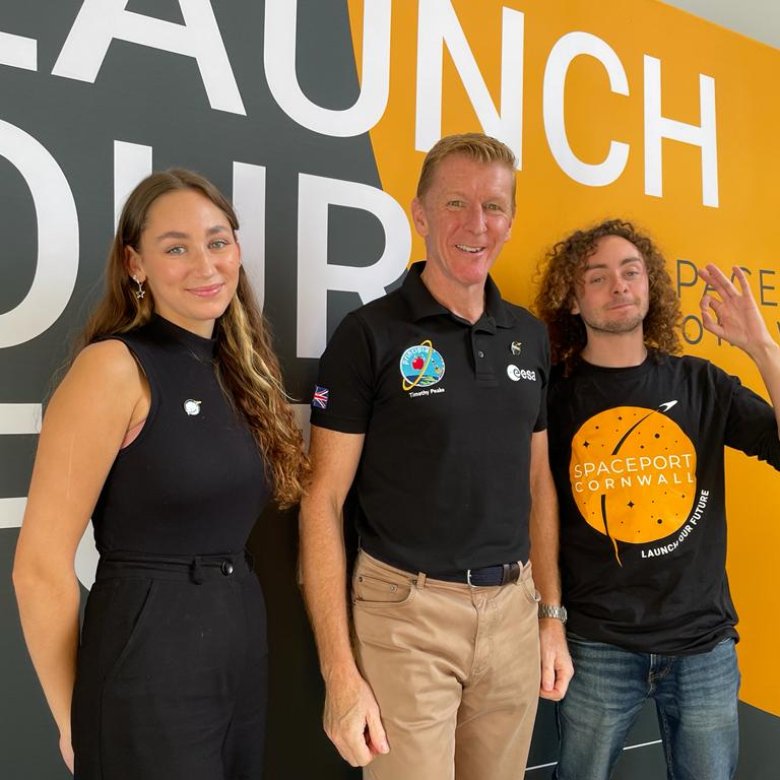 Rachel Harrison and Ben Pisacane with Tim Peake
Rachel Harrison and Ben Pisacane with Tim Peake
Spaceport Cornwall Countdown 2 Launch Broadcast Clip
Rachel was chosen as a presenter alongside main host Tim Peake for the special broadcast, which has been commissioned by Spaceport for a school-age audience. The broadcast will highlight the momentous event set to take place this month and offer a deep dive into the UK's burgeoning space sector. Schools and individuals can sign up to express an interest in watching the broadcast and it's hoped the film will offer a revealing glimpse into the possibilities of a career in STEM for young people across the UK.
Rachel says the presenting role will only serve to strengthen her career. "I co-hosted the Virgin Orbit Launcher broadcast and helped to deliver some fun space facts to the audience to get them thinking about career choices and their possible futures. It was super exciting as this was my first professional job as a graduate and I couldn't have asked for a better team to have worked with!
As the little girl who was obsessed with stars and the moon, being involved in this historic moment for the UK space sector means so much to me as a young woman.
"Getting to meet Tim Peake blew me away, I got to ask him lots of interesting questions about his space career. It really felt that all my hard work is beginning to pay off and doors are starting to open for me. I really do believe this has kick started my career and I'm now considering hosting/presenting as another career option thanks to the broadcast team.  
"40-45 % of 18–24-year-olds joining the space sector are now women, so as the little girl who was obsessed with stars and the moon, being involved in this historic moment for the UK space sector means so much to me as a young woman, I couldn't be prouder..."  
Ben added: "I've been involved with Spaceport last year as I was shooting a promotional documentary of the virtual reality 'space launch' experience that has been made with Immersive Business on Penryn campus to simulate the space launch. I was then asked by Spaceport Cornall to help out with the filming at the Natural Science Museum in London, where we filmed an interview with British astronaut Tim Peake  
"Tim is a fascinating, modest man – a real-life spaceman! It was also fun to visit Spaceport Cornwall and learn about the impact that the launch is expected to have on Cornwall and the UK. I have met lots of people in both the film and space industries and hope that I now have my foot in the door for future career opportunities. I'm very grateful for the opportunity, it's definitely something I won't forget and I'm happy to have had a small role in this massive endeavour...."