Immersive Business
Immersive Business header

Our Immersive Business Team enables SMEs across Cornwall and the Isles of Scilly to apply immersive and innovative technologies to improve customer experience and business processes.
We aim to fuse state-of-the-art immersive technology and business consultancy to encourage the development of new products, experiences and solutions. This two-year programme is funded by the European Regional Development Fund led by Falmouth University in collaboration with the University of Exeter. 
What is immersive technology?
Immersive technology is rapidly changing the way we think about digital experiences, and offers limitless opportunities for innovating new products, user experiences and sales processes.
By creating alternative environments using extended reality (XR), immersive technologies can either create a new reality or digitally extend the physical world.
The umbrella term 'extended reality' (or XR) is made up of virtual reality (VR), augmented reality (AR) and mixed reality (MR). XR combines all of these to deliver computer-generated environments to deliver a totally different sensory experience.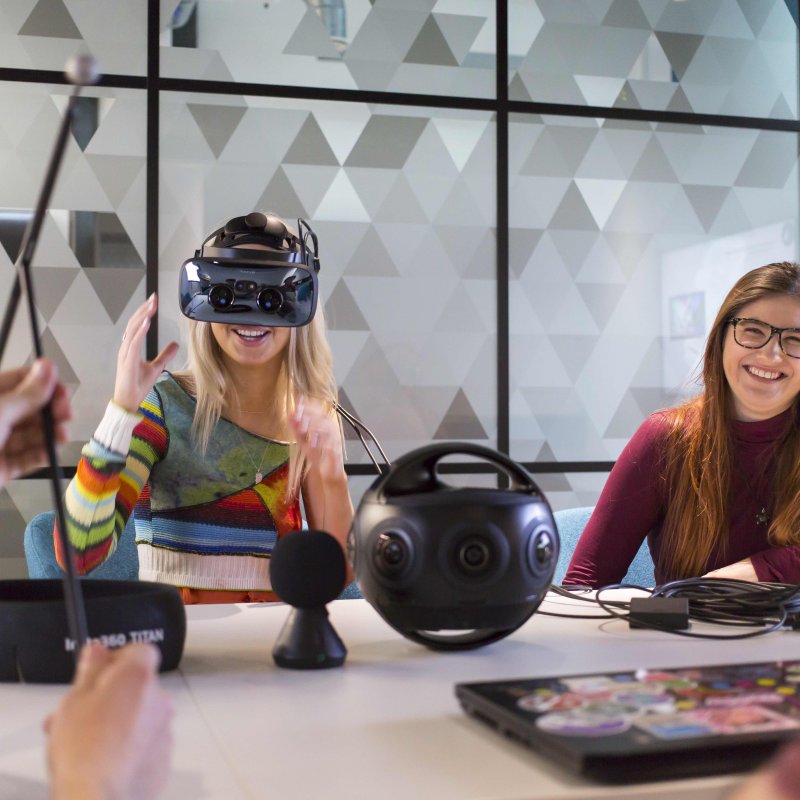 About Immersive Business
Our technology hub
Our technology hub in Penryn, Cornwall offers a unique space that houses some of the latest tools and immersive technology. The facility provides an extended reality (XR) single, multiuser, remote and collaborative immersive workspace for you to try first-hand, plus assistance from business consultancy experts. 
Equipment
Multiple high quality 360 video (monoscopic or stereoscopic) capture and streaming capabilities – including an Insta360 Titan 11K VR camera. 
High quality camera and video capture 
Motion capture (Xsens, optical) 
3D sound captures and processing 
Multiple stations for photogrammetry and LiDAR scanning processing
HP workstations comprising Nvidia Quadro RTX 4000 and Reality Capture software
Scanning, surveying, remote damage inspection
Multiple stations for accessing software, such as:
Unity Development 
Unreal Engine 
RealityCapture 
Adobe Creative Cloud 
Oculus Quest 2 headsets 
Epson AR overlay glasses 
HTC Vive VR headset 
HP VR G2 backpacks to enable untethered virtual reality (VR) 
Windows Mixed Reality HP Reverb G2 high resolution headsets – (2160 x 2160 LCD panels per eye) 
HoloLens V2 Microsoft mixed reality (MR) headset 
Our team
Made up of immersive technology experts and business consultants, our in-house team offer clients a collaborative blend of industry experience.  
Our Immersive Tech Specialists are veteran problem solvers with expertise in next-generation communications, visual effects and animation, while our Business Engagement Fellows are skilled strategists, communicators, project managers and early adopters.  
We can help you identify how Immersive Business can benefit your company and explore the many opportunities made possible by our technology.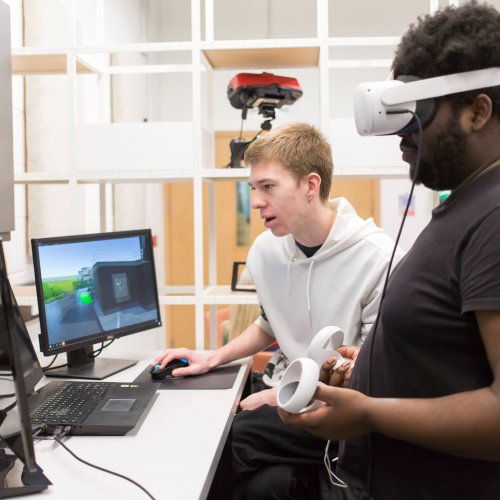 Student team
Students collaborating with Spaceport for the UK's first ever rocket launch
---
The opportunity for Falmouth's students to work with Spaceport came about via Falmouth University's innovative start-up 'Immersive Business', which is located on Penryn Campus. Led by Falmouth University in collaboration with the University of Exeter, Immersive Business ensures that eligible small and medium sized Cornish businesses can compete nationally and globally through the development and application of immersive technologies. Businesses can approach Immersive Business and receive twelve hours of assistance with a project free of charge.
Read more