Falmouth Hosts Debate Create Event
28 June 2018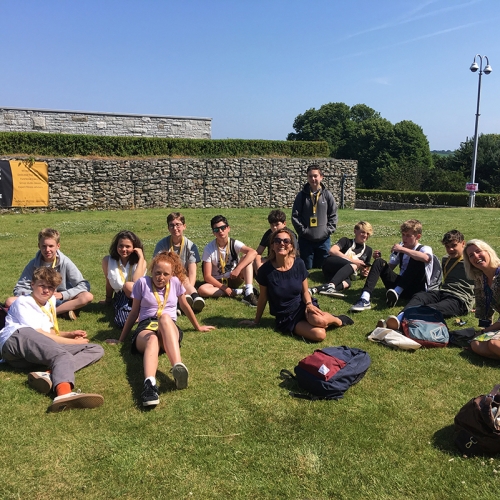 Falmouth has hosted a Debate Create event for local schoolchildren, offering them the opportunity to learn about the creative industries and take part in a discussion on 'future working'.
Year 9 and 10 pupils from schools in the surrounding area such as Falmouth, Redruth, Hayle and Truro arrived at Penryn Campus for an Interactive Group Debate on the subject of future working. The panel members consisted of leading experts in their fields, including the Chief Executive of Cornwall Chamber of Commerce, a Partner at Nalders Solicitors and the Head of Employability at Falmouth University.
The students were invited to pose questions to the panel members, with topics such as the developing role of AI technology in the work sphere, the skills that will be most beneficial to employers in the future and the exciting new careers in the job market.
After the debate, the students split into groups and took part in workshops that offered an insight into a particular creative field. Tutors from subjects such as Creative Advertising, Theatre and Journalism applied the theme of future working to the activities that the pupils engaged in.
Lucy Cokes, who spearheaded the Creative Advertising workshop, explained: "It was a great opportunity for the students to experience what it's like at university, and to try out subjects that they may not have been exposed to.
"I was very impressed with the quality of the students work, considering the small amount of time that they had. I was basically teaching them the first year of studying advertising in a condensed, one hour session! They came up with some very good ideas and I was pleased with the end results."
Lucy feels that the theme of 'future working' is one that is extremely relevant to young people studying at school, who will soon be deciding which subject to study at university.
She reflected: "One of the final points made during the debate is that no matter what the job market may look like in the future, the one major resource that can't be replicated by machines is our creativity, so the degrees that are studied here at Falmouth will keep their relevance in future years."
You might also like