Business Driven
4 June 2018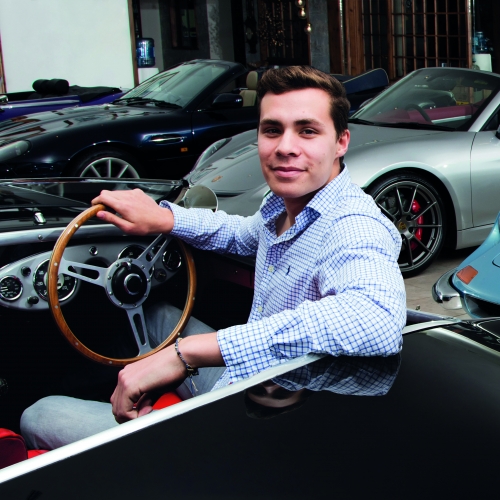 Business Entrepreneurship student William Griffin is equally at home in the historic grounds of Blenheim Palace or soaking in the views of Monaco harbour, as he is laying the carpets for a classic car auction.
William began working with COYS of Kensington, the globally acclaimed classic car auction house, during his first year at Falmouth. He's always loved cars and knew from the start of his degree he wanted to combine this passion with business.
"When I was younger I was always the kid who never stopped playing with cars," he says. "In my first year, I began contacting lots of companies to see if I could help them and managed to get my foot through the door at COYS of Kensington.
"I started off laying down carpet for them and pushing cars around at the auctions. The longer I worked with them, the stronger the relationship grew. They invited me to more auctions and soon I was bidding on behalf of clients, working on the sales side of the business and helping with the valuations. I'm now running their website and social media marketing."
William grew up the Netherlands and came to Falmouth because of the flexibility the course offers. Little did he know it would lead him to a front row seat at one of the world's most prestigious sporting events.
"Going to a car auction in Monaco, on the same weekend as the Formula 1 Grand Prix, was one of the greatest car-related experiences of my life. Luckily, we finished working before the race began. The boss knew someone with a restaurant on the race track, so we walked around the harbour and had the best seats in the house to watch the race."
The finish line for his degree is now in sight and William is confident he's in pole position to become a significant influencer in the classic car market.
Find out more about BSc(Hons) Business & Entrepreneurship
You might also like