Brewing brilliance: Falmouth students respond to live brief set by Verdant Brewery
07 July 2023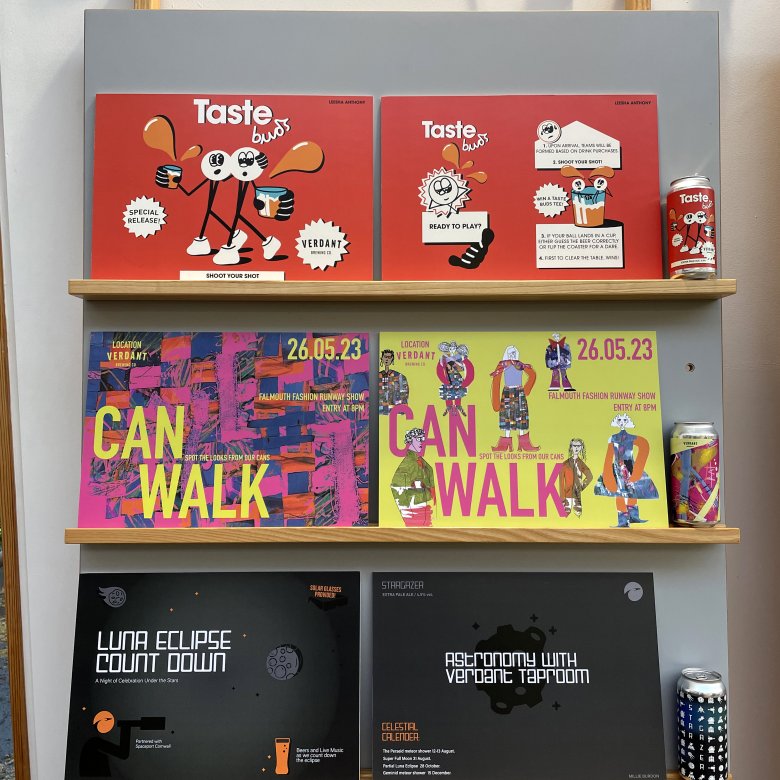 Verdant exhibition
Final-year students on Falmouth's Graphic Design BA(Hons) course recently had the chance to work with celebrated brewing company, Verdant Brewery – which just happens to be founded by Falmouth Graphic Design alumni.  
Verdant Brewery's brief challenged the Graphic Design students to devise a speculative event to be held at the Verdant Taproom in Penryn and design a unique beer label to spearhead the event. Responses included events for dog lovers, fashion fans, star gazers, crafters, bikers and many more. 
Verdant wanted to work with Falmouth students on this brief to help them understand how they could be a positive and creative force for their community and its visitors. 
The premise of the brief was to broaden the definition of 'community' by exploring how Verdant might fit into the cultural landscape, be that local, national or even global. The specific aim was to find and connect with relevant but new communities and subcultures. 
This unique opportunity provided our students with the chance to apply their skills in a real-world setting, while immersing themselves in the rich heritage of Cornwall's brewing culture. 
Dion Star, Senior Lecturer for Graphic Design BA(Hons), said: "This is the second year we've worked with Verdant Brewery, and it's been a valuable experience for our students. The brief has helped to stretch our students' thinking and allowed them to showcase their creative talent.  
"Verdant are one of the most celebrated craft breweries in the UK and are a fantastic company to work with. What makes this project even more special for us is that Adam (founder) and James (Creative Design Manager) are Falmouth Graphic Design alumni." 
We spoke to a few of our students about their experiences of working with Verdant. 
Abbie 
"The project was the perfect finale for my degree. I found my love for graphic design through beer can designs, which was a driving force for me to take on the degree. So, to end with an officially printed design on a brand I love doesn't get much better. Thanks to the Verdant team for making it a reality." 
Carys 
"The Verdant project was a lot of fun! Seeing my design printed professionally on a can was so cool, but I also really valued the experience of being able to present to Adam and James at the taproom and have a conversation with them afterwards - I left feeling very inspired for the project." 
Eli 
"I really loved the experience of working with a client and being able to have feedback at the taproom was so valuable to how my project progressed, it was so nice seeing our cans in real life and having the texture on the labels, it made me excited about the future and for projects that may become real one day."