Moving to Falmouth
16 February 2021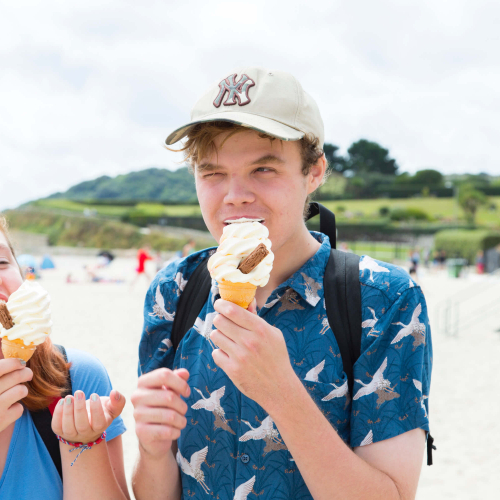 Has the big day arrived? Or is it brewing on the horizon? Don't panic!
Although the move to university can be a stressful and monumental time in your life (especially moving to Falmouth which might feel 1000 miles away from everything you know), it is also an exciting new chapter which you get to experience.
I chose to move to Falmouth University mainly because of the location. After holidaying in Cornwall as a child, I had a huge craving to move to a small seaside town and experience a new kind of life. I live in the Shropshire countryside which is around a five hour drive to Falmouth so the big move was huge for me. I remember travelling down with my stomach in knots from both nerves and excitement!
However, my nerves almost seem wasted because Falmouth quickly became my new home. Living in a small seaside town is definitely a contrast from a typical university city environment. Although Falmouth is compact it is still buzzing with life and vibrancy. The hustle and bustle of city life seems almost chaotic compared to the slower pace of life in Cornwall. But don't be fooled- Falmouth has lots going on!
Falmouth is renowned for being a holiday destination so getting to live here is truly amazing. If crystal blue waters and sandy beaches aren't enough to convince you, Falmouth also has a diverse and lively social aspect. There's something for everyone!
From nightclubs to cafes, the independent hospitality businesses that fuel the town are nothing short of amazing. From Beerwolf - the pub which is also a library – to The National Maritime Museum there is never a dull moment when exploring the town. And if you fancy a quiet day, you can't beat getting some chips and sitting on the beach!
The cherry on the top though is how friendly and welcoming everyone is. This helped me massively whilst settling in because I felt like part of the community from the get go. Something to remember when moving to university is that everyone is in the same boat! Cliché as it sounds, the majority of students you meet will be just as eager as you are to be friends and connect. So, get involved! There are loads of student societies that welcome newcomers with open arms and jumping in at the deep end is the best thing you can do. I guarantee you'll meet some amazing people along the way.
Don't be fooled - Falmouth has lots going on!
And if you do feel homesick remember Cornwall isn't cut off! A simple train got me home if ever I needed it. It's easy to reach your family and friends at home and I can promise the time between move-in day in September and Christmas flies by. During my first year I also managed to go home for a few days at the end of October because I had, what my department called, a 'Rest Week' where classes were reduced to allow first years to go home if they needed to.
After Christmas, I typically won't go back home until summer but my family normally spends a week down in Cornwall during the Easter holidays, which they promise is solely to see me but somehow I don't quite believe that as they spend most of that time on the beach and eating ice cream!
When you are immersed in your work, involved in societies and hanging out with friends the year goes by in the blink of an eye and suddenly it's summer in one of the most beautiful locations in the UK. So all in all, I guess you could say I'm pretty lucky to live in this little slice of heaven and I can bet you'll feel the same way too!
You might also like