Living in Glasney Parc student accommodation
12 May 2023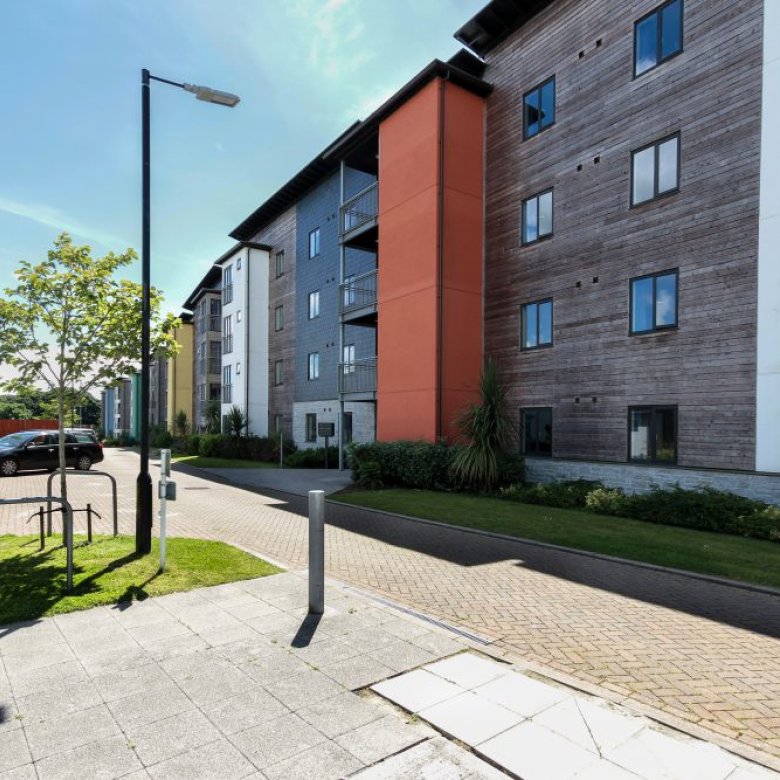 Glasney village exterior
This piece was written by Game Development: Writing BA (Hons) student Adam about his experience living at our Glasney Parc student accommodation.
My experience with shared accommodation at Glasney Parc was an extremely positive one. As someone moving from Wales and for the first time living on my own, I wasn't sure how I would feel or if I would even like it. But I can safely say it was an incredibly welcoming and uplifting experience!
Getting to know my flatmates was daunting at first, but as I had applied for a quiet flat, there were many like-minded people I could easily get along with. When you apply for accommodation at Glasney, you'll be able to select preferences for what type of environment you'd prefer, how your food is prepared and so forth. As mentioned, I picked a quiet flat and chose catered accommodation. So, I had meals prepared for me five times a week in the Stannary, with my own food shopping done on the weekend. This made my life much easier, not having to worry about what I was cooking allowed me to focus on work and socialising; which took plenty of weight off my mind. 
As for the other living aspects like wifi, internet access and living spaces, each was top notch, and I found no issues with anything! Yet even if something was amiss, say the oven was broken or the tap wouldn't turn on, you could just ring Glasney Lodge and they would send someone over to fix it right away. Which brings me onto the biggest and best reason for staying in onsite accommodation at Glasney. The Lodge. 
Glasney Lodge is far and away the singular best reason to be in Glasney accommodation. Acting as the main hub for students and student problems on campus; it's open 24/7 and offers the most comfortable security blanket anyone could ask for. Security teams move around campus constantly at all hours, making sure everyone is comfortable. The Lodge itself is fantastic for attending to any problems, queries or worries that students may have. I can personally attest to their attentiveness and timely way of dealing with a myriad of tasks. As someone who went over there at 3am to report a loud banging from downstairs, they were on it in a matter of minutes whilst making sure I (and everyone else in the building) was secure and safe.  
The Lodge also sends and receives mail, allowing students to not have to slog all the way to the post office in Penryn. What makes it even better is that if you are expecting a parcel that requires a signature, the Lodge signs it for you, alleviating any stress or hassle whilst keeping your package safe.  
Glasney accommodation is something I thoroughly enjoyed staying in for my first year at university, and I can highly recommend it to anyone who wants a fun and engaging stay, whilst also feeling safe and secure in equal measure. If you have any more detailed queries after reading this, either about accommodation or just wanting to chat to hear more of my experience, send me a message on the Unibuddy app. I will happily lend you an ear and help as much as I can.