Writing School Collaborates with Maritime Museum
3 August 2018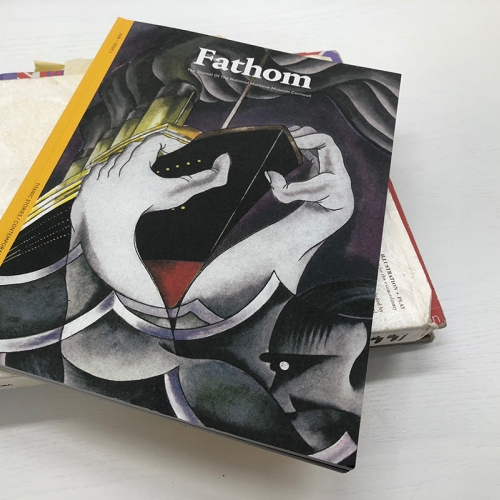 The School of Writing & Journalism have provided students and staff with the opportunity to contribute to Fathom, a public-facing journal for the National Maritime Museum Cornwall, following a successful publishing project with the National Trust.
The second edition of the journal showcases the new exhibitions and various collections at the museum, and much of the content celebrates the seafaring history of Cornwall. Its chapters explore the tragic stories of Cornish people on board the Titanic, the maritime history of tattoos and the Cornish connection to the sea.
The National Maritime Museum approached Falmouth after the success of the National Trust's first foray into student publishing, collaborating with Writer in Residence Wyl Menmuir and students to launch and promote the book In Dark Places. Wyl explained: "Fathom's editor, Lauren Hogan, wanted to explore how we might work together to provide some content for the journal.
"Anna Kiernan and I came up with the idea of asking students and staff from Falmouth to write a series of poems and short stories, inspired by some of the artefacts in the museum, to celebrate its fifteenth anniversary. We worked with students across the School of Writing & Journalism to help them research the artefacts and draw out their stories."
The chapter named Sea Lives and Ocean Stories was left to the creativity of the staff and students, with fifteen relics chosen from the collections of the museum, ranging from sailing boats to oil lamps, diving suits and pilot gigs. The pages contain thrilling and evocative short stories such as The Keepsake and Underwater Astronaut, as well as unique and powerful poetry bringing to life Willy Schermuly's pistol rocket apparatus and the ancient sea craft known as a Coracle.
Julia Webb-Harvey, author of the Slippen short story and MA Professional Writing student, reflected: "I wanted to create the feeling of being in a gig, racing another to get your pilot to the incoming ship. If you didn't win, you weren't paid. It was not done for fun! The editorial process was brilliant at teasing that out, and the feedback from Anna was instrumental in getting the tone right."
In terms of the impact of Falmouth and her course on her writing, Julia commented: "I don't think the opportunity to contribute to Fathom would have arisen without the University.
"The MA in Professional Writing is like no other writing programme I've been involved in. It not only gives you the nuts and bolts of writing well, but also working in an editorial environment to improve every aspect of your work."
You might also like