Win for Falmouth University at sustainability awards
10 November 2022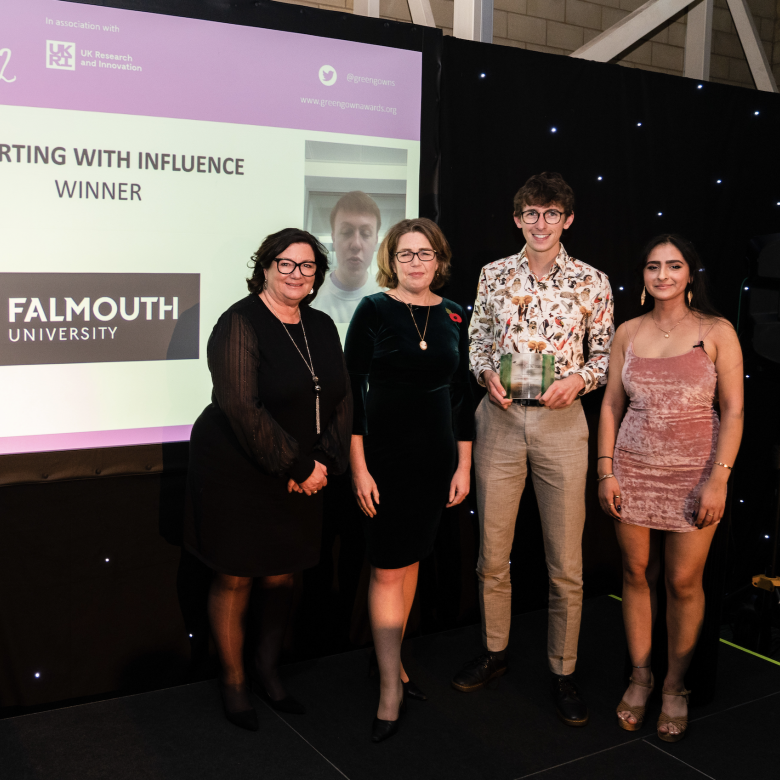 Green Gown Awards 2
Falmouth University is delighted to have won the Green Gown Award for 'Reporting with Influence' at this year's ceremony. 
Our entry celebrated our annual sustainability report; a document that the University publishes every year, providing an update on our progress against our institutional sustainability goals. 
We want to support the next generation of leaders and explorers with the knowledge and skills they need to build a more sustainable future.
Our goals are simple, specific, and measurable. Therefore, while the report is an opportunity to engage our people in our shared effort to addresses the challenges of sustainable development and to celebrate the initiatives, projects and programmes that have made a difference, it's also a mechanism by which the University's progress can be fully scrutinised and its executive team held to account for the delivery of its sustainability targets. 
Commenting on the award, Chief Operating Officer Peter Cox said, "The Green Gown Awards recognise exceptional sustainability initiatives being undertaken by universities and colleges across the world. Up against the University of Oxford and London College of Fashion, UAL in the final, it was fantastic to be recognised for our reporting activity, which is all about transparency and empowering our campus community." 
"At Falmouth University we are committed to addressing the climate crisis. Through the transformation of our estate infrastructure and through the impact we can have through our supply chain, we are doing our bit to reduce our carbon emissions.   
"More than that though, we want to support the next generation of leaders and explorers with the knowledge and skills they need to build a more sustainable future."