Textiles Student Completes Course as Double-Award Winner
18 December 2018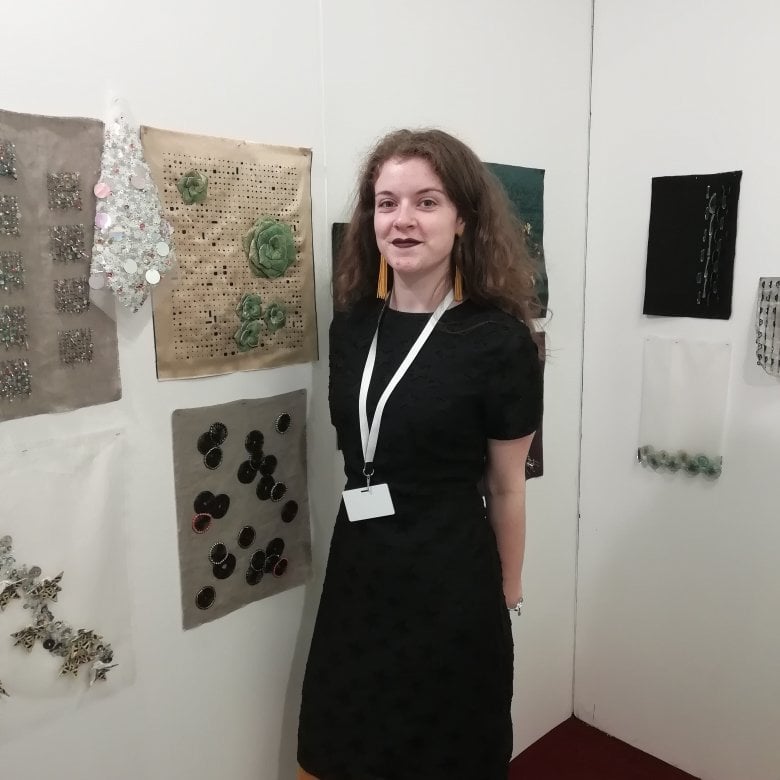 News: Textile Student
Winning a prestigious industry award as you leave university is an incredible achievement that can open doors and provide invaluable career opportunities. Jessie Dickinson, 2018 Textile Design graduate, has taken that a step further, scooping up two awards in the innovative and exciting new field of digital embroidery.
She received her first award, the Wilcom Digital Embroidery prize, after exhibiting her work at New Designers this year. New Designers is a two-week exhibition that gathers students from over 200 creative courses. That's more than 3,000 of the brightest and most radical new creative minds, all under one roof. It launches the next generation of thinkers, makers and disruptors in the UK design scene, presenting new talent to the big names of the industry.
Hand & Lock, the oldest embroidery company in the UK, awarded Jessie her second prize, the Wilcom Digital Embroidery Award, as part of their annual The Prize competition.
Hannah Maughan, Senior Lecturer in Textile Design, has been involved with Hand & Lock and has supported the competition since 2005, with regular and continued success.
Describing the award, Hannah said: "The Prize was established to celebrate, encourage and challenge the technical skills and creative approach to traditional embroidery within a contemporary context. It has run for nearly 20 years and has grown in significance to the highly prestigious international status it holds today, attracting students and professionals from across the globe. Hand & Lock work with a range of industry partners and experts, most recently including Wilcom, the leading digital embroidery software specialists."
As Jessie's main studio tutor and mixed media discipline lead, Hannah taught Jessie throughout her degree and encouraged her to enter The Prize for her digital embroidery.
When asked how it felt to be a double-award winner, Jessie said: "I can't quite describe how it feels. For the first few days after each award it was very surreal. To have my work recognised by two significant companies in the industry is amazing. At New Designers, I looked around the other stands and saw the work by other graduates and didn't think I had a chance. I'm absolutely thrilled that they singled my work out as the winner. I couldn't continue my love for digital embroidery without their support."
Jessie continued: "Winning Hand & Lock gave me further confidence in my work and has meant I've built a friendship with Wilcom, hopefully ensuring continued support with their software. Hand & Lock was also partly down to public vote, so I'm grateful to everyone who took the time to come to the event and have their say."
Talking about Jessie's accomplishments, Hannah said: "It is only at the beginning of [the third semester] that mixed media students are introduced to digital embroidery. Jessie applied herself throughout her final year, with digital embroidery being her main technical focus. It is significant that she won both the Wilcom Digital Embroidery prize at New Designers and the Wilcom category at Hand & Lock. It is testimony to her high level of technical skill and creative approach/application, gained in such a short space of time."
Since leaving university this summer, Jessie has set herself up as a freelance embroidery specialist and has started work on some exciting projects.
Jessie told us: "Recently I have been working for a costume embroidery designer called Catherine Avison, doing embroidery for two upcoming Disney films and The Crown Season 3 for Netflix. In October, I was exhibiting work at The Knitting and Stitching Show in Alexandra Palace, and also Harrogate Convention Centre in November, sponsored by the Embroiderer's Guild. Two Guild members walked around New Designers and chose ten graduates to give exhibition space to; I'm honoured to have been among those selected."
By winning two digital embroidery awards at the tail end of her university studies, Jessie has been catapulted into the industry and has started her career with a flourish.