Textile Design graduate wins Oppo Lens of Inspiration Challenge
23 December 2021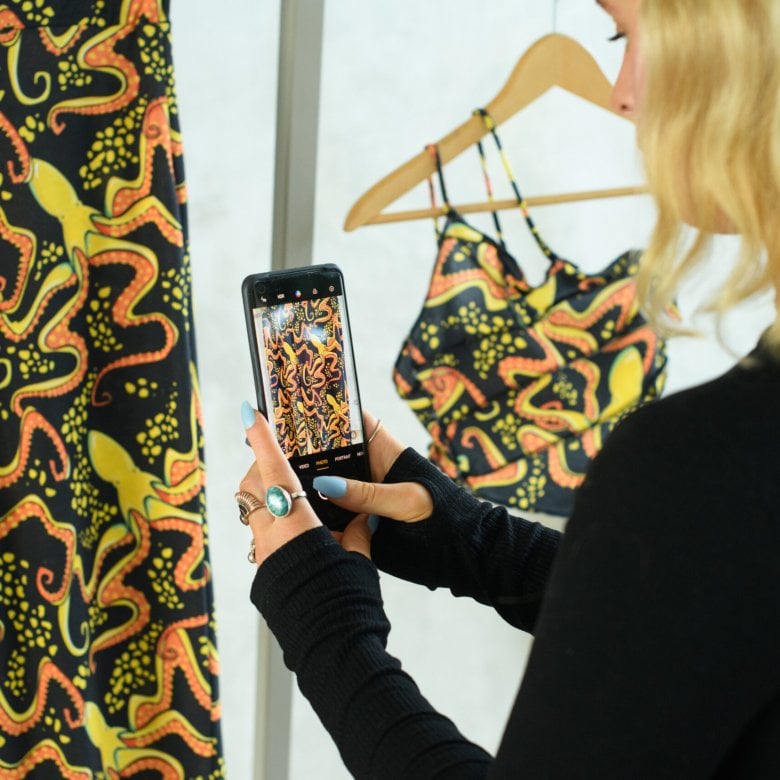 Rosie Southerden New
BA(Hons) Textile Design graduate Rosie Southerden has won the Oppo Lens of Inspiration challenge. The winning design was inspired by microscopic images of barnacles and lichen on the Cornish coast.
Smart phone brand Oppo challenged ten designers at the start of their careers to create a textile print using their Find X3 Pro smartphone, which contains a camera with a microlens. The lens can magnify images up to 60 times closer, allowing the participants to photograph tiny details of objects they love.
Rosie took some extraordinarily detailed close-up photographs of barnacles and lichen found on a seawall near her home, which she used as the inspiration for her print design.
The print was then turned into a sustainable fashion piece. As Rosie explained in her statement, "I printed a black and yellow image on a recycled cotton jersey to create a two-piece set with trousers and matching tops."
"I really enjoyed making prints and garments because the Lens of Inspiration competition encouraged me to experiment and be creative."
"With the Find X3 Pro microlens, we were able to see the world from an unprecedented perspective and the design process was very exciting. I'm really proud of what I've achieved, and I can't wait to continue exploring the crossroads of art and technology." 
Rosie received mentorship from fashion designer Karen Mabon throughout the process, whose luxury sleepwear and hand-illustrated designs are renowned in the industry. Karen was also part of the team of judges, which also included New Designers Portfolio Director Sarah Monk and Kevin Cho, Managing Director at Oppo.
Kevin Cho believes that all the submissions "demonstrated perfectly the intersection between technology and beauty in the creative process."
Writing on LinkedIn, Kevin said "Seeing this work come together and hearing from this next generation of designers, I've been inspired by the way they've been able to capture what influences them in a single image – be it sustainability, family or nature – and translate that into an artform.
"I was particularly impressed by the designers' commitment to sustainability in fashion and design. With sustainability at the core of the next generation of talent coming through, it's going to be exciting to watch them leave their mark on the British fashion and design industries as their careers are taking off."