Students Work with Artist Peter Matthews
11 December 2018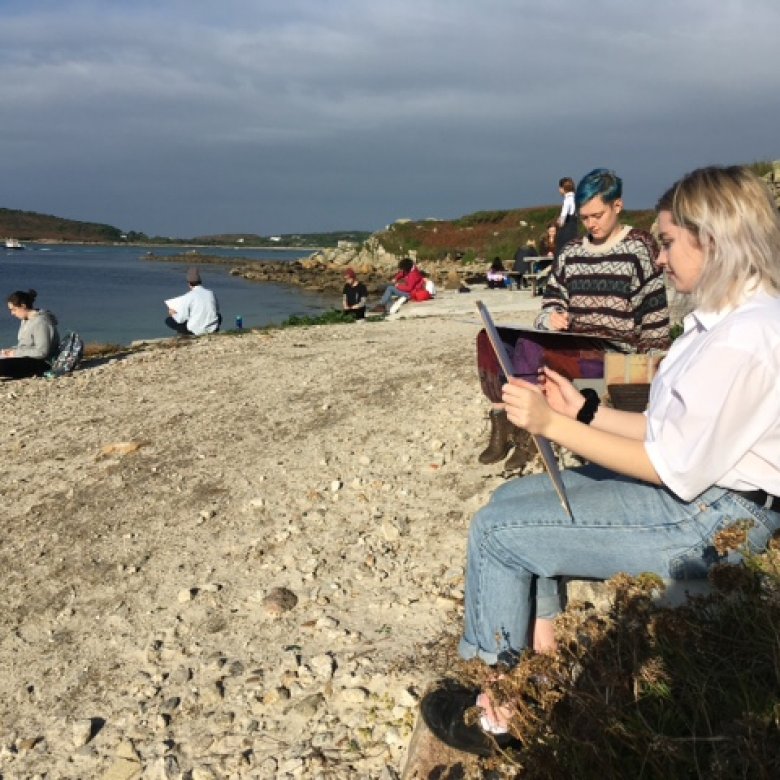 Students drawing Isles of Scilly
Students from BA(Hons) Drawing have enjoyed several inspiring trips and workshops this year, including an exclusive two-day drawing project with artist Peter Matthews.
Peter is known for making drawings and paintings whilst floating for many hours at sea; he works with art materials strapped around his body and allows the movement of the ocean and waves to paint his pictures for him. His project with the students included group work on Gyllyngvase beach and sensory drawings, using found objects back in the drawing studio.
First year Drawing students have also recently travelled to the Isles of Scilly, staying on the island of Tresco as guests of Robert and Lucy Dorrien-Smith.
They were joined by visiting lecturer Constanza Dessain, who brought her own brand of expressive draughtsmanship and held a morning workshop where she encouraged the students to experiment with ink and charcoal. The students made great use of their time, drawing all day and enjoying a tour of the world-famous Abbey Gardens.
This is the eighth year running that Drawing students have visited Tresco. This year, students were also able to present their work in an exclusive drawing show in Gallery Tresco. The show was very well received, with several pieces being sold on the first night.
Students have also been to Trebah Gardens recently, where they made the most of the Autumn colours drawing plant specimens, which they then developed in the studio.