Students Meet 'Hashtag Our Stories' Mobile News Pioneers
02 April 2020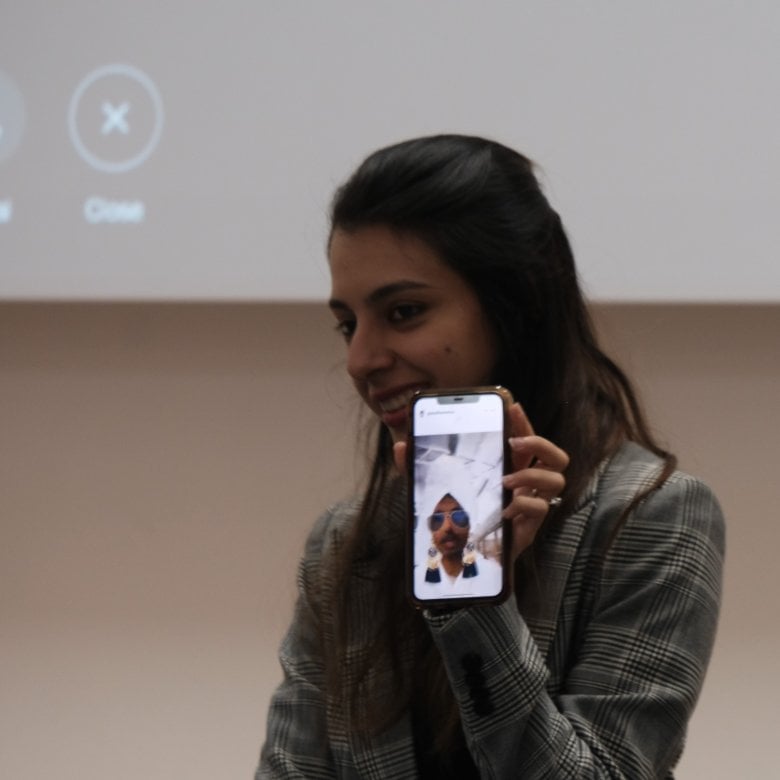 SOC_Hashtag Our Stories_Snap Chat
Sumaiya Omar, co-founder of pioneering mobile journalism site 'Hashtag Our Stories' came along to Falmouth recently to talk with Launchpad and Journalism students. Co-founder and journalist Yusuf Omar also joined the briefing, via Snapchat from Kenya.
While she was here, Sumaiya met with Launchpad's entrepreneur teams to discuss current projects; developing Artificial Intelligence (AI) for social media video editing/sharing, and sourcing citizen journalism content for environment reporting.
Hashtag Our Stories mentors citizen journalists globally, to help tell their stories in video. Smartphone visuals shot by ordinary people - User Generated Content (UGC) created by citizen journalists – usually appears when there is a breaking news story or a viral 'Chewbacca Mom'"
Sumaiya said.
"It's either really messed up or really funny," she told the audience of student journalists, entrepreneurs and tech developers at her keynote address in Falmouth's Launchpad incubation building. "But Hashtag Our Stories asked themselves: 'What if we could really raise the quality of UGC? How do we make people better storytellers?'"
And so the platform began, and three years later Hashtag Our Stories has curated thousands of mobile stories shot by ordinary people. People pitch ideas via Facebook or Snapchat to the editorial team who then guide the content creation, packaging stories in a trademark fast-moving youth-focused style.
Launchpad student, Nikki Camilleri, joined the briefing. She told us, "It was great to be able to meet with Sumaiya Omar from Hashtag Our Stories as well as hear from Yusuf about their journey in creating their business and empowering people around the world to tell their stories. The session provided a thorough understanding of what it is like to be a global journalist in 2020 and the technology which is at our disposal as mobile journalists. This will undoubtedly help us in the formation of our own start-up on the incubator program."
Hashtag Our Stories does not pay its citizen journalist contributors, and former banker Sumaiya admits it's a complex business model which juggles grant finance, support from NGOs, limited advertising revenue and content partnerships.
"We train communities around the world, we turn citizens into mobile storytellers," she said. "The key factor in this process is good journalism, and there's no substitute for that" she added, "Professional journalists verify and shape each story that gets made."
Right on cue, journalist Yusuf Omar called in to the Falmouth session on Snapchat, live from Nairobi airport. Yusof's energy beamed into the room as he described the story he's been working on: it's about rats trained to sniff out landmines in Tanzania.
Former CNN and Hindustan Times mobile news producer, Yusuf is a natural 'disruptor' and media innovator. He founded Hashtag Our Stories in 2017, to give an internet platform to anyone with a smartphone and a serious personal story.
"We have six criteria for stories we produce", explained Sumaiya. "Factual, relevant, with a universal theme, a learning or knowledge element, an unheard voice and a unique angle."
Yusuf switched through Snapchat filters as he streamed himself walking and talking mobile journalism. In 2016 he produced a story for the Hindustan Times in which Indian women, their faces hidden by Pokemon filters, recounted personal experiences of sexual assault.
This year Yusuf and Sumaiya received finance from the UK's NESTA fund to develop customised phone filters, allowing UK victims of hate crimes to tell their stories.
But right now, as the Covid19 story dominates global media, Hashtag Our Stories is in a prime position to access and share the stories of thousands of people under threat and in lockdown during the global pandemic.