Student Shortlisted for Marilyn Stafford Reportage award
22 June 2020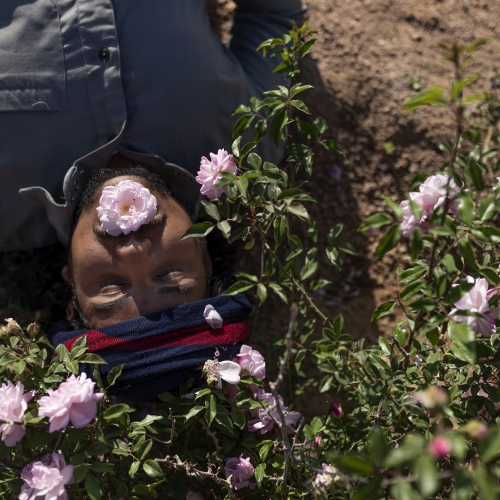 MA Photography student, Rehab Eldalil, has been shortlisted for The Marilyn Stafford FotoReportage Award 2020.
Facilitated by FotoDocument and supported by Nikon, the Marilyn Stafford FotoReportage Award is an annual award for women photographers specialising in documentary photography with a focus on solutions.
We spoke with Rehab about her shortlisted entry and her personal journey.
Tell us about your shortlisted work and what inspired it?
The shortlisted story is part of my MA photography project. My MA project is a broader work in collaboration with the Bedouin community in Sinai, Egypt which I've been working on during my two year MA after seven years of research.
The project which is called "The Longing Of The Stranger Whose Path Has Been Broken" explores the idea of belonging within the Bedouin community and collaborates with the community to depict a contemporary portrayal of the Bedou' identity by adding traditional mediums such as embroidery and poetry in the photographic bodies of work.
As an advocate for Bedouin civil rights when the pandemic struck Egypt, I took part in providing medical aid to the community which resides in remote mountain areas. This allowed me to witness the community's incredible perseverance and resilience during this global crisis. So I decided to document how the community is creating citizen-led solutions to combat the crisis by growing vegetables for their families and tribe in the desert. And that is basically the story that got shortlisted for the award. I call it "The Keepers Of The Land".
I'm aiming to publish it as a separate story as well as add it as a chapter within my bigger MA project as Covid has had a huge impact on the production and development of my project.
How does it feel to be shortlisted for the award?
It feels amazing to be shortlisted, let alone shortlisted for a cause that I feel so strongly about. I have a huge passion towards telling the story of the Bedouin community. For years I've been learning so much about the community's resilience against discrimination and poverty and I've learnt so much about myself as an artist and a human being.
I've also discovered my own Bedouin ancestry in the process, my family name "Eldalil" the Arabic word for guide was my only lead to discover my roots during this journey.
So what next?
What's next for me is to graduate of course! And hopefully complete production of my project; exhibit it and publish a special edition book showing the photographs and embroidery collaborative works to honour the stories of the Bedouin community.
Sooner though I'm looking to publish the story of the community's solutions in combating the Covid crisis. Hopefully, if I win the award, I'll have sufficient support to do so within the coming weeks/months.
After that I want to expand my visual storytelling experience using collaborative approaches to involve communities to develop more work and projects. I want to challenge traditional documentary photography approaches with my work and explore beyond that by using collaborative mediums to create layered and comprehensive narratives.
What would you say to a student just starting in their photography education?
My advice for someone who has just started their photography course is to choose a topic they're passionate about. It doesn't have to be a clear project from the start (because its never going to be clear from the start, that is the illusion :) ) but if you choose a topic that you feel strongly towards you'll be able to utilise all of the opportunities, resources and material that the course is providing in order to define your thoughts, angles and analogies throughout the modules. So that once you start your final project, the places of all puzzle pieces are clear to you and it's only a matter of putting them together.
Congratulations on being shortlisted Rehab, and good luck with the final selection!
You might also like