Sports Journalism Student Reporting for Real
2 June 2019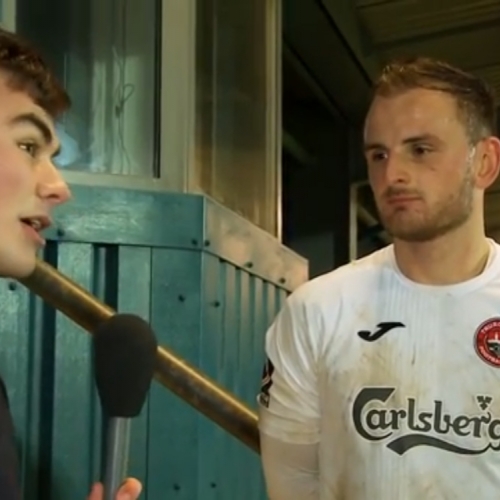 Every year, BA(Hons) Sports Journalism students are visited by John Roder, one of the UK's leading football commentators and frequent reporter for the world-famous BBC programme, Match of the Day. His talks often inspire students to follow in his footsteps.

Tom Harris, a second-year from BA(Hons) Sports Journalism, is one of those students.
Tom recently tweeted: "This last year made me want to take up commentary as a future profession. The journey's still young but it was an incredible experience to learn from someone who is on Match of the Day every week!"

Tom elaborated for us: "When I was growing up the only TV programme I'd watch or be vaguely interested in was Match of the Day, so to meet one of the voices I'd hear week in week out was very surreal. He's visited the university twice [during my time there] and I have learned so much from both visits."

He described John's live reporting masterclass as "breath-taking".

"Having compliments about my delivery and energy from someone who is one of the top voices in football was unbelievable," he told us. "John Roder has inspired me to try and become a commentator. I know his advice and tips for improving my performance will hugely benefit my pursuit in making this a career."
Tom has already put his ambition into practice, landing a role commentating for Truro City football club and BBC Radio Devon.
He told us: "It feels great to be putting my voice out there for everyone to hear. Football is always on my mind. I absolutely love commentating for Truro, or any football game for that matter. Initially, when you hear yourself back it's a bit awkward because you have to get used to the sound of your own voice. But when a big moment happens and you describe the tale of the event perfectly, there is no better feeling as a commentator."

"Before university, if someone had told me I would have achieved what I have already," he said, "I wouldn't have believed them. Truro are Cornwall's biggest club, but still relatively small in the footballing world; I thank the club and Piran Films for the opportunity."

Over the summer, Tom is hoping to do some more work for BBC Radio Devon Sport, after which he plans on "seeking a path in football commentating or reporting".

"The dream one day," he told us, "is to be commentating on Match of the Day!"
You might also like